Snag these free printable holiday baking cheat sheets to make your Christmas baking a breeze this season! These sheets are to help you quickly access info you're regularly using in your kitchen over the holidays – they're going to be a game-changer for you!
12 Days of Christmas Baking Tips:
Day 1 – Free Printable Holiday Baking Cheat Sheets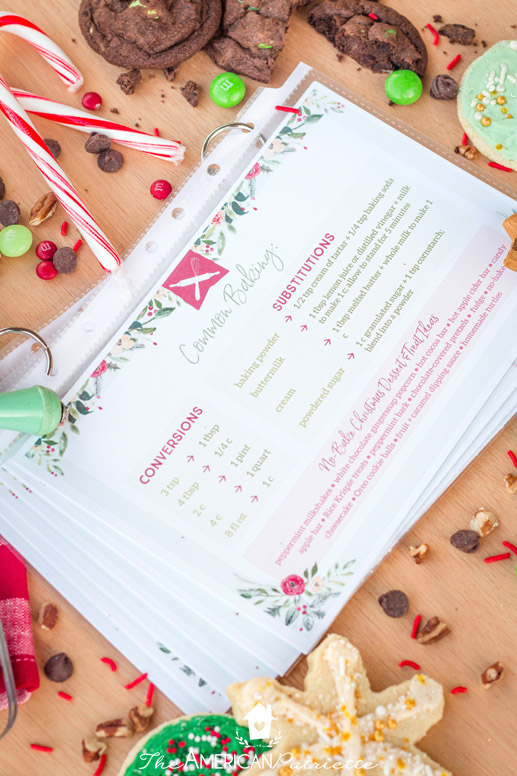 YAY! Welcome to Day 1 of the 12 Days of Christmas Baking Tips! We're kicking this series off with an AMAZING first day: with FREE printable holiday baking cheat sheets!
This is a series I've been looking SO forward to doing for months – sharing tried & true tips, tricks, and hacks that you can use in your kitchen for your holiday baking. (And really, these tips are usable all year round!)
All of these tips are geared to help you save some time in your kitchen this Christmas, relish in baking up fun desserts to share with others, and overall, enjoy the process of creating treats perfect for creating conversation, bringing cheer to others, and inviting people to linger at your table.
Desserts are great for lingering, aren't they?!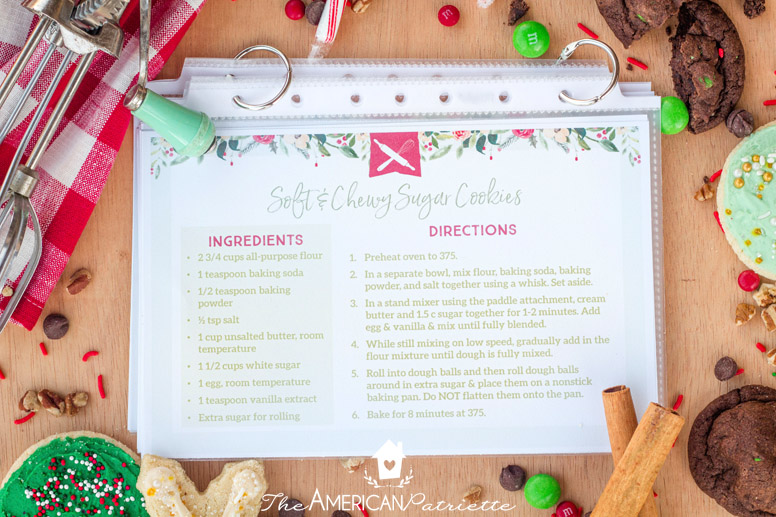 About the Free Printable Holiday Baking Cheat Sheets
I'm starting off this series with these free baking cheat sheets, simply because these are something I've been wanting to create for my kitchen for MONTHS – sheets with info I regularly use that I can easily access while I'm baking in my kitchen. And, I have a slight feeling these might be *super* helpful for you, too!
Do you get tired of fumbling around for those recipes or quick references (like the ratio of spices you always use in pumpkin spice, or how long you typically bake your favorite batch of Christmas cookies) when you're smack-dab in the middle of a recipe, elbow-deep in sugar and butter, and just need to access some info in a jiffy?
No more going back and searching through your Pinterest boards, trying to to remember what you searched on Google to find that *perfect* sugar cookie recipe you made a few months ago, flipping through your zillions of recipe cards, or thumbing through your big recipe binder just to access one quick piece of info you need while you're at work in your kitchen!
Just print out these cheat sheets, use the info I've included on there + as many blank sheets as you need to write down your own commonly-used recipes in them, put them in clear sleeves, and hang them from command strips inside a kitchen cabinet that you use often.
My spice cabinet probably stays open more than it stays closed, so that was a perfect spot for mine! 🙂
These cheat sheets include some things I personally access on the regular, and information I know others likely use often, too!
These Christmas baking cheat sheets include:
Common baking conversions & substitutions
The BEST soft & chewy sugar cookie recipe
The BEST buttercream frosting recipe for sugar cookies (that hardens up AND tastes amazing!)
The perfect whipped cream recipe (for cake/pie/hot cocoa toppings & fruit and dessert dip)
The quick recipe for making your own pumpkin pie spice
The quick recipe for making easy apple cider
A recipe for creamy hot cocoa mix + tips for different cocoa varieties
Ideas for no-bake desserts
The perfect basic white chocolate popcorn recipe (and then add whatever toppings you want!)
And bonus! They also include:
The super easy recipe for a Christmas simmer pot recipe that takes less than a minute to assemble! (And makes your house smell AMAZING)
Blank lined sheets so you can write your own recipes/information down
Blank sheets (without lines) – for the same purpose!
Print out as many of the blank sheets as you need for all your own favorite Christmas recipes that you make regularly this time of year!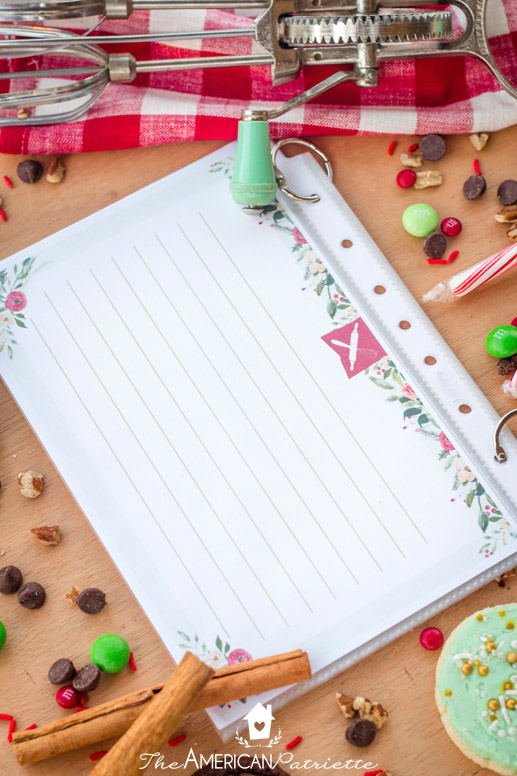 Are you totally hooked?! These are going to be such a game-changer for your kitchen this Christmas!
You can get access to these cheat sheets for free at the bottom of this post – just put in your email & you'll get instant access to 'em!
Now, let me show you how EASY it is to assemble them!
This post contains affiliate links for your convenience. You can read my full disclosure policy here.
How to Assemble the Baking Cheat Sheets
First, here are the few things you'll need:
The free cheat sheets (again, you can get *easy & instant* access to 'em at the bottom of the post)
White cardstock (thick enough to be sturdy but thin enough to run through your printer)
You ready to get assembling?!
Step 1: Print your cheat sheets
Easy enough, right?! Once you get the cheat sheets delivered to your email, you'll download them and print them out.
Helpful printing tips:
Use cardstock for best quality. Believe me, it makes a *huge* difference in quality – totally worth the few extra dimes you'll spend on paper!
When you go to print, look at your printer settings and tell your printer to print on "Best" or "High Quality." I use my basic, run-of-the-mill color printer ALL THE TIME to print out my decor printables (and all the other printables) from The Home & Gather Toolkit, and I get gorgeous prints, just by ensuring my settings are on "Best" or "High quality," and also by printing on cardstock.
Step 2: Cut the sheets in half
You can use a scissors for this, or you can use a straight-edge paper cutter like I definitely prefer to use. Makes this so fast & accurate!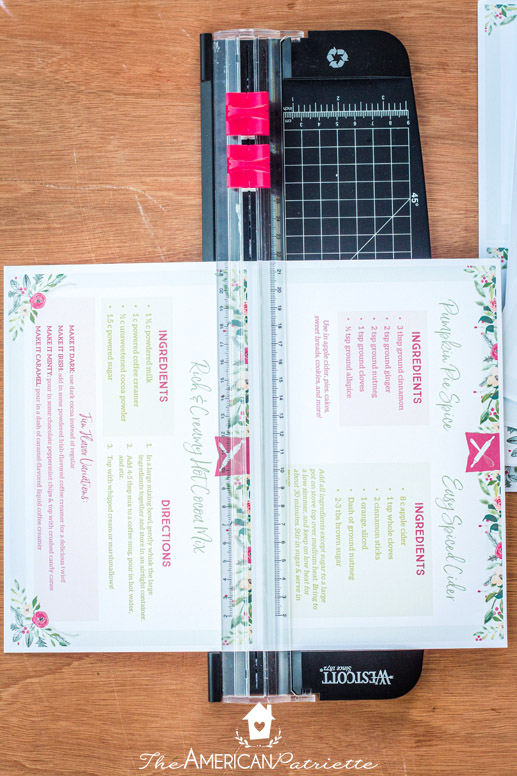 I put a faint gray line at the halfway point on each sheet so you know exactly where to cut.
You're welcome. 🙂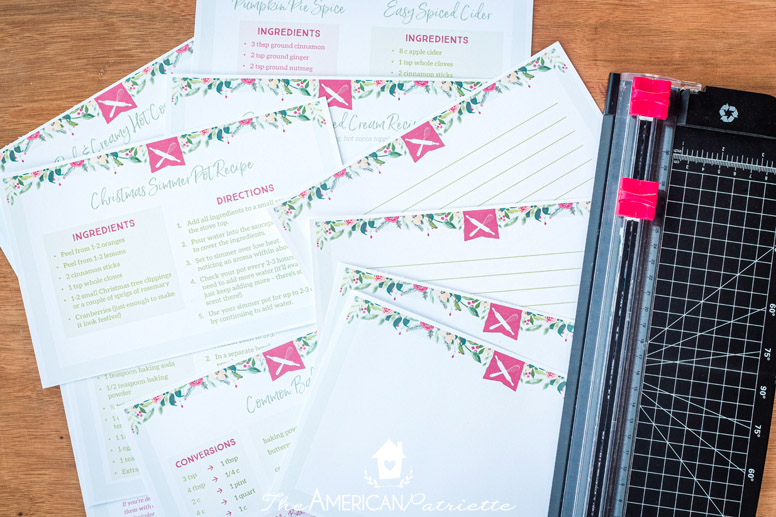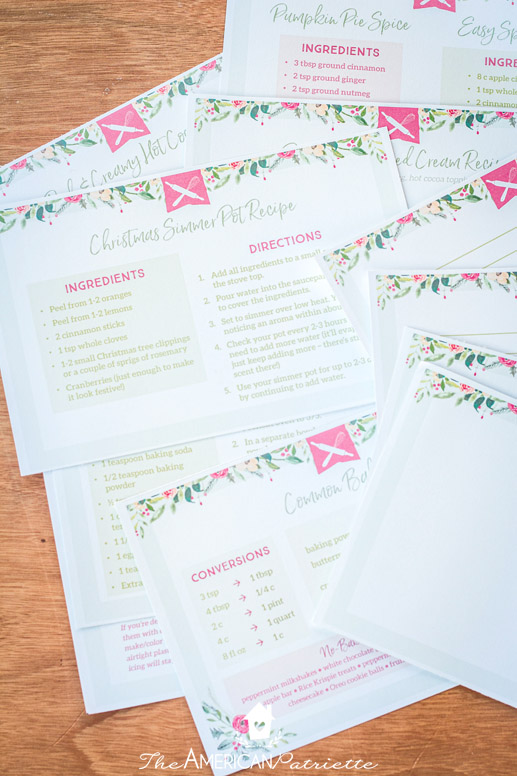 Step 3: Put them in the plastic sleeves & attach the rings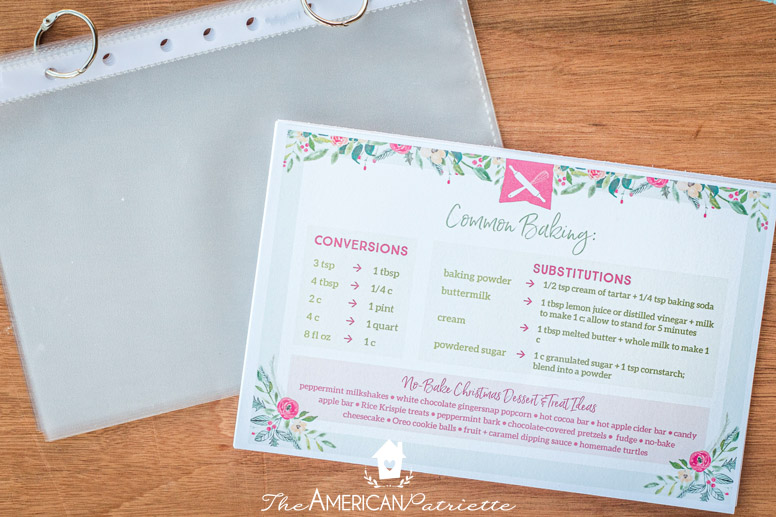 You can do 2 sheets per sleeve since you can easily make these front and back.
Step 4: Hang from Command hooks in your most-used (or most convenient) kitchen cabinet

Now they're up for super easy access any time you need 'em this Christmas! I love that they're out of the way yet SO easy to get to!

And, I also love that they're both functional & gorgeous! Love this fun festive Christmas floral! 🙂
And don't forget to print out multiple pages of the blank sheets so you can write down your own custom info you regularly use in your kitchen during the holidays!

Have fun baking ALL THE THINGS this Christmas! Tis the season!

And just remember – all that time you're spending in the kitchen?
You're making way more than food.
You're making memories. You're making opportunities for people to gather around good food. You're making the ability for people to linger at the table. You're making joy to share with others.
Fill out the form below to get instant access to these Christmas cheat sheets!