With fall approaching tomorrow (though Texas weather reflects nothing of the sort), I thought I'd share some ideas for throwing a fall-themed baby shower. If you're looking to celebrate a mom-to-be over the next couple of months, let me just tell you, this theme is SO fun to plan and organize! (And you can even snag a few tips from here and adapt them to a fall-themed bridal shower if you're looking for ideas for that instead!)
Two of my dear friends, Candace and Audrey, and I threw a baby shower for our other sweet and super fun friend, Shelle, a few years ago, and I still have the fondest memories of that sweet little shower! Those three girls are some of my absolute FAVORITE people, so joining all of them to celebrate a new life was just the best. Audrey and Candace took care of the savory food, drinks (I think we had punch & coffee), the cuuuute invitations, buying some children's books for us to give to Shelle as a hostess gift, and the location (Candace's beautiful apartment)! I took care of the sweets, the decorations, and the games/prizes. I really don't think I can explain how fun it was.
Shelle's one of those crazy and super patient people who didn't find out if she was having a boy or a girl, which made me twitch a bit as I was thinking about planning her shower, but it turns out that a fall theme was perfect for a gender-neutral shower. I lost my twitch after I realized how fun this theme was going to be to plan.
I'll walk you through some of the details of Shelle's shower – I'd love to help you prepare to celebrate a mom-to-be and a new little babe!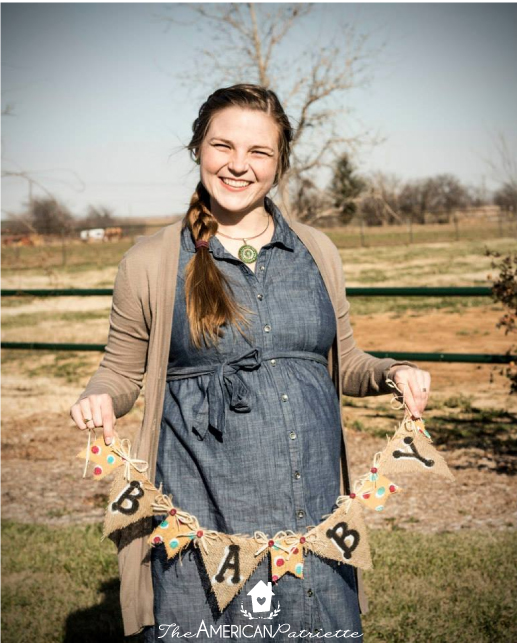 First, I made a burlap sign to hang on the door and welcome guests to the shower. (Here's a tutorial for how to make a hand-painted burlap sign if you're interested!) I'm certain we probably took down a gorgeous wreath that Candace had up on her apartment door in order to make room for this – Candace always makes her home so inviting. (And yes, we did throw a shower in an apartment, and it was absolutely perfect – don't ever think you can't organize a lovely and meaningful party or a celebration if you're limited on space.)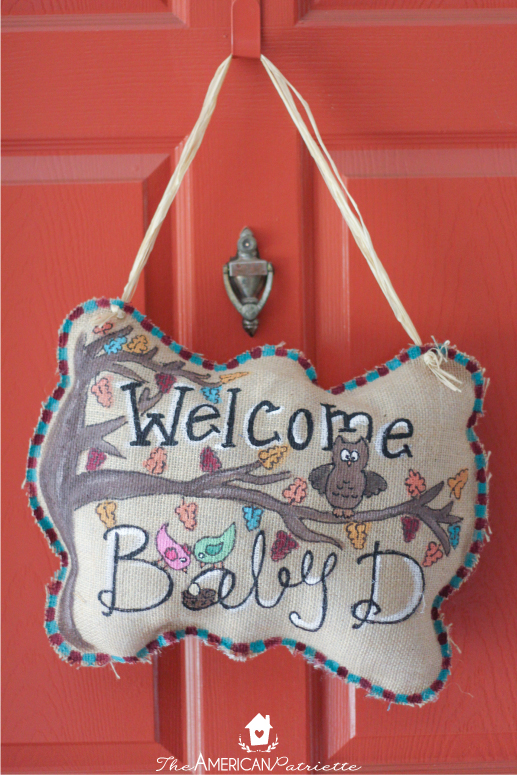 I make these painted burlap signs frequently – for decor on my own house or for decor for a shower I'm helping to throw. They're so easy, really cute for the door, and cost me probably less than $5 to make. Seriously – consider these for decor as you plan to throw parties & showers!
We threw a lunchtime shower, but we kept it simple with the food. We offered plenty for guests to enjoy, but none of this was an excessive amount of work for any of us! We had an assortment of small sandwiches, fruit kabobs, and believe me, if I have anything to do with any kind of celebration, plenty of dessert.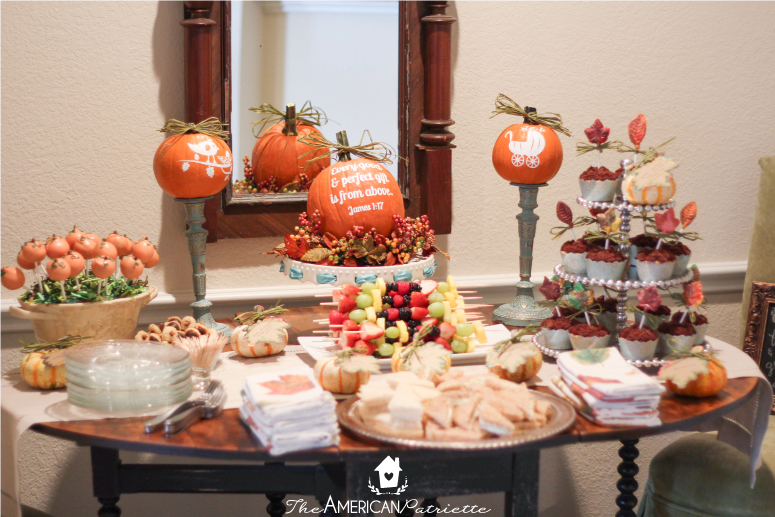 I made these faux chalkboard signs with Scripture using pretty 8×10 picture frames I already had: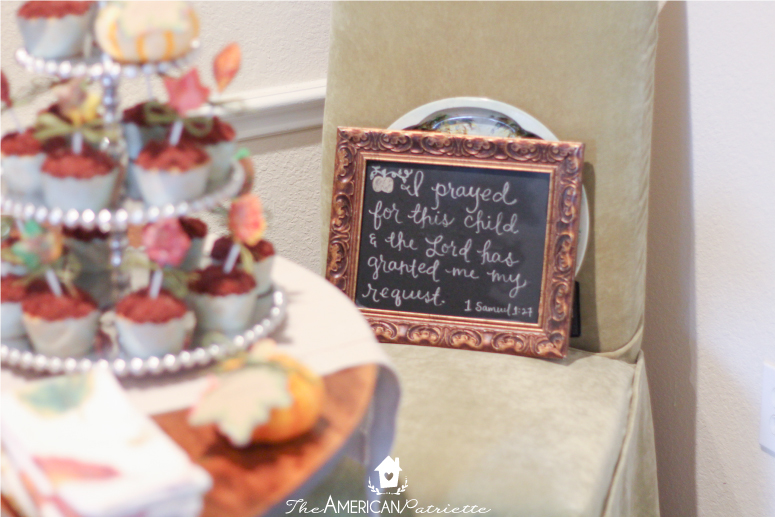 I designed these fall/baby images on the pumpkins using Adobe Illustrator and used my Silhouette machine to cut them out on vinyl, but looking back, painting them on the pumpkins may have actually been a little easier. How adorable are they?!
If you don't use Adobe Illustrator, I'm certain there are fall designs you can easily download to do this same thing on pumpkins.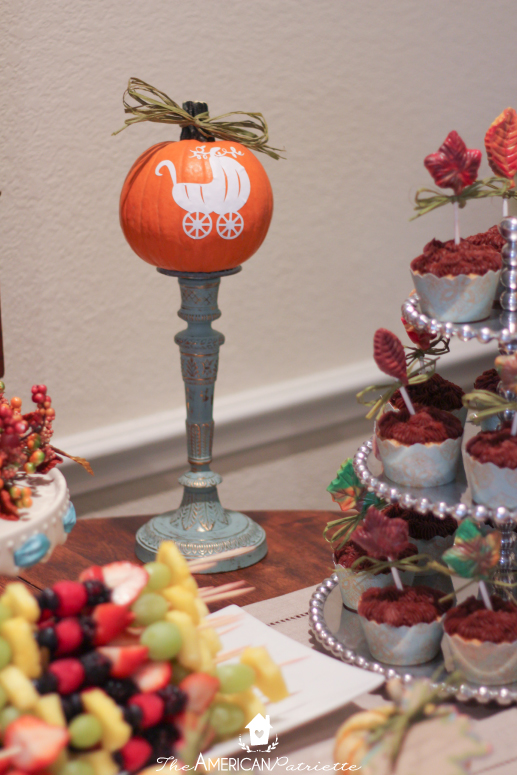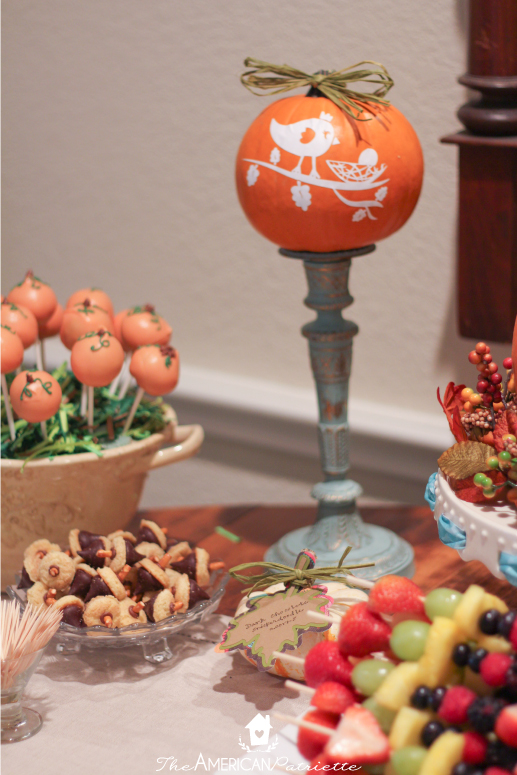 I'm just about in love with these candy leaves that I made to top off these cupcakes. Y'all, these were SO easy to make. FOR ANYONE. They look elegant and intricate, but the process was ridiculously easy. I will do a tutorial for you – I'd love to share this idea! They were so fun to make, and again, so simple. I'm all for fun & simple.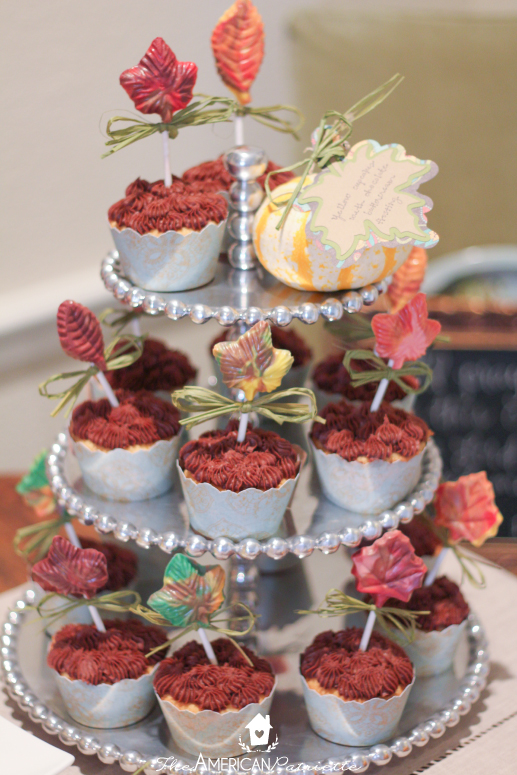 To label the food, I made these leaf-shaped tags (this was back before I had a kid and used my Silhouette machine a lot more than I do now…) and tied them onto tiny pumpkins with raffia. I'm sure I bought a bag of small pumpkins – you can find a bag of 4-5 of them at HEB for $5.
I also made pumpkin truffles (another thing I did much more often before I had a kid…I want to get back into it!). I used a Styrofoam piece (you can find them in the floral section at Hobby Lobby or Michaels) to stuff down into this dish, and then I ran some green pieces of cardstock through my paper shredder (yes, just a typical home office paper shredder) to make "grass" for a pumpkin patch. I sprinkled the paper on top of the Styrofoam piece and then began sticking the pumpkin truffle lollipops into the Styrofoam.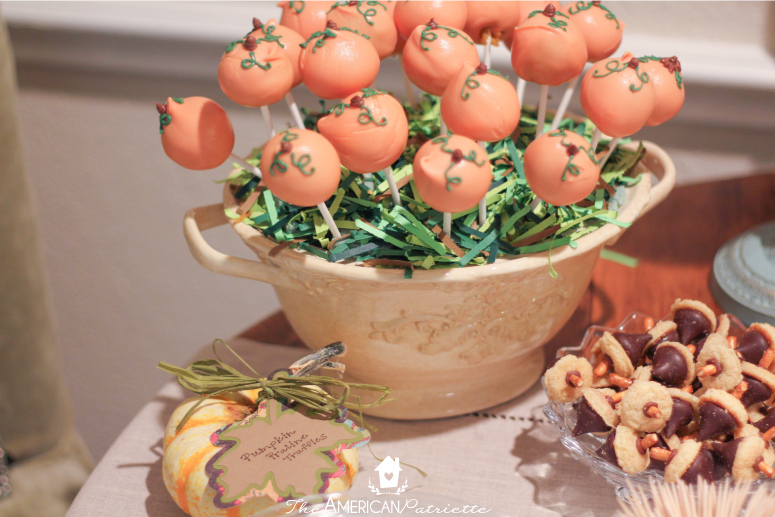 To make these adorable acorns, I made regular snickerdoodles, baked them just like normal, and then after they baked, I cut out them out with a tiny circular cookie cutter (honestly, looking back, I'm thinking I may have even used a water bottle cap?!) for the tops of the acorns. Then I melted some chocolate chips and stuck a Hershey's Kiss to the snickerdoodle using the melted chocolate. The little stems are made from small pretzel bits and melted chocolate. I'll have to do a tutorial on these, too! Again, so easy – a little time-consuming, but seriously, anyone can make these!
I made a burlap pennant banner for the shower to hang on Candace's beautiful mantel. I have a tutorial for how to make one of those here. In that tutorial, I put ribbon between the burlap pieces, but on this banner, I made little bows with raffia and then hot-glued a button in the middle of the ribbon.
Cheap. Easy. ADORABLE.
I got an old frame, probably at a thrift store, and then fixed some chicken wire to the back of it in order to have a place for people to hang up little prayers for the baby.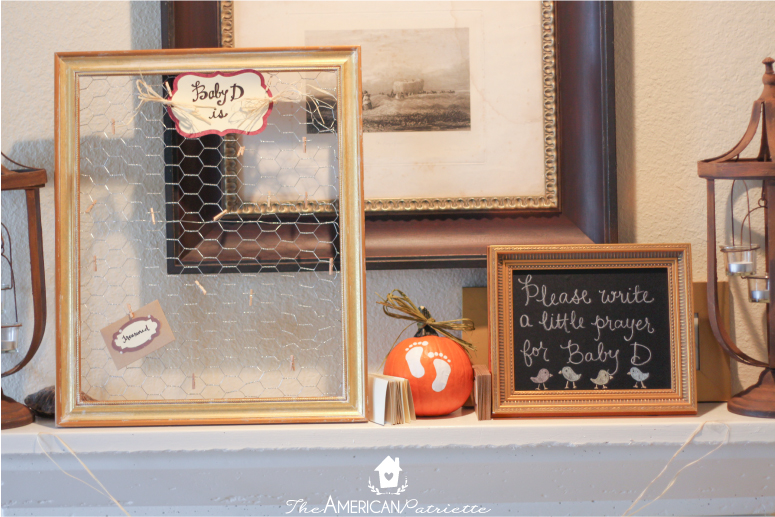 On the envelopes, people wrote an adjective describing the baby, and in the envelopes they put a little prayer for Shelle and her husband to read over their new baby. I think Shelle now has this frame in her mud room that serves as somewhat of a bulletin board. I cannot tell you how much I love multipurpose decorations.
Look at this gorgeous mom-to-be!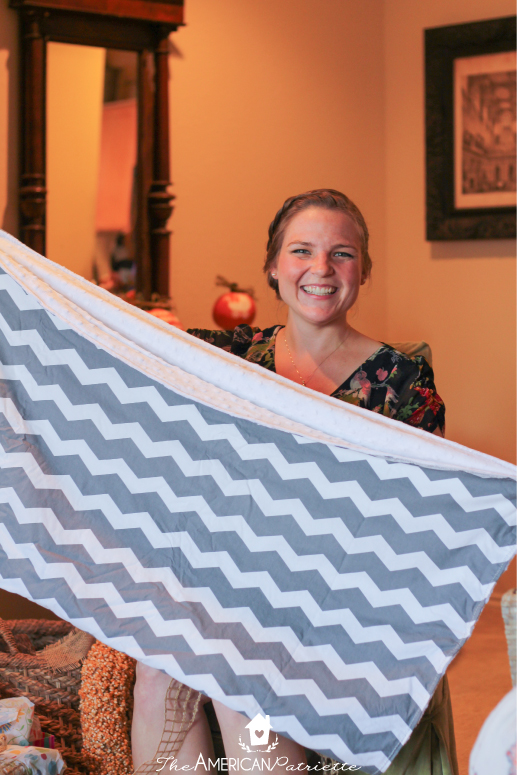 Because every child of Aggies needs an Aggie sign…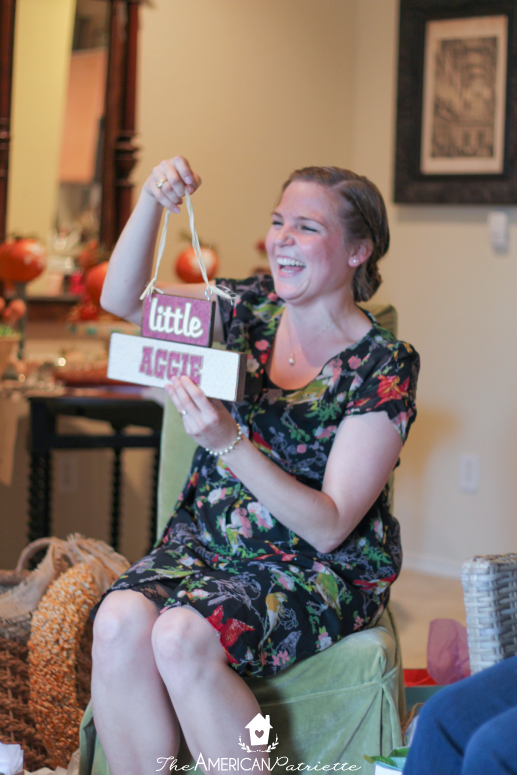 We love this children's Bible!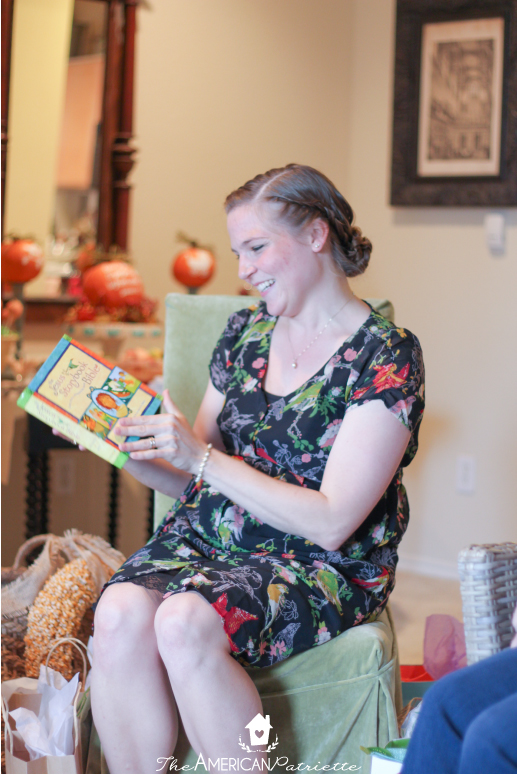 Looking back through my photos, I am so sad I didn't get a group picture of the hostesses and Shelle! These individual ones will have to do.
The lovely Audrey (my college roomie! WHOOP!):
The beautiful Candace: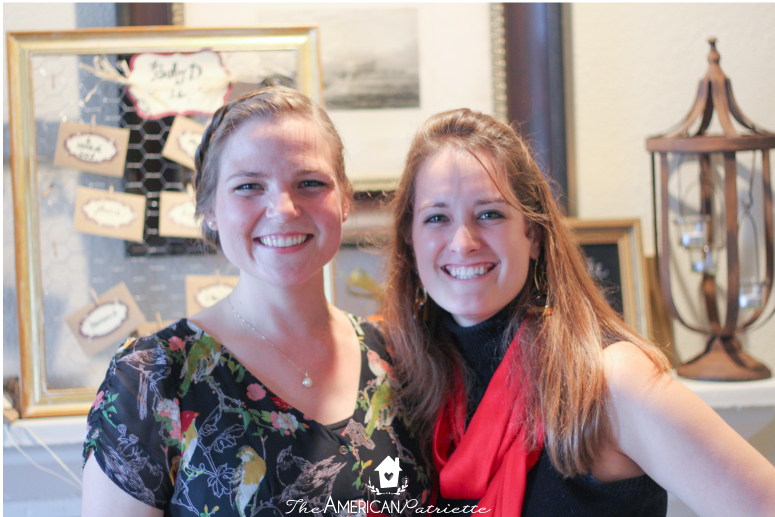 And me!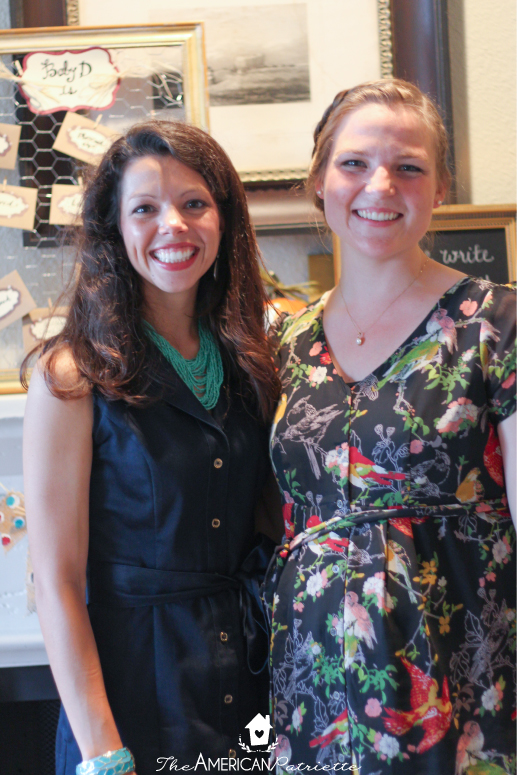 We played a couple of fun games (actually fun and NOT cheesy – I will need to make a list of those to share at some point – my to-do list of things I want to share is getting out of control here), had tons of laughs (I'm sure most prompted by Shelle's ridiculous stories – she's always armed with them), and a sweet time of prayer over Shelle and her new baby. It was such a good time, and as you can tell, it was a simple yet lovely and fun way to celebrate someone special.
Do you have a fall-themed shower to plan over the next couple of months? I would throw this shower all over again every fall if I could. I hope this gave you some motivation and inspiration! Happy planning!