Easy Slow Cooker Shredded Chicken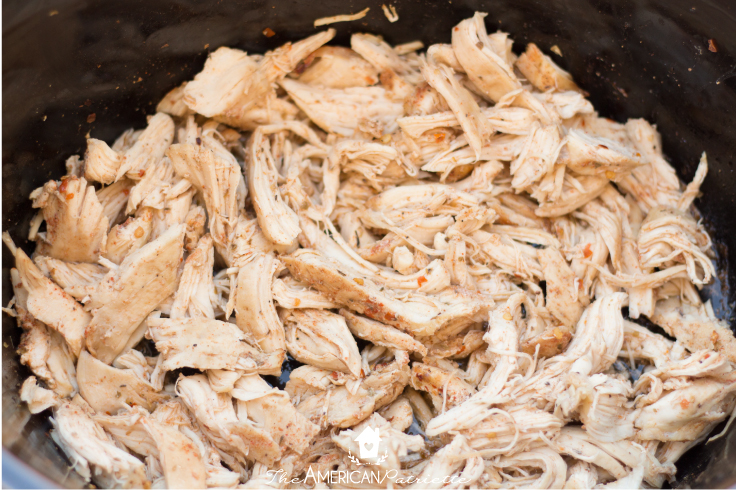 Easy Slow Cooker Shredded Chicken is my go-to method of preparing chicken for pretty much any meal that calls for slices/bites of chicken.
This method makes preparing chicken SO EASY, and, to make preparing meals even simpler, you can make a bunch of chicken at one time, freeze it in portions, and then pull out a portion from the freezer each time you need to add chicken to a meal. This is perfect for tacos, chicken salad, main dish salads, pastas, casseroles…you name it!
If a recipe calls for bites of/slices of/shredded chicken, I'm telling you, this is so easy, and you can customize the flavor of chicken depending on what meal you're preparing it for.
This recipe is for 2lbs of chicken, but you can just adjust the cook time if you want to do more. You just throw in some raw chicken breasts into a slow cooker…
…and season 'em up any way you'd like. I usually put dashes of a lot of different spices on them – paprika, salt, pepper, garlic powder, oregano, basil, parsley, red pepper flakes, onion powder, chili powder, cumin, etc. If you're making these for an Italian dish, you can just stick with garlic powder and green spices. If you're making this for a Tex Mex dish, you can just do salt, pepper, cumin, chili powder, and red pepper flakes. It really doesn't matter. I just put dashes of any kind of spices on both sides of the chicken and then I'm done with preparing it.
You don't even need to add broth. As the chicken cooks, it'll create its own broth and keep itself moist. (I know, amazing!)
Cook them on low for 4-6 hours (depending on how thick the chicken breasts are that you used), and then once they're done, you just take two forks and start shredding it apart.
It shouldn't take any effort at all to shred. The chicken should just fall apart from being so tender and moist, so if you begin shredding it and it doesn't come apart easily, I'd add some cook time to it. Once you've shredded it all, the chicken should soak up most of that broth, so you shouldn't need to empty much, if any, broth before you use the chicken for whatever dish you've prepared it for.
You really can prepare this chicken for just about any dish that calls for chicken. I love that it takes all of 5 minutes to prepare and yet it comes out so flavorful and moist. It is absolutely delicious on salads, in casseroles, in pastas, etc. Try it with some of my favorites:
Apple, Chicken, and Pesto Pizza
Green Chile, Spinach, and Chicken Enchiladas 
Lightened Up King Ranch Chicken Casserole
Or, prepare up some of this chicken and turn a side dish into a main dish!
Try adding it to my favorite salad, Sweet Strawberry Spinach Salad.
Or to this yummy and flavorful Zesty Quinoa Salad.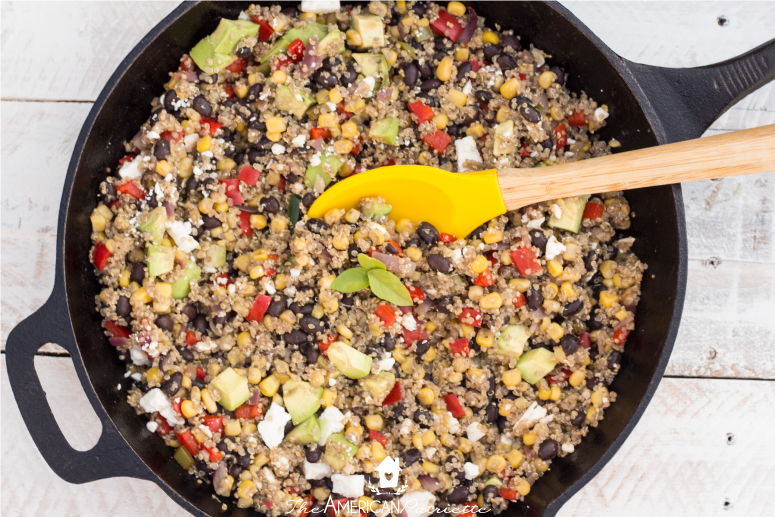 I know how crazy it is to get meals on the table sometimes with the chaos of life pulling us, our time, and our attention in different directions, so I'm a huge fan of anything that easily enables me to get a meal on the table so I can sit around and enjoy it with my family. I remind myself all the time that family meals are one of the most important things I can make happen!

Easy Slow Cooker Shredded Chicken
Inactive Time:
54 minutes
Total Time:
1 hour
5 minutes
Ingredients
2lbs raw chicken breast
Spices to taste* (garlic powder, garlic salt, chili powder, cumin, paprika, oregano, basil, parsley, red pepper flakes, salt, pepper, etc.)
Instructions
Remove any excess fat/tough parts from chicken and place chicken breasts in slow cooker.
Add dashes of spices on both sides of chicken.
Cook on low 4-6 hours.**
After cooking, shred apart with 2 forks (it should shred with very little effort. If it takes much to pull the chicken apart, add some cook time - maybe 30 minutes to an hour - to it.)
The chicken will make its own broth while cooking. Once you shred it, the shredded chicken should soak up the broth and the broth will keep it moist.
Notes
*You can customize the spices however you'd like. I usually load up the spices because I like a lot of flavor. However, if you're making this specifically for a Tex Mex dish, you can choose to stick to garlic salt/powder, cumin, chili powder, and red pepper flakes; if you're making this for an Italian dish, you can stick with garlic salt/pepper, basil, parsley, and oregano. You really can do any spices that you'd like!

**If you want to cook more than 2lbs of chicken at once, you may just need to adjust the cook time - probably adding about 30 min-1 hour for each additional pound you choose to cook.

Add to a casserole, salad, pasta dish, pizza, etc. This freezes really well, so you can make ahead of time and freeze, or make a bunch at once and freeze in portions.