This easy, rich & creamy homemade hot cocoa mix is so simple to throw together! Makes for delicious hot chocolate from scratch, and also is a perfect sweet treat to assemble into mason jars to give as Christmas gifts.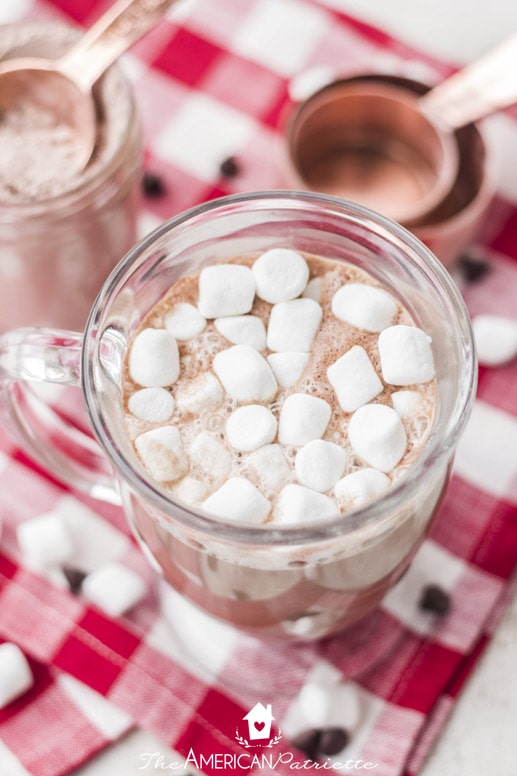 This homemade cocoa is so easy to throw together! Just a few simple ingredients and you're on your way to some DELICIOUS homemade hot chocolate!
And, because it's made with powered milk and powdered coffee creamer, it's even easier to whip up a mug of this since you can add hot water to it instead of hot milk.
Let me show ya how easy it is to make!
Here are the ingredients you'll need for this easy Homemade Hot Cocoa Mix:
Unsweetened cocoa – I almost always use Hershey's brand of cocoa in my kitchen. I haven't experimented too much with cocoa brands, simply because I've always been pleased with Hershey's, but when I have made this with the generic store brand, I did notice a difference, so I went back to Hershey's. I'm sure it'd be divine with Ghirardelli! There are mixes that call for Nesquick or another pre-made sweet cocoa mix, but when I experimented with those, I didn't think there was enough of a chocolate flavor, so again, I went back to Hershey's.
Powdered sugar – sweetness, of course!
Powdered milk – I use this in here so that it's a mix that's ready to go with hot water rather than with hot milk. If you're assembling this hot cocoa mix into mason jars to give as Christmas gifts to people, I prefer to use the powdered milk in the recipe just so you can give them a ready-to-go gift. And, water is just a lot easier/less messy to heat up on the stovetop and pour into a mug. However, if you want an even richer cocoa, you could either 1) omit the powdered milk altogether and just mix the rest of the ingredients in with hot milk, or 2) you could keep the recipe as is, but still pour it into hot milk instead of hot water.
Powdered creamer – adds some richness & creaminess to the recipe.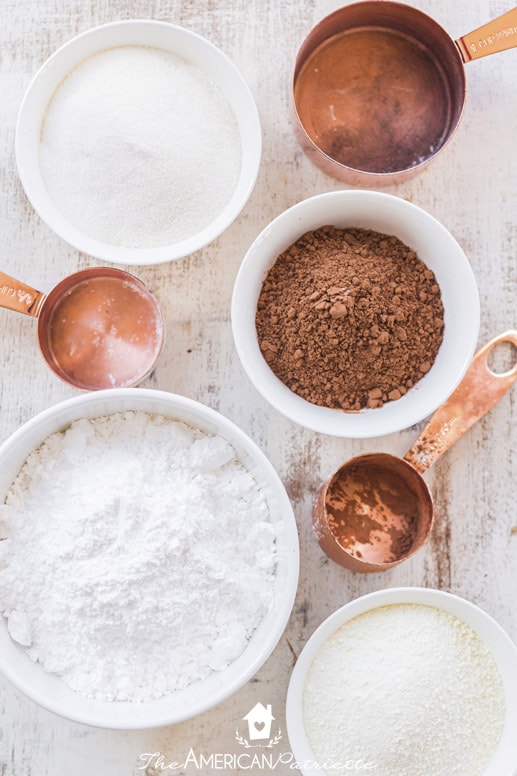 All you'll do is measure out the ingredients, pour them into a mixing bowl, and then whisk them together. Easy peasy!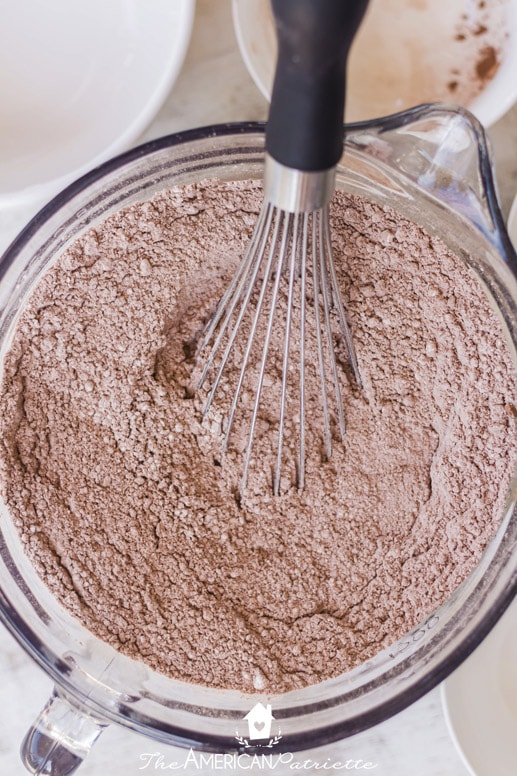 Then, you'll add in 6-7 tbsp of the mix into a mug, add hot water, and then serve with marshmallows or whipped cream on top. YUM.
Tips for this homemade hot chocolate mix:
If you want it even richer and more chocolatey, you can 1) add a few chocolate chips to your mug with the mix & hot water, or 2) serve with a chocolate-covered spoon and use that to stir the hot cocoa.
You can store this in an airtight container for a few months, but I wouldn't store it for too much longer than that – it'll take on a bit of a dull/stale flavor after too long.
If you're serving this at a party – maybe at a hot cocoa bar or some other area where guests are assembling it themselves – you may want to either individually portion out the cocoa into small mason jars or serving cups, or put out a measuring cup (instead of a tablespoon) for people to help themselves. Because you do need several tablespoons of the mix in order for it to taste rich and creamy and not watered-down, people might be standing there for a while if they're spooning it out in small quantities!
Pour into mason jars and give as a gift to people for Christmas!
Easy, Rich & Creamy Homemade Hot Cocoa Mix
Yield:
10-12 mugs of cocoa
Ingredients
3/4 c unsweetened cocoa powder
1 1/4 c powdered milk
1 c powdered coffee creamer
1 3/4 c powdered sugar
Instructions
Whisk ingredients together in a large mixing bowl.
Mix in 6-7 tbsp of mix into a mug of about 8oz hot water (this is the standard size coffee mug). Enjoy!
Notes
Store in an airtight container. It's good for a few months!