This easy fall simmer pot will make your home smell amazing!
Just add orange peels, cinnamon sticks, and cloves to a small sauce pan, heat on the stove, and your house will begin to smell so cozy in minutes!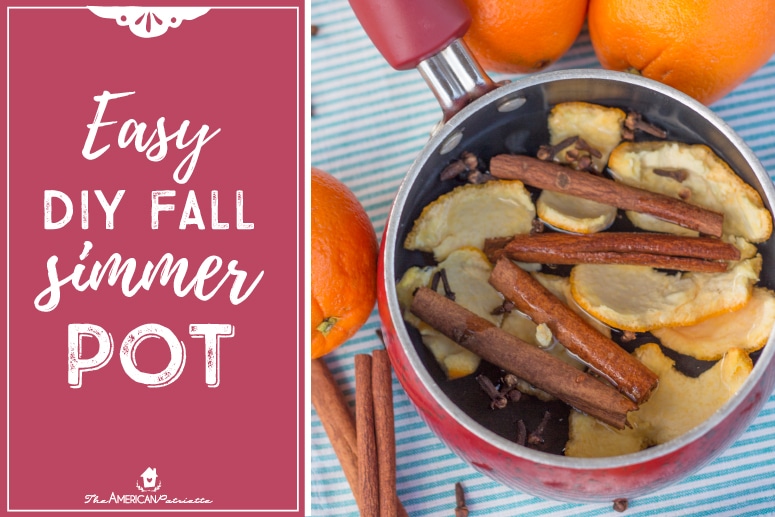 This easy DIY Fall Simmer Pot is now one of my absolute favorite details of the season – it is SO easy to assemble, it smells AMAZING (and smells up the entire main living/kitchen area of my house!), and I can use it for a full few days before starting over with new ingredients. With four super simple (and natural!) ingredients, this Fall simmer pot takes less than a minute to assemble.
I'm certain it'll be one of your favorite parts of the fall season, too! Check out the bottom of this post – you can very easily (and quickly) turn this idea into a super inexpensive seasonal hostess gift or party favor, too! 🙂
Related post:
Easy DIY Christmas Simmer Pot Recipe (just as easy to assemble as this fall simmer pot, but with a couple of additions, it's even more festive for the holidays!)
How to make an Easy Fall Simmer Pot
This post contains affiliate links for your convenience. You can read my full disclosure policy here.
Here's what you need for your simmer pot:
The peel from one orange
2-4 cinnamon sticks (make sure you use real ones, not ones just for decoration)
1 tsp vanilla (I always use Mexican vanilla – I swear by that stuff!)
Step 1: To assemble, just place the peel, cloves, cinnamon sticks, and cloves into a small saucepan:
Step 2: Add enough water to mostly cover the ingredients (about an inch deep)
Step 3: Place over low heat on the stove top.
You can let the pot simmer all day, just make sure you check back every few hours to add a little more water as it evaporates.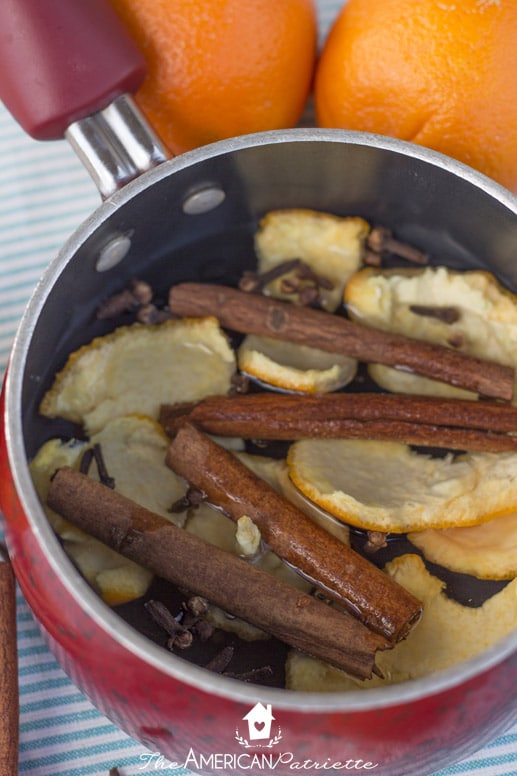 Tip: When I'm finished using my simmer pot for the day, I just turn off the heat, leave the saucepan there overnight, and then add more water in the morning when I turn it back on. I can easily use this for about 2-3 days before the scent starts to fade.
This is such an easy to way to make your home feel cozy and welcoming during the fall season! In this next part, you can see how you can so easily turn these into fall Hostess gifts or party favors.
Easy Fall Hostess Gifts or Party Favors
With a cellophane bag and a cute ribbon, you can easily turn these into sweet and thoughtful gifts (and ones that are actually usable!).
Materials for DIY Simmer Pot Hostess Gifts or Party Favors
To assemble the bags:
Add a teaspoon of cloves, 2-4 cinnamon sticks, and a whole orange to each bag. Tie the bag off with the ribbon or raffia. I leave out the vanilla for obvious reasons! You can suggest that others add in vanilla to the simmer pot, but even though the addition of vanilla smells divine, the three other ingredients will still make for a very yummy-smelling simmer pot.
Even though the oranges are perishable, since they're such a hearty fruit, you can easily prep these bags a few days ahead of time and not worry about the oranges going bad.
Have fun making your house (and others' houses, too, if you turn these into gifts!) smell like fall!
Looking for more fall inspiration? Check out these cozy soup and stew recipes, and these DELICIOUS fall dessert recipes!
Want a Christmas simmer pot recipe?! (Just as simple to assemble, but more *festive* for the holidays!) Go check it out – your home will smell like Christmas in no time!
Love this idea and want to remember it for later!? Be sure to pin this to your favorite Pinterest board!