This delightfully easy creamy chicken soup is bound to become a favorite of the whole family! It has great flavor, it's SO easy to make, and it's chock full of veggies!
This oh-so-delicious creamy soup isn't your average chicken & vegetable soup…it's basically a big 'ole hearty hug for your taste buds! I can't wait for you to make it!

Here's why you'll love this recipe:
This is ridiculously easy comfort food. Seriously, we're talkin' 10 min of prep, and then you can just walk away and let that stove do the rest of the work. It almost can't get simpler than this – it's the perfect soup to make when you're short on time! (And even though it tastes like delightfully wonderful comfort food, it's jam-packed with nutrition, so you'll feel great about feeding it to your fam!)
You can make this homemade soup pretty quickly. Like I said, your hands-on time is only about 10 minutes' worth of work, and then the cooking time on it is about 45 minutes, but you really don't have to do anything during that time other than shred the chicken at the end (which is really easy since it's nice and tender). You can pretty much set it and forget it! (YOU ARE WELCOME!)
This is a very flavorful soup. Say adios to the days of boring chicken noodle soup. This one is here and it's rightfully claiming its time in the spotlight. This recipe has a wonderfully creamy texture, and it's just loaded with flavor.
You can easily make this to use up leftover chicken – have leftover rotisserie chicken or leftover cooked chicken from another meal that you need to use up? Throw it in here! Even though I most often use raw chicken breasts to make this soup, I've certainly made it before with leftover cooked chicken, and it tastes great!
It makes DELISH leftovers & freezes well, too! Need I say more?!
You can double the recipe to feed a crowd, have more for leftovers later on in the week, or to invite some people over to join ya for an easy meal! (I vote the last one! 😉 Invite those neighbors over for a pot of soup & some biscuits!)
Ingredients you'll need:
Olive oil
Chopped veggies: onion, celery, carrots, and golden/yellow potatoes
Chicken (I use 1-1.5 lb raw, boneless skinless chicken breasts, but you can easily use leftover chicken, rotisserie chicken, or pre-cooked chicken – all will do!)
Chicken broth (you can also use chicken stock if you prefer)
Chopped fresh kale
Frozen green beans – fine cut (you can use fresh, but I love using fine cut frozen green beans – they're just so easy to keep on hand, and when they're fine cut, they don't taste waxy like other frozen green beans have the tendency to taste!)
Spices: garlic powder, onion powder, dried parsley, dried oregano, salt & ground black pepper to taste (and feel free to add in some red pepper flakes for a little kick)
Heavy cream – just a bit goes a long way.
How to make this Easy Creamy Chicken Soup
Chop-chop, let's go! 😉
Chop veggies
First up, prep the veggies that you're going to saute – chop onions, celery, and peeled carrots. (FYI: I always prefer to use the large carrots vs. baby carrots for soups – I think they have more flavor)
Saute on the stovetop
Add olive oil to a large pot on the stove top over medium heat. Add in chopped veggies and saute for 8-10 minutes.
Add everything else except the cream
Yep, just load 'er up! Add in the chicken & the chopped potatoes…
…and then add in the green beans, kale, broth, and spices.
Cover & simmer
Allow to simmer over medium-low heat for about 45 minutes. By the end of that, the chicken should be very tender and easy to shred. (You shouldn't have to check the internal temperature of the chicken – if it shreds easily without much effort, it is definitely cooked through!)
Shred chicken
Remove chicken from pot and place on a plate or cutting board. Shred using two forks. Put shredded chicken back into soup pot. Add the heavy cream and watch it turn into a creamy broth – it's such a satisfying, comfort food feeling! 😊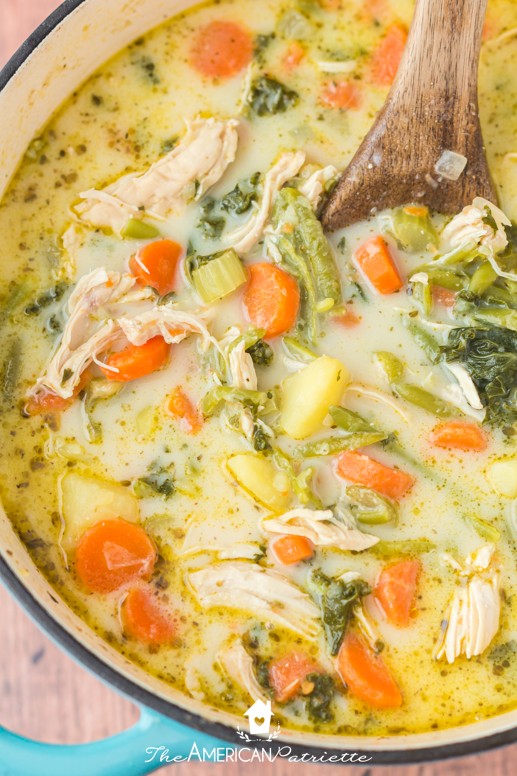 Enjoy with your people!
Lemme answer some quick questions about this recipe:
How long will this last in the fridge?
Just store it in an airtight container, and it'll still taste great for a few days! It makes great leftovers – the delicious flavors just continue to develop over the next couple of days. 😋
Can I freeze this recipe?
You sure can! I think freezing it with the cream added is fine, but you may prefer to freeze it without and just add the cream later. For freezing, simply store the soup in a freezer-safe bag and place in the freezer for up to 3 months. Thaw and reheat.
Can I make this in a slow cooker?
Yep! I'd follow all the same steps – saute the onions, celery, and carrots, add in everything else but the cream, and cook on low for about 4 hours. The chicken should be plenty cooked through by then. Shred chicken, add cream, and enjoy. 😁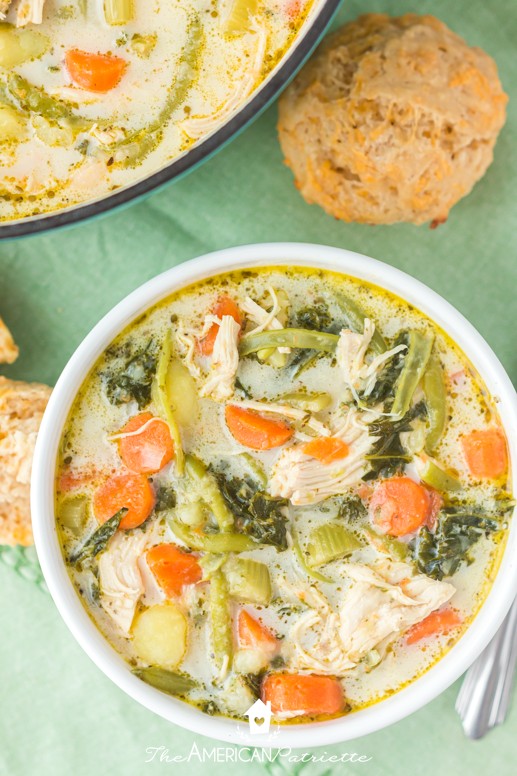 Other variations/alterations to consider:
Add sweet potatoes – I've actually made this soup before with sweet potatoes instead of yellow potatoes, and it was delish!
Add egg noodles – I don't usually add noodles to this, but you definitely can (and I have before), especially if you want the soup to stretch a bit more. If you do add in noodles, I'd add a couple more cups of chicken broth to the recipe. Make the soup just as the recipe states, but then after you shred the chicken and return it to the pot, go ahead and add the egg noodles and simmer according to package directions (probably about 8-10 minutes). (You could also do this with zucchini noodles if you want to add more veggies!)
Instead of chicken breasts, you could easily sub in skinless chicken thighs. I've made this soup with thighs before, and it's very tasty! So, if thighs are on sale this week at the grocery store, use those instead. 😉
If you don't have heavy cream, you can use whole milk instead. It won't be quite as creamy, but it'll still taste great. The recipe calls for 1/2 c of cream, but if you use milk instead, I'd use at least 1.5 c.
I hope you & your fam thoroughly enjoy this recipe! It's perfect for those cold days of soup season – it'll warm you right up, and your taste buds will surely thank you for it! 😁
EASY Creamy Chicken Soup
This EASY creamy chicken soup is one of the simplest meals you can make! It's packed with vegetables, is wonderfully hearty, and tastes absolutely delicious!
Ingredients
2 T olive oil
½ onion, chopped
3-4 celery stalks, chopped
5 large carrots, peeled & chopped
1-1.5 lb raw chicken breasts (2-3 chicken breasts)*
4 golden potatoes, peeled & chopped into large chunks**
6 c chicken broth
½ bunch kale, chopped (about 3-4 c chopped)
3 c frozen green beans***
1 tsp garlic powder
1 tsp onion powder
2 tsp dried parsley
1 tsp dried oregano
Salt & pepper to taste
1/2 c heavy cream
Instructions
In a large pot over medium heat, add oil, onion, celery, and carrots, and saute for 8-10 minutes.
Add in remaining ingredients except for the cream. Bring to a low boil, reduce heat to medium-low, and cover & simmer for 30-45 minutes (until you can easily shred the chicken).
Remove chicken breasts from pot & place on a plate or cutting board. Shred using two forks, and then return to the soup.
Stir in cream & serve.
Enjoy!
(I told you this was easy! 😉)
Notes
Leftovers: store in an airtight container in the fridge. They'll be really tasty for a few days!
To freeze: pour cooled soup into freezer-safe bags & store for up to 3 months in the freezer. Thaw & reheat.
*I use raw chicken breast to make this soup, but you could easily make this soup with leftover shredded chicken or rotisserie chicken. If you do make it with chicken that's already cooked, you can still add the chicken early on - it'll absorb the flavors of the soup. But, you can also just wait until the end and add it in a few minutes before serving.
**You could use regular Russet potatoes, but since they're much larger than yellow potatoes, you may just want to use 2 of them. You could also easily sub in red potatoes.
***You can also use fresh green beans, but frozen are so much easier! I always buy thin cut green beans (frozen), and they're delicious - they don't give off a waxy texture like many other regular frozen green beans do.