Colorful Country Kitchen Tour
C'mon in for a little colorful country kitchen tour! We bought our very builder-grade home back in 2015, and have been doing work since then to make it our own. When we bought it, everything was some shade of brown or tan…even the landscaping. 😉
Multiple shades of tan just don't work for me, so we've been in the process of adding color, personality, and warmth to it over the last few years. I'm loving our kitchen!
This post contains affiliate links for your convenience. You can find our full disclosure policy here.
One of the first things we did in our kitchen was paint our cabinets white. They were perfectly fine and in good shape before, but I really wanted white cabinets. We repainted (and added new hardware) to all of our cabinets for about $150. I'm still in shock at how budget-friendly it was!
We also added the white subway tile backsplash, which was about another $150. For $300, I couldn't believe the transformation we were able to get in this kitchen! I already spend all my time in there…might as well make it pretty, right?!
You can see in the background that our kitchen opens up to what would typically be a breakfast nook, but we turned it into a little sitting/play area, and are using the dining area for our kitchen table. I'll share photos of that soon. 🙂
I love the country/farmhouse charm in our kitchen. My mom saved those ceramic blue canisters for me, and I've been using them ever since I got married. I love blue and white kitchens, so they fit perfectly!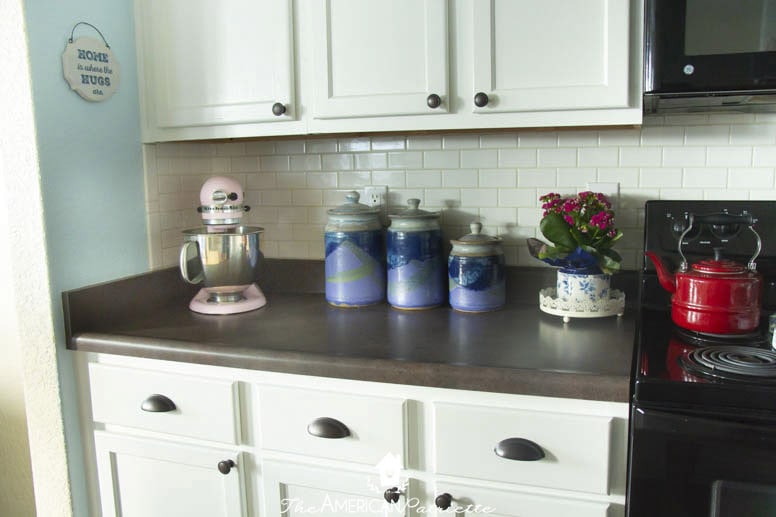 We found that over-the-range microwave at a garage sale for $25…WIN! Saves counter space and matches our other appliances!
I love decorating with colorful tea towels. This "Life is What You Bake It" towel from Anthropologie was just screaming my name! Colorful AND a reference to baking? Um, yes!
And I love my turquoise Pioneer Woman Dutch Oven! I use it ALL THE TIME. It's so pretty and functional. It doesn't look like they sell this one anymore (sad!), but here's a similar one on Amazon.
Naturally, I have my Texan and patriotic decor incorporated into my kitchen. One of my friends and college roommates gave me this United Cakes of America cookbook for my birthday one year. I don't think there has ever been a more perfect gift for me. It's a gorgeous cookbook, and the recipes I've tried are wonderful! (And though I'm a chocolate girl through-and-through, I think the Apple Butter Cake recipe from West Virginia is my favorite.)
I hadn't really ever considered indoor wreaths before, but when I hung this boxwood wreath up somewhat accidentally (I was using this door as a holding place for a wreath I was making for another door), I realized, this is ADORABLE. Y'all, if you're not using some indoor wreaths in your house, go snag one!
I absolutely love my boxwood wreath, especially with that red and white buffalo check bow. So country and classy, and I love how it ties in with my "Come and Gather" sign. I got my wreath at Hobby Lobby, and they have similar ones at Target or on Amazon.
I also love decorating with plates, especially, surprise (!) – patriotic ones.
I wanted to make a sign for this blank wall, so I came up with this one since I love incorporating the word "gather" with the idea of food and sitting at the table together. It was very simple to make! Here's the tutorial if you want to make one for your kitchen.
Our kitchen opens up to our whole main area, so you can see the play area, a portion of the dining area, and the entire living area from our kitchen. Perfect for spending daily life together, as well as perfect for when we have company! We can all gather in the main area and no one is isolated from each other.
I've had that tea kettle lamp for several years now. So perfect for a quaint country kitchen!
We have one lone cabinet over here by the sink – this is our drinking glasses/coffee area. You know, of primo importance.
And, one of the things I love most about my kitchen is my floral rug. Y'all, if my house was burning down and I only had time to grab a few things, I'm pretty sure this is one of them. I LOVE THIS RUG.
This room sees a lot of traffic (and um, as you can imagine, a lot of spills…), and this rug has held up wonderfully. It's a gorgeous rug – so vibrant in color and brings so much personality into my kitchen. I LOVE IT.
This country floral rug is 3×5 – perfect for my kitchen area – but they have it in several other dimensions (and there's also a tan one just like this one that I'm eyeballing for our bathroom!).
Here are links to the various dimensions of this NuLoom Blue Floral Rug:
More to come on how we redid our cabinets for only $150! I would totally recommend the process we did for anyone who wants to paint their cabinets and are on a budget. We couldn't be happier with ours! (And they're still this white even after 2 years of use!)
Want to save this as inspiration for your kitchen?! Pin it to your favorite Pinterest board!