Cherry Chocolate Cupcakes with Almond Buttercream Frosting
These moist cherry chocolate cupcakes with almond buttercream frosting are such a delicious pair!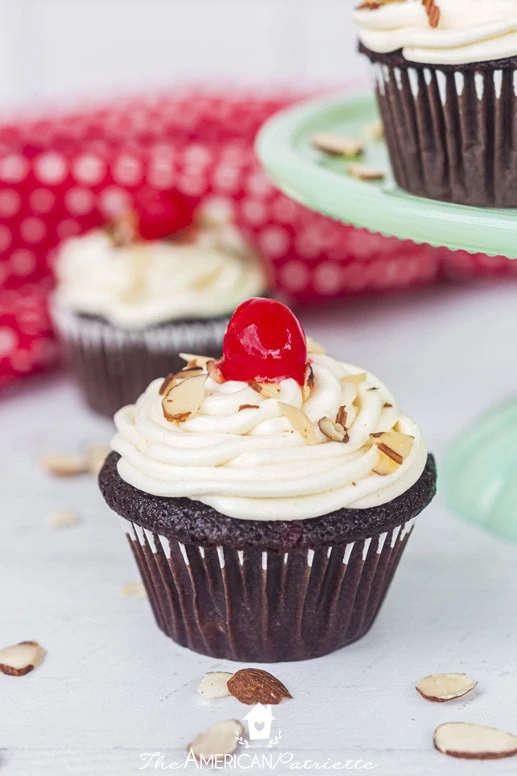 Made with my favorite chocolate cake recipe, these super moist cherry chocolate cupcakes have a little flavor punch with maraschino cherries.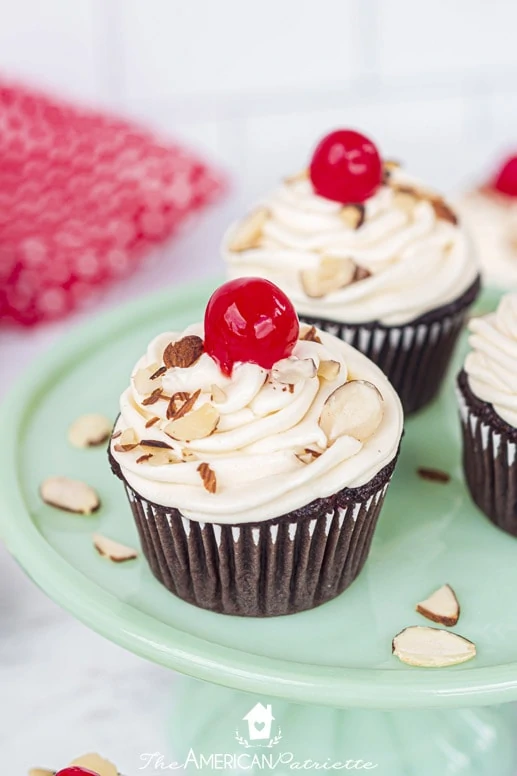 I'm not the world's biggest cherry fan, but my husband and kids LOVE maraschino cherries, and I know a lot of other people do too, so I thought I'd see if I could tastefully add them in to my favorite chocolate cake recipe.
Needless to say, they turned out pretty delicious!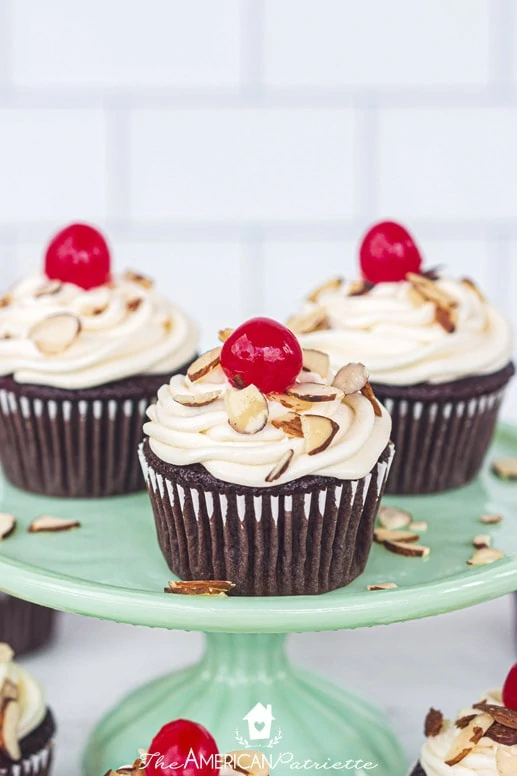 And the almond buttercream frosting is a perfect compliment to them!
The recipe is at the bottom of the post, but here are a few tips:
If you want an even bolder cherry flavor, you can add more chopped maraschino cherries to the batter of each cupcake reservoir. I only add about 1/2-1 tsp, but you can definitely add a little more and it won't mess up the texture of the cake.
If you want to add a cherry on top of the cupcakes, wait until a little closer to serving time to add them to prevent cherry juice from running down the sides of the frosting. Or, you might like that look!
You can easily turn this into a cake, you'll just want to adjust the bake times for it. One pan of these cupcakes took 18 minutes to bake, but if you want to bake them in 2 8′ or 9″ cake pans, I'd bump up the bake time to about 25 minutes and then check with a toothpick.
If you're not a fan of almonds, or if you're wanting to avoid nuts, you can omit the almond extract and the almond topping. While the almond frosting is such a perfect topping for these, regular 'ole buttercream will taste just fine!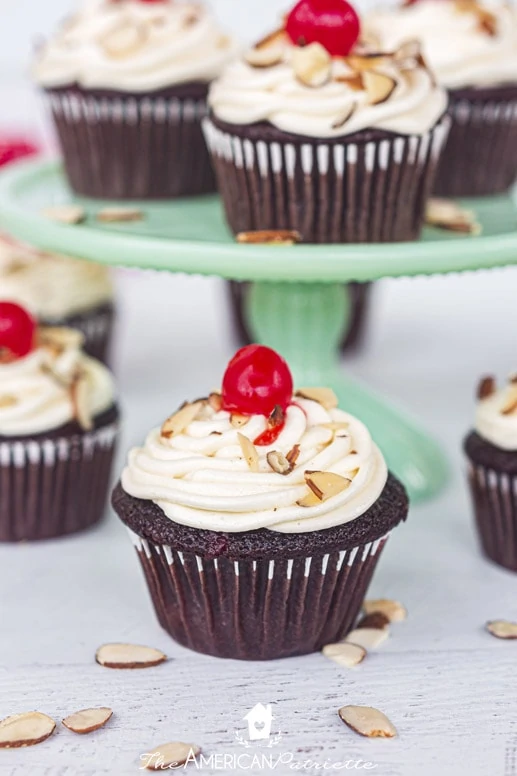 Enjoy sharing these with others!
Cherry Chocolate Cupcakes with Almond Buttercream Frosting
These moist cherry chocolate cupcakes with almond buttercream frosting are such a delicious pair!
Ingredients
For the cherry chocolate cupcakes
2 cups all-purpose, unbleached flour
2 cups granulated sugar
3/4 cup unsweetened cocoa powder
2 teaspoons baking powder
1 1/2 teaspoons baking soda
1 teaspoon salt
1 cup buttermilk
1/2 cup vegetable oil
2 large eggs
2 teaspoons vanilla extract
3/4 cup hot water
1/4 c maraschino cherry juice
1/2 c finely chopped maraschino cherries
For the almond buttercream frosting
2 sticks unsalted butter, room temperature
4 c powdered sugar
2 tsp almond extract
1 tsp vanilla extract
1/4 c heavy cream*
Dash of salt
Extra maraschino cherries & almond slivers for topping
Instructions
To make the cherry chocolate cupcakes:

Preheat oven to 350.
Pour dry ingredients for the cake (flour, sugar, cocoa powder, baking powder, baking soda, salt) in a large mixing bowl/in your stand mixing bowl and mix together using the whisk attachment.
While mixing, gradually add in buttermilk and oil. Mix in eggs, one at a time.
Add the maraschino cherry juice to the hot water, and then slowly add to the cake batter while continuing to mix. Make sure to scrape the sides of the mixer, and then mix once more until the cake batter is thoroughly blended.
Pour cupcake batter into cupcake pan with liners, filling about 3/4 of the cupcake liner.
Add about 1/2-1 tsp of chopped maraschino cherries into each cupcake reservoir.
Bake 12 cupcakes at 350 for 18 minutes, or until toothpick comes out clean from middle cupcakes. Repeat with remaining cupcake batter.
Remove cupcakes from pan and allow to continue cooling on a cooling rack.


To make the almond buttercream frosting:

Using a hand or a stand mixer, cream softened butter for 2-3 minutes.
Gradually alternate mixing in powdered sugar, extracts, and heavy cream, and continue to mix until frosting is light and fluffy - just another couple of minutes.
If you're making the frosting while cupcakes are baking, just cover with plastic wrap until you're ready to use it.
Once cupcakes are fully cooled, put frosting into piping bags (or just spread it on with a knife if you prefer) and pipe frosting on each cupcake. Sprinkle with almonds and add a cherry on top!
Notes
If you don't have heavy cream, you can use whole milk for the almond frosting. The heavy cream will add some additional creaminess/richness, but whole milk will work too!
You can leave these on the counter for about a day, but I'd store them in an airtight container in the fridge after that to prevent the cherries from molding. They'll stay moist in the fridge for at least a few days!