I'm not sure we could ever get tired of cheesy potato casserole. This is Aaron's mom's recipe, and it's definitely one of our favorites.
In fact, when we hosted our weekly potlucks in College Station, we made this for our "Family Favorites" night. Everyone brought a dish that was a must-have at their family gatherings.
I think almost every dish that night at potluck was yellow.
Apparently we are not the only ones who require cheese to be a main ingredient of our favorite dishes.
When a friend of ours tried the casserole that evening, she asked, "What in the world is in this? Crack?"
No. But just take this as a warning, cheesy potato casserole is super addicting, and I will not be held responsible for your over consumption of it.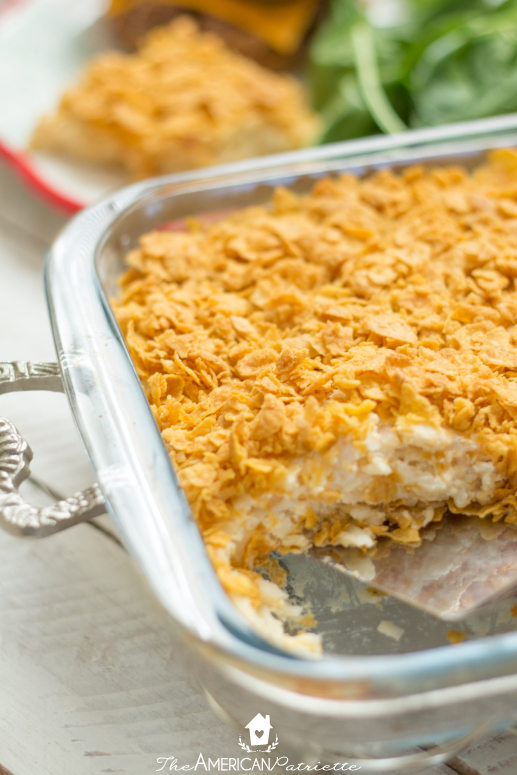 The recipe is below! I hope this becomes one of your family favorites and puts some smiles on faces around your table, too!

Cheesy Potato Casserole
Ingredients
2 lbs frozen shredded hashbrowns, thawed
3/4 c melted butter, divided
1 10.5oz can cream of chicken or cream of mushroom soup (either is fine)
1 pint sour cream
2 c grated cheddar cheese
1 tsp salt
1/4 tsp pepper
2 c crushed cornflakes
Instructions
Preheat oven to 350.
In a large mixing bowl, add hashbrowns, 1/2 c melted butter, soup, sour cream, cheese, salt, and pepper. Stir until everything is blended well.
Pour into a lightly greased 9x13" pan and bake in preheated oven for 30 minutes.
While casserole is baking, saute crushed cornflakes in remaining butter (1/4 c) in a pan on the stove top over medium heat for about 5 minutes.
Once the casserole has baked for 30 minutes, remove from oven and spread sauteed cornflakes evenly on the top.
Put the casserole back in the oven for 10 more minutes.
Remove from oven, allow to cool slightly, and serve it as a delicious side dish!