Apple, Chicken, and Pesto Pizza
Basil, after anything chocolate, is my favorite. And this pizza is definitely one of my favorites.
There's no chocolate on it, though, don't worry.
My college roommate and one of my BFFs, Audrey, made this pizza in our little apartment kitchen one time and I've been hooked ever since. I loved being roommates with Audrey – she and I became instant friends when we arrived at Texas A&M, and we've soaked up so many memories together since! Among millions of other things, she was there for me for the ups and downs of Aaron's deployment, she's always there to share a really great laugh with me, and she's also taught me that, just because something is from the dollar bin, doesn't mean it's good.
I have to be reigned in from time to time.
Anyway, onto the pizza – this is a perfect summertime meal!
I think you'll get hooked on this recipe! With a blend of sweet, savory, crunchy, and a little bit cheesy, you won't be able to resist this apple, chicken, and pesto pizza!
The recipe is below, but I'll walk you through the steps.
Cook the chicken in a skillet with a little bit of oil, seasonings, and juice squeezed from a lemon. Cut it into bite-sized pieces and set aside.
Chop the apple into small chunks and coat them in pesto.
Drizzle olive oil on the pizza crust and evenly spread around (I use a pastry brush for this, but you can just as easily use a spatula). Add pesto on top and spread to coat the crust.
Next, sprinkle the spinach leaves all over the crust, and then top the spinach leaves with the chicken and apple chunks.
Then it really starts getting fun – sprinkle the mozzarella and feta cheeses over the top and put the pizza in the oven on a pizza pan or a pizza stone. (If you're using a pizza stone and you want crispy crust, be sure the pizza stone heats up in the oven before you put the unbaked pizza on it – this will help the crust get crispier as it bakes. Just put the stone in the oven as you preheat it and remove it from the oven just before you're ready to bake the pizza.)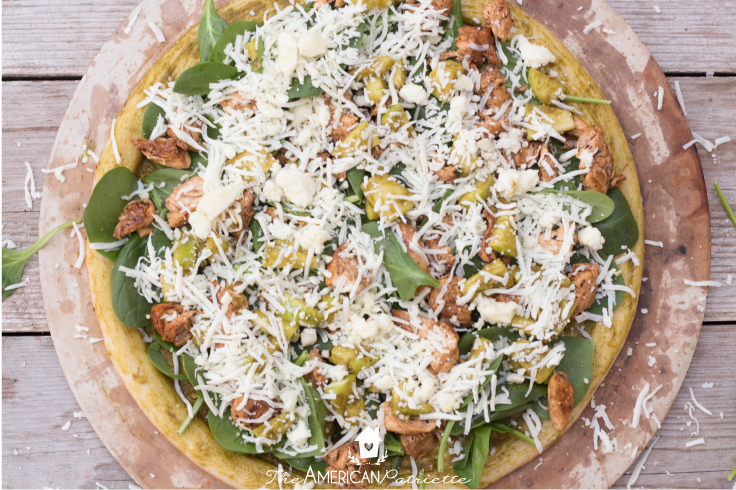 Bake for about 12 minutes (or for however long the package of your pizza crust said to bake it), remove from the oven, slice it up, and enjoy!
Pesto is the best-o!
These pizzas don't offer many servings since they're rather small, so if you're feeding a group with this pizza, you may need to get larger pizza crusts and adjust the other ingredient amounts accordingly. Aaron and I can pretty easily polish off one of these pizzas together for supper!
Want to remember this delicious pizza recipe?! Be sure to pin it to your favorite Pinterest board!
Ingredients
2-4

tsp

olive oil

divided

1/2

lb

uncooked chicken breast

Juice from 1 lemon

Salt and Pepper

1/2

Granny Smith apple

diced into small pieces (about 1 cup)

3

tbsp

pesto

divided

1 8

oz

packaged

non-refrigerated round pizza crust

2

handfuls fresh spinach leaves

about 2 cups

1

c

shredded mozzarella cheese

1/3

c

feta cheese
Instructions
Preheat oven to 425 (or whatever temperature your pizza crust package says).

Heat up a teaspoon or two of oil (depending on the size of pan you're using) in a skillet over medium heat.

Add chicken breast to the skillet. Immediately season with salt and pepper on both sides. Squeeze lemon juice over chicken.

Cook chicken over medium heat until golden brown on the outside and no longer pink in the middle.

Remove from heat and transfer chicken to a plate or cutting board. Cut the chicken into small, bite-sized pieces and set aside.

Chop apple into small chunks. Evenly coat apple chunks in 1 tbsp pesto.

Drizzle 1-2 tsp olive oil over the top of the pizza crust. Spread evenly with a pastry brush or spatula. Add remaining pesto (2 tbsp) on top of the pizza crust and spread evenly.

Evenly sprinkle spinach leaves over the top of the crust, followed by the chicken and the apple chunks.

Sprinkle mozzarella cheese and feta cheese on top to coat the other ingredients.

Bake in oven for 12 minutes (or for the time duration listed on your pizza crust package).

Remove from oven, slice, and enjoy!
Notes
You can use refrigerated pizza dough for this, you will just have to adjust the recipe accordingly. I typically use the non-refrigerated crust (I always find it on the pasta aisle of the grocery store) just like I used in this recipe, but both will work as long as you adapt the recipe to the directions on the refrigerated crust if that's what you decide to use!