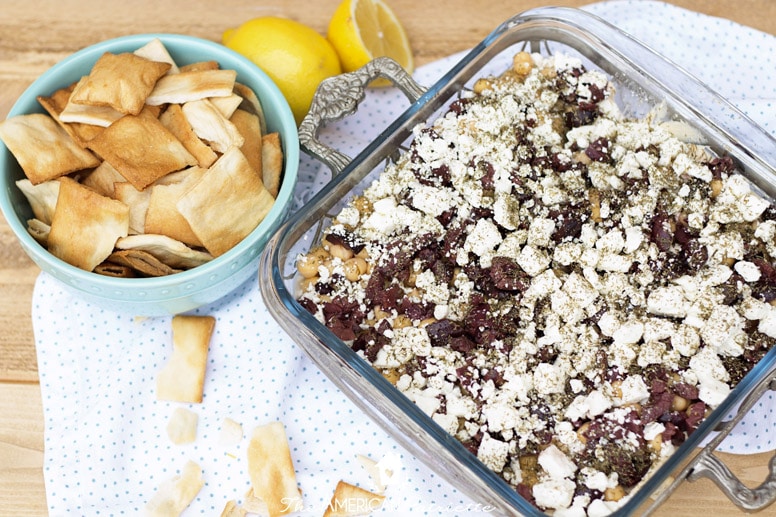 Once I started coming up with super, duper easy snack and appetizer recipes to help us all have yummy food for last-minute gatherings or company, it's like I couldn't stop!
When I was brainstorming recipes like this Straight-Out-of-the-Pantry Salsa and this Million Dollar Taco Dip, I wanted to come up with another EASY snack recipe that was a little less Tex-Mex-ish (I know, why???), just to offer some variety.
All you need are some basic ingredients that you then throw together and call a layer dip.
I know, it almost seems like it's cheating, huh?
A base of hummus (whatever flavor you want!), and then pour some Feta, Kalamata olives, and Garbanzo beans on top…
Sprinkle on some lemon juice & dill weed, and you're done!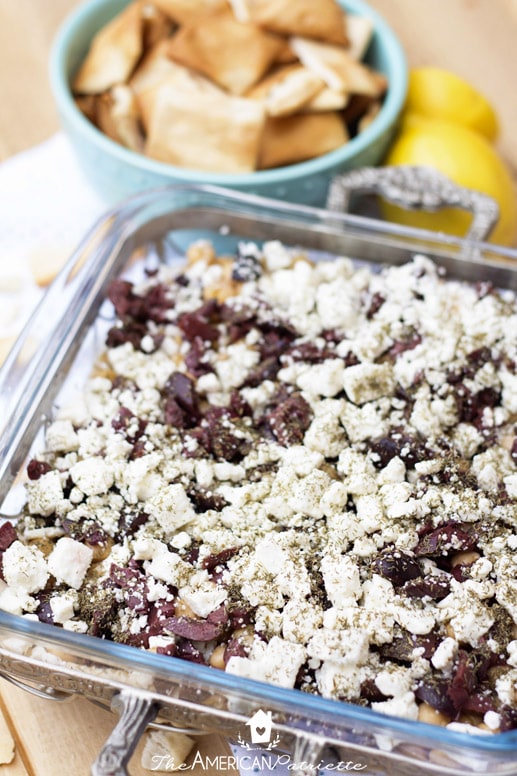 It's so tasty (and not too bad for you, either!) with some pita chips!
Make gathering with folks EASY with some simple recipes!
2 Minute Easy Greek Layer Dip
Ingredients
16oz container hummus (I used just regular 'ole hummus, but you can get fancy with the flavors if you want!)
1 c Feta cheese crumbles
1/2 c Kalamata olives, drained and chopped
1 can Garbanzo beans, drained
1/2 tsp dill weed
Juice from 1/2 lemon
Instructions
Spread the hummus on the bottom of a square 8x8 or 9x9 dish.
Sprinkle the Feta, olives, and Garbanzo beans evenly on top.
Sprinkle on the dill weed and the lemon juice.
Serve with pita chips!