Christmas & the winter season are coming upon us, so I thought I'd get a post out now in case you're beginning to plan a Winter ONEderland first birthday party for a little girl! We threw this party for my daughter last year when she turned one, and I had definitely started the planning process for her party at this point last year.
I was so excited to throw my kiddo a birthday party for the first time! It was so special, and I absolutely loved preparing for it. We had lots of family and friends to help us celebrate our sweet little munchkin.
As I am with anything I do, I was on a budget when prepping for her party, but I don't ever let that stop me from getting creative (maybe that makes me have to be more creative since we have to stretch a buck?), so I'm glad to share some ideas with you on how you can throw a similar party with some cute, easy-to-make, and inexpensive DIY decor, as well as offer some tips on how to decorate with things you already own.
These are the invitations I designed and sent out. As much as I love paper and all things stationery, I'm totally for online invitations these days – the ease of using them (and the fact that they don't cost anything!) is hard to beat, especially since online invitations really help to keep track of RSVPs, but I really wanted to have something to put in Elizabeth's keepsake box, so I went ahead and had these printed (I think through Mpix) to send out to guests and to save some for Elizabeth.
How cute is this cupcake?! I made this painted burlap hanging sign for our door to welcome our guests. If you've never made one of these, I'm telling you, these are a staple DIY project I turn to when I'm in need of something to hang on the door for a celebration! They're SO easy to make and very inexpensive! I have a tutorial for how to make this here.
I put a few decorations on an entryway table as people walked in. I definitely used some of my Christmas decorations to decorate for her party since they were already out for the season!
This was one of the tables with food. I made those tissue paper pom pom flowers above the sign, as well as those tissue paper tassel banners. They were so fun to make! I don't have a tutorial up for how I made the banners, but you can use the one I followed.
The sign is a faux chalkboard. I used black butcher paper and covered the glass of a framed picture and then just used chalk to write on the paper. Too easy! I did this on a few different signs. Talk about inexpensive and easy! You can use frames you already have – that's what I did! Here's a quick tutorial on how to make it.
I gathered twigs from my mother-in-law's yard (we don't have any established trees in our yard yet, so I had to mooch off of her mature trees!), spray painted them, and placed them in glass vases I already owned. I bought the pink ornaments and the snowflakes, but I already had everything else. I enjoyed assembling these – I think they turned out really pretty!
A snowman cheeseball! How cute is this?! The recipe was SUPER easy. I'll put it up soon!
And snowball truffles & peppermint Oreo brownies – YUM. I changed up my regular decadent Oreo brownie recipe to incorporate the peppermint. Oh my gosh. So good.
Elizabeth's birthday cake! I loved making this for her – I couldn't wait to make my first "1st birthday" cake! I will put up a tutorial in a few weeks on how I made those snowflakes – I came up with a way to make perfect candy snowflakes and it was SO easy to follow!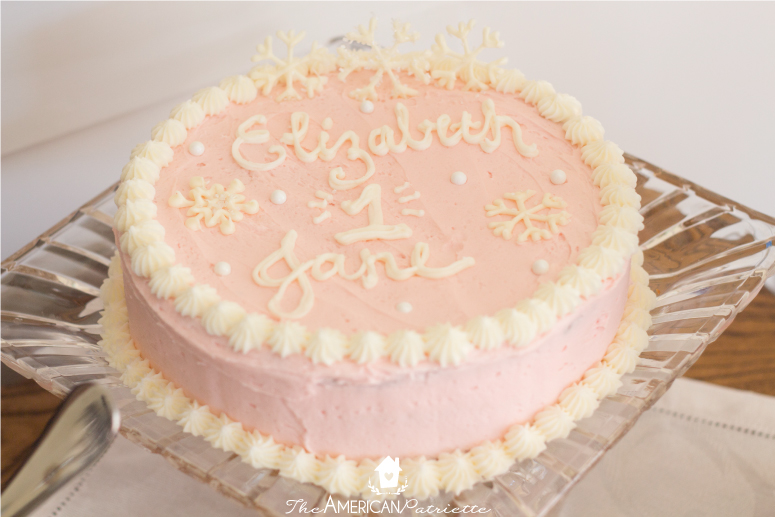 Another little table we had with some food on it, as well as the paperware and plasticware. That banner is kind of hard to see because of the lighting, but I made a painted snowflake burlap banner with ribbon on it – again, easy and inexpensive, and I think it was absolutely adorable! You can definitely take this idea and run with it – customize it for any occasion!
That sign – yes, another one of my faux chalkboard signs! Y'all, I'm telling you – it'll revolutionize some of your party decorations if you start making them!
I love these tissue paper fringe banners! Another one of my wacky ideas as I was prepping for her party, and I've made these so many times since then! So easy, so cheap, and can be customized for ANY celebration since you can change up the colors of the tissue paper!
Here's a close-up of that painted burlap pennant banner!
As well as a close-up of the fringe banner.
We had another table with punch (I think we just mixed cranberry juice and ginger ale) and pumpkin chili on it with a bunch of pictures hanging over it. I was thinking about having a hot cocoa and tea station, but it was like 75 degrees outside. Texas does not understand winter.
But I made the chili sign anyway – I couldn't resist. It was a WINTER Onederland party, for goodness sake! Again, one of those faux chalkboard signs!
We strung up a bunch of pictures of Elizabeth from the first year of her life – such a fun little project for us to do so we could reminisce. I made that cute little tulle banner as a separator and a pop of color on this wall.
I bought that paper mache 1, covered it in glue, and then covered it in glitter. Easy and super fun!
And perfect centerpieces for a Winter ONEderland party – poinsettias! I bought a pink one and a white one, both at Walmart. I think they were less than $5 each.
Our little one-year-old (now almost two-year-old)!
Just finished eating her little birthday cupcake (I made a few cupcakes from the same batter that I used to make her cake), but I'm pretty sure she fed most of her cake to my dad. She did not get her food-sharing quality from me, that's for sure. I do not share my dessert from my own plate!
What a fun party! We loved celebrating with the loved ones who came! Now I'm planning her 2nd birthday party…how is it already almost here?!