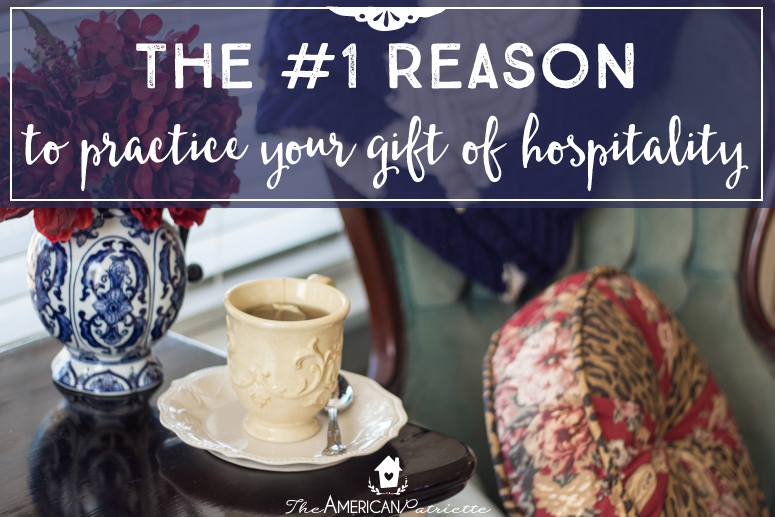 Chances are, if you've spent some time on my blog, you're a fan of anything related to hospitality. Perhaps you live to entertain. Menu planning – does it give you a rush? When you daydream, do you find yourself brainstorming the theme of the next baby or bridal shower you're hosting? I bet your guest bathroom is stocked with overnight essentials and good-smelling hand soap.
A Gift of Eternal Significance
Perhaps you already know that your love of hospitality is a gift. But, maybe you don't.
Can I tell you something? That desire you have to serve others and make them feel at home when they visit; that gift you have of bringing meals to a new mom or a sick friend or neighbor; that joy you exude when planning the details of a party; that thrill you get from planning your family's weekly menu before you go to the grocery store…can I tell you that those are gifts, and not just any 'ole gifts, but ones with eternal significance?
God Commands Hospitality
If you don't believe me that your gift of hospitality – both the gift of your love for it and the gift you have in practicing it – has eternal significance. Just look at what God has to say about it.  He commands it in 3 different places in Scripture:
Romans 12:13 – "Contribute to the needs of the saints and seek to show hospitality."
Hebrews 13: 2 – "Let brotherly love continue. Do not neglect to show hospitality to strangers, for thereby some have entertained angels unawares."
1 Peter 4:9 – "Show hospitality to one another without grumbling."
Though these are commands, I think God graciously commands hospitality because He knows its value to everyone involved. I don't picture God furrowing his brows, white-knuckling a staff in his hand that he's beating on the ground as He's simultaneously telling us, "Practice hospitality, or else!" That's not how I view these commands. No, I think He commands His people to practice hospitality, not begrudgingly or authoritatively, but rather, to emphasize the importance of the act of hospitality and its ability to grow His kingdom, as well as grow our hearts as believers.
If hospitality didn't have eternal significance, I don't think God would command us to practice it.
I found a really interesting article from John Piper's blog, Desiring God, which spoke directly to the need of hospitality in the 21st century:
"In a progressively post-Christian society, the importance of hospitality as an evangelistic asset is growing rapidly. Increasingly, the most strategic turf on which to engage the unbelieving with the good news of Jesus may be the turf of our own homes. When people don't gather in droves for stadium crusades, or tarry long enough on the sidewalk to hear your gospel spiel, what will you do? Where will you interact with the unbelieving about the things that matter most? Invite them to dinner."[1]
Friends, our hospitality can literally affect the population of heaven by using that gift to share Christ with others.
Why is it good for you to recognize that your gift of hospitality has eternal significance?
I'm sure there are a number of reasons, but I've got two main ones for you:
So you can have even more motivation to hone and practice that gift; and
So when you feel defeated because you've failed at some of your hospitality efforts, you don't give up and quit. So you don't hide that light – that quality that gives you such joy – under a bushel and deprive others from experiencing it.
Hospitality has Eternal Significance: Motivation to Practice It
First, doesn't it feel so good to know that something we already enjoy doing actually matters? I think when we recognize that one of our passions actually holds eternal weight; that it is perhaps a God-given talent and not just a happened-upon strength, we might use it more intentionally, more wisely, and more joyfully.
As we prepare our homes to receive our guests, are we not simply mimicking Christ when He says He's preparing a place for us in heaven (John 14:3)? As we prepare that casserole to bring to the sick friend, are we not the hands and feet of Christ, caring for the weak? As we plan out the details of a party to celebrate the birth of a new baby, the union of a bride and groom, or another special event, are we not resembling the Creator of the Universe – the one who created the details of the animal kingdom, the details in the variety of plants and trees, and the one who cares about the smallest of details – such as the number of hairs on our head?
If we know that our efforts in practicing our gift of hospitality matter on earth and in heaven, are we not more likely to continue practicing hospitality, and perhaps practice it with a renewed energy and enthusiasm?
Hospitality has Eternal Significance: Don't Quit!
Second, it's also important to recognize that our gift of hospitality has eternal significance so that we don't fail to practice it, even when it's flawed. While I'm confident that many of our passions are God-given, I'm also confident that some our passions and strengths are also our biggest weaknesses and can easily turn into our idols. How does this translate into hospitality?
Because you highly value hospitality, because you're probably good at practicing it (and people probably tell you that!), and because you place high expectations on yourself and your ability to show that hospitality to others, it's probably very easy to feel defeated when you've failed at showing hospitality (or failed in your efforts), and it's also tempting to not practice it at all when we can't practice it "perfectly." If we hold ourselves to such high standards and thus choose to not practice hospitality when we can't show it perfectly, we've created an idol out of our God-given gift and are placing that shining light of ours under a bushel. It's crucial to remember that our gift of hospitality – though often flawed – has eternal significance in order for us to get over the temptation to give up when we mess up.
When we burn the casserole, when our house is a mess before the arrival of early or even unexpected guests, when our detailed decorations don't go as planned, or when we didn't have time to serve in the extensive way we wanted to because of a hectic week full of unforeseen circumstances, it's crucial for us to remember that our gift of practicing hospitality, not our performance of hospitality, is the God-given command, and that it's our practice of hospitality that has eternal significance, even when it's imperfect. We can be encouraged that, even the times when our practice of hospitality isn't the elaborate or lovely way we pictured, it still matters – to heaven and to earth.
You, my friend – likely a lover of homemade cookies, scented candles, and warm bodies filling up the seats at your kitchen table – have a difference to make with that gift of hospitality. You can literally change heaven and earth by practicing it.
[1] http://www.desiringgod.org/articles/hospitality-and-the-great-commission