Happy New Year, y'all! If you're looking for some ways to spruce up your celebrations of saying goodbye to 2016, here are some New Year's Eve party snack and game ideas for you! I'm sharing links to four of my favorite dip recipes (all are easy to make and great for a crowd!), as well as links to two posts about our favorite board games and our favorite big group games.
Four Easy-to-Make Dip Recipes
This salsa is absolutely delicious and feeds A LOT of people! So fresh and easy to make – all you do is toss the ingredients into a blender or a food processor and you're good to go!
I've you've scoped out my recipes at all, you've probably found that I do not cook/make/bake things that aren't packed with flavor, and this guacamole is no exception! It is SO good, has great texture, and it's so flavorful! It's very easy to make (tip: use a hand or stand mixer to blend the avocados in order to make the guac extra creamy!) and delish!
Aaron is the brains behind the (hilarious) name of this dip. Creamy-Beany-Cheesy-Guaca-Salsa is essentially 7 layer dip, but it's a healthified, protein-packed version without compromising on flavor, even one little bit. This will also feed a big crowd (unless you have a really hungry husband, and then you may need to make a double batch of this. Just kidding. Kind of.)
A small handful of ingredients and about 5 minutes of prep time before popping this in the oven are all you need to do in order to accomplish the most delicious hot dip you'll serve at a party! Oh my gracious, this dip is ADDICTING. You could potentially lighten it up by using lighter cream cheese and lower fat mayonnaise, but I usually use the real deals when making this dip since I'm sharing all the calories with a crowd. 🙂
Party & Group Game Ideas
Head over to my post about our favorite group board games! Get an idea of which games might be best for your NYE celebration, depending on how small or large your gathering is going to be. There are ideas for all group sizes and ages!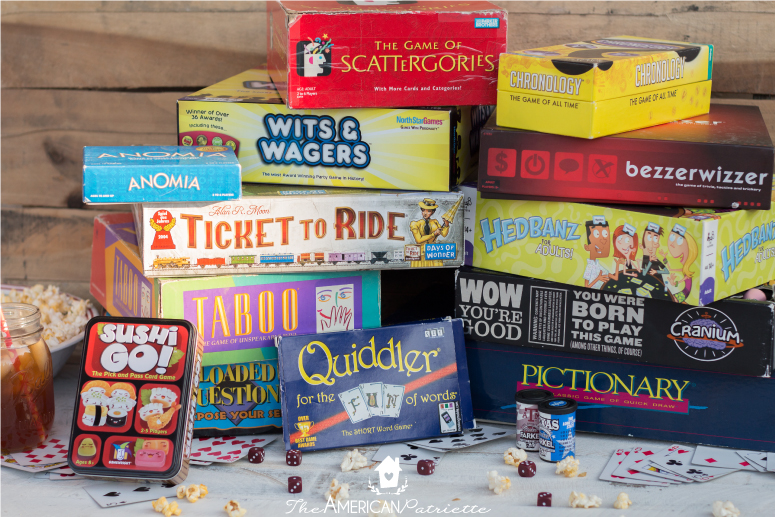 You only need items you already have around your house to play these games! Head over to my post where I describe some of our very favorite games we play when we get together with a bunch of people. There's a free printable you can download that includes all of the game descriptions and instructions!
Have a HAPPY and SAFE New Year! Blessings to you and your families in 2017! Can't wait to ring in the new year with some great new posts in the coming weeks – stay tuned!