One of the reasons I began blogging in the first place was my love for hospitality – I just wanted to share it with everyone! I can remember loving to prep for guests even when I was a little girl (I have very specific memories of my excitement for planning for people to come over!). Once I got to college, I loved setting up my OWN home (my dorm rooms & then my apartments) to have people over to hang out. Though my practice and habits of hospitality have morphed through seasons of life (and right now, with young kiddos, my abilities to serve look quite a bit different than they did before they came along!), there are a number of things that I feel never change when it comes to making your home a haven for hospitality, and I wanted to share some ideas with you!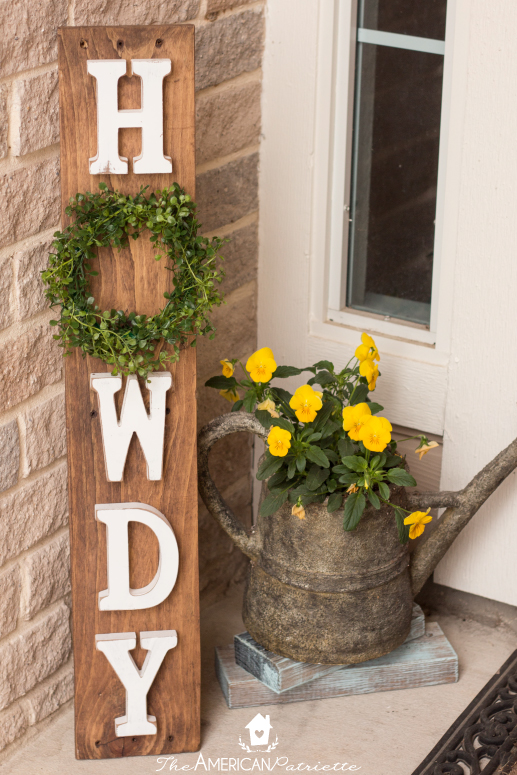 There are various viewpoints on hospitality, but for me, my ultimate goal is to make my home a place of refuge and familiarity. I want people to come into my home and feel like I've been excitedly anticipating their company. Some people are SO gifted in making me feel like they've been anxiously awaiting my arrival! I want to be like that. I'm much better at this sometimes than others, and sometimes I fail miserably and feel like I've bidden farewell to a guest who I haven't loved very well, but ultimately, I strive to make my home a place where people can feel like they're well-taken-care-of, where they can take their shoes off and put their feet up, and overall, where they can just be themselves and know we're happy to have their company. I think because I value hospitality so much, I can get quite insecure about how I practice it. I so deeply crave for people to leave my home with feeling like their time with us was life-giving, so when I feel like I didn't do my best to make that happen, I have to remind myself to turn to the Lord and ask Him to make up for my shortcomings (and boy, do I keep Him busy with those)!
Here's a handful of things I regularly turn to to help me make my home a haven for hospitality. Some of them are suggestions I've LOVED getting from some of you who responded to an email I sent out to my online community (if you're not part of it yet, please come join us!). As you read my list, please remember that these are merely SUGGESTIONS. Hospitality isn't about things, it's about people. These things help me to show love to other people and make them feel important, and I want to share them for the sole reason that I find comfort and joy in them, and I think you'll feel the same way about many of them, too!
1. Lamps
I am such a sucker for lamps instead of overhead light. Obviously this doesn't really apply during the day if your home has a bunch of natural light, but when it's gloomy outside, when the sun starts to set, or in the morning hours before the sun has made its appearance, I absolutely love using lamps for light. I think they make a space much more warm and welcoming, and I have about a million of them to accomplish my goal of making my home an inviting environment!
One of my best friends (who also contributed a suggestion to this list – I'll get to it in just a bit!) helped me when we moved from College Station to Houston several years ago. She drove my little SUV while I drove my husband's truck (and he drove the U-Haul). My car was full of all of our lamps, and she gave me so much grief about the number of lamps I have. They're a bit of an addiction for me, but I get them almost exclusively at antique and thrift stores or as hand-me-downs (shocking, I know). I don't know about you, but I feel like an environment is so much more relaxing in lamp light than in overhead light.
2. Snacks on hand
I don't know about you, but I don't enjoy being hungry, so I really try to make sure my guests don't have grumbling bellies at my house! Everyone has different takes on food provisions, but for me, I think one of my biggest phobias is not having enough food when people come over. Here are a few suggestions of foods you can keep on hand, especially if you're having guests in a pinch and don't have time to go to the grocery store:
Frozen Cookie Dough

Easy to take out of the freezer and piece out onto a cookie sheet to make fresh-out-of-the-oven cookies in a jiffy.
These are some of my favorites: snickerdoodles!
And these cake mix lemonade cookies are SO good, too! Definitely a crowd-pleaser!
Nuts & Dried Fruit
These are so easy to store in your freezer and there's no prep work!
Frozen Pesto
I had never considered pesto as a dip, but my Aunt Karen (I have several aunts, ALL of whom, on both my mom's and my dad's side of the family, have taught me something special about hospitality!) taught me this, and oh my gosh, DELICIOUS! She makes her own and gave me the recipe she uses, so I almost always have some of it in my freezer, but store-bought is fine!
3. Drinks & Drink Mixes on Hand
My pantry is stocked with teas, mixes for lemonade and cold tea, coffee, cocoa, and cider. For one, my husband and I really enjoy hot drinks (you know, to have on the 3 days during the year it's actually cold in Texas), but I always love being able to offer a variety of drinks to our guests.
I almost always have 2 pitchers of beverages in my fridge when we're expecting company: lemonade and sweet tea (the real kind that you brew and then ice, and if your lips aren't pursed when you're drinking it, it's not sweet enough). Sometimes I forget to prep them before people come over, but I really try to have them made before folks arrive! I could pump sweet tea into my veins I love it so much. (I only make it when we're expecting guests because Aaron and I will chug an entire pitcher of sweet tea in a day, so we NEED people to share it with!)
You can also freeze lemon juice in ice cube trays to make homemade lemonade. I recently did this from an excessive amount of lemons our neighbor gave us from her yard!
I did a Bible study on hospitality last year, and I remember reading about how Paul (in the book of Acts) really put an emphasis on setting up an environment for lingering. I have clung so tightly to that image as I think about hospitality. When we linger, we often have the best and most meaningful conversation, so I want to set up my home to be a place of lingering, and I think having drinks on hand help me do that!
4. Extra Toiletries & Towels
I know I'm not the only person who has forgotten their toothbrush when traveling. Providing things in the bathroom and guest room that guests can use to make their stay more comfortable is so easy to do. I have a few things on hand (most of them I probably collected from hotel visits) that I have for guests to just help themselves if they need them. Again, as I set them out, I'm doing so with the mindset of, "We were expecting you and we want you to feel at home here!"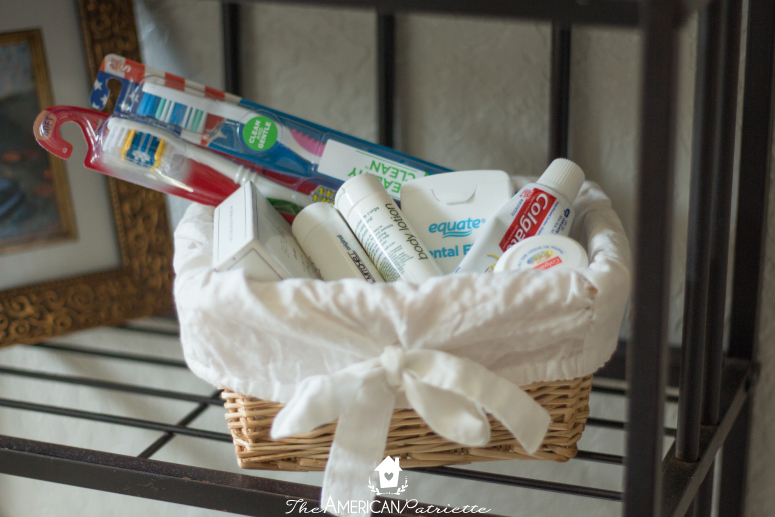 My friend Emily said nice toilet paper and fluffy towels make her feel extra welcome. I totally agree! Except, I'm sorry to our guests: we don't buy the awesome TP – budget cuts! We'll show you we love you in other ways! But, I LOVE it when other people have nice TP in their house! 🙂 🙂 🙂 And I'm all about the extra (and fluffy!) towels. I always make sure we have enough towels for our guests in our guest room/guest bath for their stay. Again, I think it just says, "Make yourself at home!"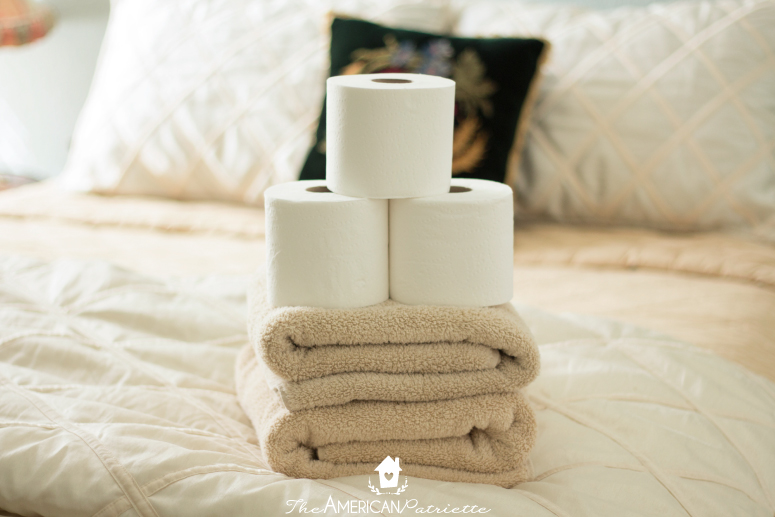 5. Candles
Like lamps, candles are another obsession of mine. I can't have too many. I love candles, and I light them frequently even when we're not expecting people. Something about having candles lit makes me feel so relaxed, even when the rest of my house might be a total disaster (you know, like on the days when a tornado, hurricane, and train all pass through at the same time).
For one, I just love the aroma of candles, but two, I think candles seem to make time slow down. I think it goes back to that whole idea of lingering – for some reason, candles just make me want to linger and relax, and I think they help set our house up to be that kind of environment, too!

6. Fresh Flowers by the bedside table
I'm a sucker for fresh flowers, and the older I get, the more I love them and appreciate them. One of the ladies in my online community on my email list told me that fresh flowers in the guest room (lavender and gardenias are her favorite!) make her feel extra special and loved when she visits someone's home. I totally agree! I don't always have fresh flowers, but I'm finding more and more value in a simple bouquet and want to use them more!

7. Curiosity & Time
Though intangible, these are probably two of the most important elements of making your home a haven for hospitality. When I asked, "What makes you feel at home when you're visiting someone's house?", two of my dearest friends gave two answers that can be boiled down into one idea: personal investment. My friend Rachel said that she really appreciates it when someone asks her questions and sincerely wants to get to know her/learn how she's been doing, and my friend Shelle said she feels so welcomed if the host takes a simple moment to intentionally greet her – just a simple warm welcome into her home. If they wouldn't have made these suggestions, I surely would've included them anyway because they mean so much to me, too!
I have serious admiration for good question-askers. I think it's a talent, and I really want to get better at it. (And for the record, both Rachel & Shelle are fantastic question-askers.) I also strive to be someone who takes more intentional pauses to really welcome someone into my home. Hospitality isn't just about opening the doors to our home, it's about opening the doors to our lives. When we're curious about others, ask them questions, and give them our time, we give them an opportunity to share themselves with us. I feel like we break down barriers and create great pathways of communication when we show we sincerely want to know someone else. I remember hearing a sermon where the pastor said, "We should be people who exclaim, 'There you are!' rather than, 'Here I am!'" I want to be that kind of person!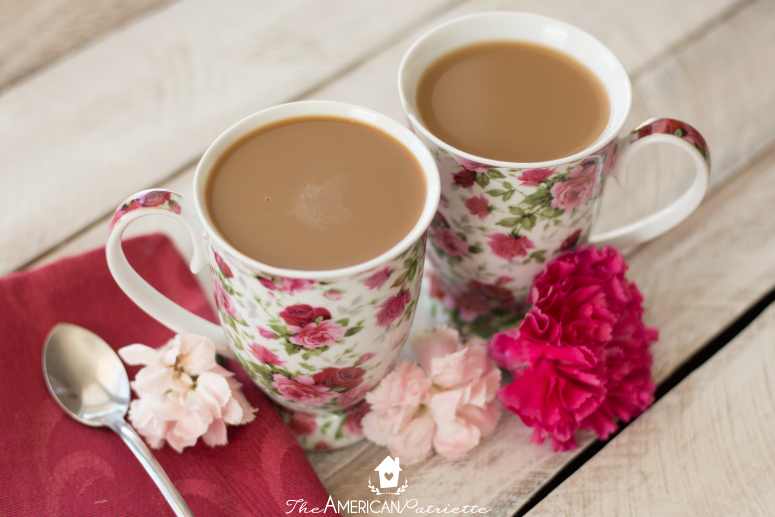 I hope these suggestions encourage and inspire you that YOU can make a difference in your home. Tailor your hospitality to your personality! There are a million other things I could've added to my list, but these are some of the first that came to my mind.
Want a handy list of my top 10 hospitality tips? Click here to get a free beautiful printable list!
What are some things you do to make people feel at home at your house? What are some things that others have done for you to make you feel cared-for in their homes?