This post contains affiliate links for your convenience. You can read my full disclosure policy here. 
Throwing my daughter this western-themed birthday party for her second birthday was SO FUN! At the time of her birthday, I had recently published my first children's book, The Adventures of Pootsey the Wonderbug, so I wanted to do some kind of Pootsey-related party. There's a little story in the book about Pootsey playing a cowboy, so I thought I'd make this a Pootsey western-themed party!
Here's a snippet of the cowboy story from Pootsey:
Here's what all we did for a Pootsey/western-themed birthday party! I absolutely love the details of party-planning, and this one was particularly fun to organize.
Scroll through for ideas for a farm-themed, ranch-themed, or western-themed birthday party – there are tons of ideas for food, decorations, and activities, all of which are very easy & budget-friendly.
We held the party outdoors in December (which is a little risky because of the weather, but we took our chances). It ended up being like 80 degrees outside that day, and then that night it dropped below freezing. Such is the norm of Texas weather!!
Invitations:
Here are the invitations I made. I designed them in Adobe Illustrator with my cute little cowboy Pootsey that I took from the book (our illustrator, Katrina Misley, was fantastic!), printed them out on white cardstock, and then I made those little pennant banners, glued them to the cardstock, and then glued the cardstock to some kraft paper. I LOVED making these!
Since this was for my daughter's 2nd birthday, we made this a "Rootin' TWO-tin' good time" to go along with the western theme, and then you'll notice that the party took place at "Elizabeth's Home on the Range." If you start brainstorming, you can do little play on words & themes with just about any theme!
Food & Drinks:
I kind of did a combo of farm/ranch/and western-themed ideas for food & drinks. Overall, these items were pretty easy to make!
Here's what we served: 
Nacho Bar with tortilla chips, queso, my homemade salsa (SO GOOD), my homemade guacamole (ALSO SO GOOD), sour cream, olives, jalapenos, and black beans. YUM.
"Farm Fresh" deviled eggs
Veggies & "King Ranch" Dip (I mean, with our last name as King, I couldn't resist!)
Campfire S'Mores Popcorn (I originally wanted to do a s'mores bar, but I couldn't figure out how to do it and make sure it would be completely safe with a bunch of kiddos running around, so I decided to do this instead – it was a great alternative! Here's my recipe!)
Pootsey truffles
Sweet tea
Fresh-squeezed lemonade
Hot cocoa bar (Which was absolutely unnecessary because it was SO darn hot; I made chocolate-dipped spoons for this and we ended up having to bring them inside after 20 minutes – they were melting in the sun! Talk about irony.)
Nacho Bar
"Farm Fresh" Deviled Eggs & Pootsey Truffles
Campfire S'mores Popcorn
I absolutely love the way the s'mores popcorn turned out! So adorable and festive! Anyone can make this and you can easily customize it to any party with different candies like I made!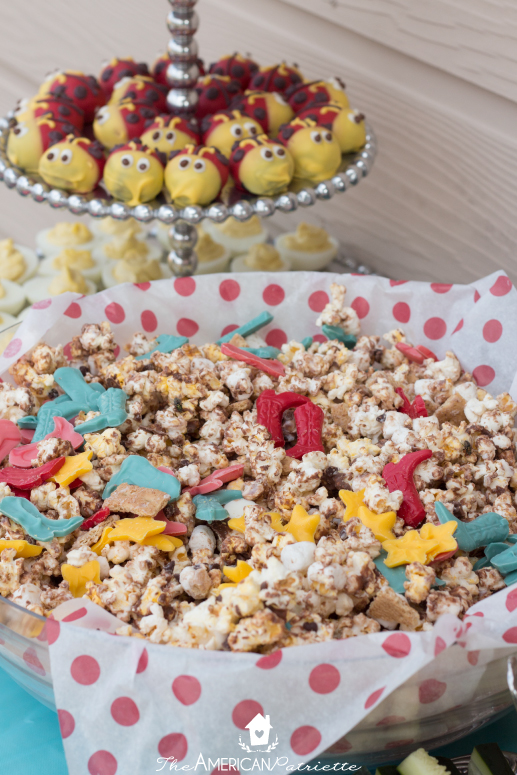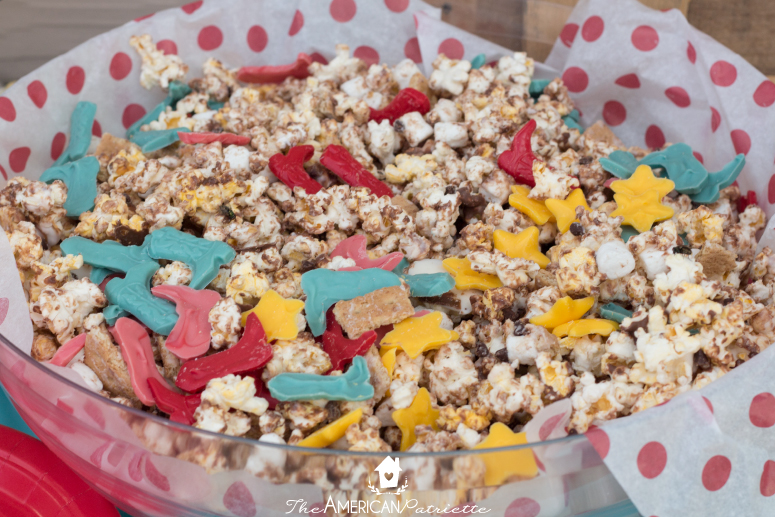 Sweet Tea, Fresh-Squeezed Lemonade, and Country Cocoa
Decorations:
All of these decorations were VERY easy to make/assemble and were very inexpensive to make, too! I created tutorials for you for how to make everything (except the pallet signs – I didn't think about a tutorial for those)! Again, all of these are so customizable to any western-themed party; you can easily change up the colors!
Here's what I made: 
Burlap-Covered Centerpieces
These burlap-covered centerpieces are just coffee cans covered in burlap and ribbon. EASY!
I made these smaller cans to hold utensils – I made them using regular tin cans from beans, tomatoes, etc. and then followed the exact same steps for the burlap-covered coffee cans, except I didn't use the white burlap on these – I just used the ribbon.
Pallet Signs
We had a pallet in our garage, so my husband took it apart for me, cut the wood so it would come to a point at one end and look like an arrow, and then I just dry-brushed the pallets with turquoise paint and painted the words on them with regular white acrylic paint.
Her birthday sign was also made with a pallet! I painted one of the slats from the pallet and then glued jute to the back of it.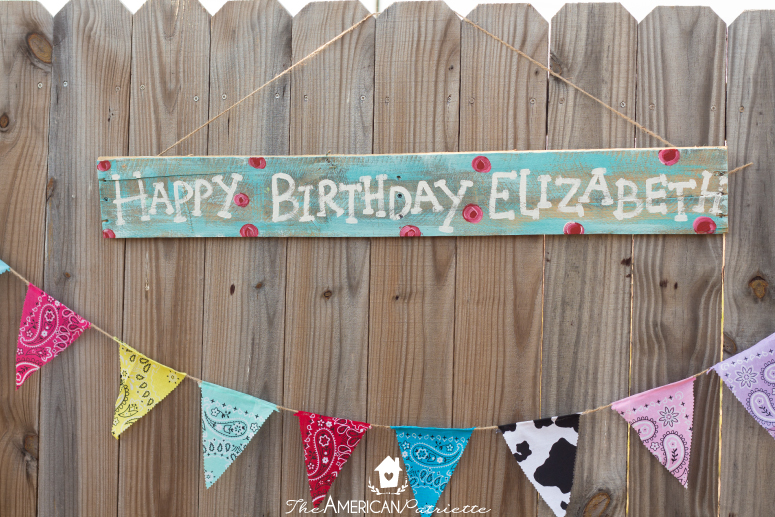 Pennant Bandana Banners
These adorable pennant bandana banners added SO much color and festiveness to her party! You don't need much fabric for these, and these were perfect for outdoors – paper banners would've been disastrous on a windy day. It was pretty breezy out there, so the fabric banners held up much better that day than paper banners like I often make!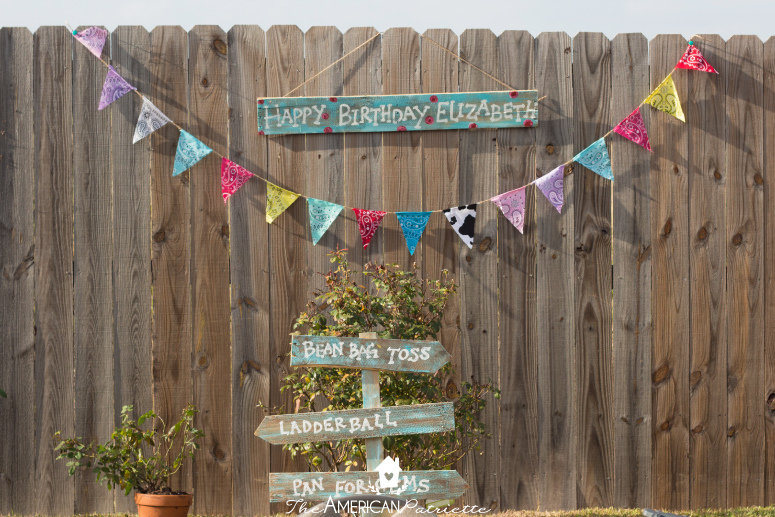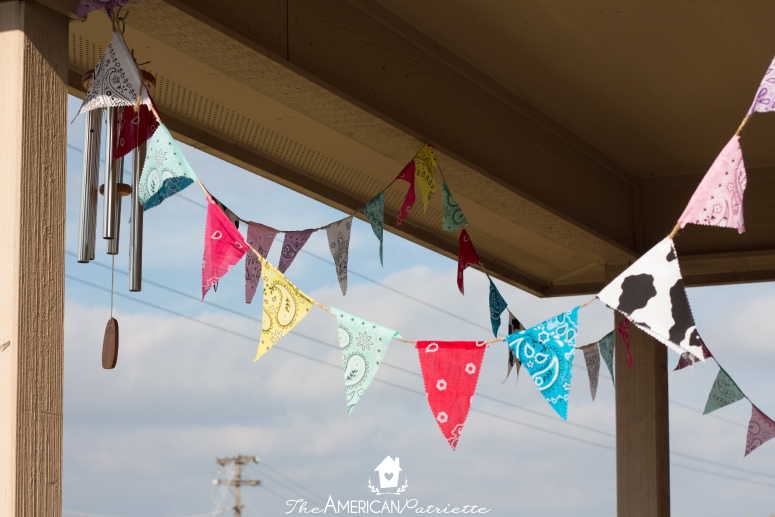 We used pallets as a backdrop on the food and drink tables so I could hang a banner from them and add a little charm to those tables, too.
Scrap Bandana Banners
I also made these cute banners from scrap pieces of bandana fabric. Again, so easy, and I think they added a lot of color!
Painted Burlap Door Hanging
I've made much more adorable burlap hanging signs, but this one just had to do! (The entire time I was making this Pootsey door hanger, I was thanking Jesus for our illustrator – she does a MUCH better job drawing Pootsey than I do!)
Activities:
My husband and I are a HUGE fan of games, plus, I really like to make sure guests are entertained when they come hang out at our house. We were going to have a handful of kids at Elizabeth's birthday party and quite a few adults, so I wanted to offer activities that would be great for a range of ages. I think activities are a great way for people to warm up to each other, get to know each other, and overall just enjoy their time together. These were all great options:
For Kids:

"Panning" for gems
"Free range chicken" egg hunt
Decorating bags for the egg hunt
Western coloring pages
Making Pootsey Christmas ornaments (her party took place about a week before Christmas)

Activities for Adults & Kids:

Bean bag toss
Ladder ball
Panning for Gems
This ended up being a HUGE hit with the kiddos! I bought some cheap gemstones (and borrowed more from a friend), bought a bag of sand at Lowe's for $5, and filled up this old wagon for the kids to search for the gemstones. (I was going for the "old west gold mining" idea for this activity). I bought mini pie crusts at our grocery store, emptied out the crusts, and then cut holes in the pans for the kids to use them to sift the sand and find gems.
Crafts: Western Coloring Pages, Decorating Bags for an Egg Hunt, & Pootsey Christmas Ornaments 
I like offering passive activities at get-togethers so people can just pick and choose what they want to do. I printed out western coloring pages I found on Pinterest, and then collected some art supplies for kiddos to decorate their bags to go on their "free range chicken" egg hunt later in the party.
I also provided supplies for kids to make a Pootsey ornament to take home with them and decorate their tree.
Love the way these ornaments turned out! We love our Pootsey!
"Free Range Chicken" Egg Hunt
I thought this would be such a fun activity to end the party. I bought some plastic yellow eggs on Amazon (I wanted white ones, but they were quite a bit more expensive, so the yellow ones would do!), and then I filled the eggs with paper-covered chocolates, western foam stickers that I got at Hobby Lobby, and some farm animal stick-on tattoos that I bought on Amazon. All of these were cheap but fun options for the kids!
Here's how I covered the candies:
I bought 2 sheets of western/country patterned scrapbook paper, cut strips with my paper cutter, and taped them onto Hershey's Nugget candies. So easy, and look how cute!
I had a couple of the adults hide the eggs in the backyard while Elizabeth was opening presents inside. After she opened gifts, we made sure all the kiddos had their bags, and we huddled them up by the back door. We told them a bunch of chickens got loose in the backyard and they had to go find all the eggs!
Ladder Ball & Bean Bag Toss
We set these up in our backyard and lots of people had fun playing them!
A bean bag went rogue (I'm sure a kid threw it over the fence…maybe mine?) and Aaron had to go rescue it.
And here's the rest of her party! I wanted to do a colorful cake, so I made a funfetti cake using this recipe. It was really yummy!
This is how we eat cake around here.
I guess she picked up some eating habits from Gipper.
This little munchkin even had a Pootsey dress! It came in a pile of hand-me-downs from a dear friend of mine. When I saw it I totally flipped! I got that pile of clothes several months before her party, but when I saw this dress, I knew that was going to be her birthday dress!
I've always enjoyed hostessing and planning parties, but when I get to throw them for my own daughter, it takes the excitement to a whole new level. LizzyBits, you are so fun to celebrate!
We were so blessed by our guests who wanted to come celebrate with us! Parents, grandparents, aunts, uncles, siblings, cousins, friends, neighbors – it was a fun day!
A couple of my very best friends from college were able to come – look at my cute friend Lisa and her adorable son!
(P.S. I love how Lisa and I look nothing alike and yet our kids totally look like they could be siblings.)
Audrey. Oh Audrey. She saved the day (as always). She called me a few hours before Elizabeth's party to ask if she could come help set up. Considering I woke up with horrible allergies that day and was running way behind in getting all the food finished, and considering Audrey is like the absolute best person to help you do any household/hostessing task in a jiffy, my answer was, "YES, PLEASE." She loves well.
And no one had to do clean-up after the party. That was Gipper's job.
And he did a doggone good one.
Yay! I hope you got some fun ideas to throw a kids' western-themed birthday party! Those munchkins are so worth celebrating.