Family memories are kind of a big deal, but taking time to record them often feels so daunting. I want to share with you a few ways my family and I have found to be very meaningful, yet so feasible and very easy to stick with (because they're feasible!).
I love that we'll be able to provide these written memories for our kids to read someday. Our written memories are now some of our most prized possessions. Because I'm such a big believer in preserving family heritage, I want to encourage you to do the same, so here are some ideas for recording family memories for you to treasure for years to come!
This post contains affiliate links for your convenience. You can find my full disclosure policy here. 
My husband got this for me as a Mother's Day gift when I was pregnant with our first daughter. Little did I know just how meaningful (and helpful!) this little book would be.
You literally only have room to write one or two sentences (you can see we spill into the margins sometimes), so it makes it so easy to keep up with. "Well, I only have to write one line, so let me just do it really quickly." We often get behind a few days, so sometimes we have to write a few days at a time, but if we can't remember what we wanted to write for a certain day, we'll go back and look at photos we took or texts we sent to trigger our memory.
You can get this One Line A Day Journal as a personal diary, or you can fill them out for your kids. We are filling ours out for our two girls – we have one for each of them. Not only do they record fun memories to look back on, they're also so helpful when we want to figure out certain things (especially when I'm wanting to go back and recall when my first daughter met certain milestones as I'm going through the stages all over again with my 2nd). When we go in to write an entry, we'll read what we wrote for that same date in years past.
It's so exciting when we occasionally come across days where the same person coincidentally visited on that same day two years in a row, or where perhaps we did something similar on the same day two years in a row. I cannot speak more highly of having one of these journals – we just love ours! I'm so thankful Aaron keeps us accountable to filling them out.
This journal is in the same vein as the One Line A Day with a few differences. This 940 Saturdays journal – intended for parents to fill out for their children for 18 years (or for 940 Saturdays) – is a journal that you fill out only one day a week (and my gracious, that title, 940 Saturdays, will sure offer a reminder to you that you only have a finite number of Saturdays before your kiddos grow up and leave home!).
My sweet aunt & uncle got us one for us to fill out for Elizabeth before she was born. This one's also a little different from the One Line A Day because you do have more room to write. This has been so fun because we get to fill out in more detail what we did on a particular Saturday – who we spent time with, what our daughter is doing developmentally, funny stories, etc.
Before my 2nd daughter was born, my aunt asked me if I would want another Saturday journal. I told her, "I figure we'll just keep filling out the same one and just start incorporating our second daughter in there." She tilted her head, glanced at me, and asked me, "And who gets to keep the journal after 18 years?" That's when I ignorantly responded, "I figured they could just share it?" And my aunt, the mother of 2 grown daughters, profoundly said, "Good luck with that."
I'm an only child. What do I know?
She gave me a pass on my ignorance and got us a 2nd one. We're so glad we have 2 now, and she told us we'll be so thankful we took an extra few minutes each weekend to fill out 2 Saturday journals instead of just one.
I'm pretty sure she's right.
This option is obviously more specific to babies – the first two options could really be for any ages – but I still want to offer this as a suggestion. We absolutely love this book that we now have for both of our daughters. It's not too daunting to fill out, but it has also been fairly comprehensive in offering spaces to fill out specific information – fun trivia for what life was like in the year she was born, information on her development, doctor's office visits, baby showers, etc.
It has also been extraordinarily helpful when I needed to go back and look at when our first daughter was doing something at a certain time! When did she start teething? When did she start taking longer naps? What foods did she eat first? Etc. Not only is this helpful for me to reference as I'm figuring things out with my 2nd daughter, it's also extremely helpful for me when my new mom friends ask me certain questions about baby development and when to expect certain milestones (especially how we managed sleep habits)!
We've intentionally left this section blank in each of our daughters' books – Aaron thought it'd be fun for them to "interview" us when they get older and write down their answers about their parents. Cute!
4. Regular Emails to a Family Email Address
This option is free! AND SO EASY! Create an email address for your family (or for each of your kids – whatever you want), and send a quick email to that address when you want to record a certain memory. Then, periodically you can print out those emails and put them in a binder for your kids to read (or for your family to read together) at a later time.
Go check out this post I wrote a couple of months ago on how we do this with our daughters. My dad asked me when I was pregnant with each of my girls to create an email address for each of them. He sends them notes ALL THE TIME that I will then print out for them and put in a binder. This is so easy, it's completely free, and I think it's a method that'll make recording memories seem not so intimidating. Think about it – we all have access to our phones (and thus our emails) so much of the time. How easy is it to just pull out our phones and send a quick email to record a memory?! Then all those notes are in ONE spot for easy access!
5. Write stories as a family tradition (and then possibly publish them!)
This suggestion is almost the opposite of the last one, but it's too good for me to not share. This one isn't quite as easy or feasible, BUT, it's an option nonetheless. Instead of recording actual memories, consider developing simple notes or stories for your children that are unique to your family.
When I was about 10, my dad randomly began writing these little stories about a character he made up, Pootsey the Wonderbug, and those stories just became part of my daily life for months. He'd have fun writing these simple tales and leaving them by my cereal bowl in the mornings. Pootsey became a regular member of our household!
When I was an early teen, I took some of the notes my dad wrote and made a book out of them that I (very embarrassingly) illustrated myself. It took several years, but my dad finally convinced me to craft those Pootsey stories into a published children's book.
This is a photo of my oldest daughter looking at the first Pootsey book. My, my, have we come along way!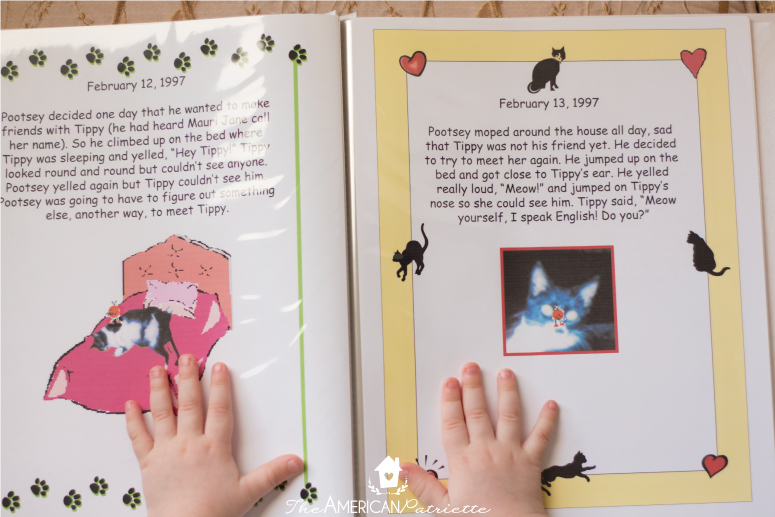 After a couple of years of really hard work, we now have a published product – something we are SO proud of, and a platform from which my dad and I can now use to share an important message with others: you can do some really, really simple things with intention in your family that will make a HUGE difference. Writing notes and reading to your kids are two awesome ways to make a difference, and anyone can do those. We have so many memories with Pootsey, and he just continues to live on in our family. My kids will grow up with Pootsey now, too, just like I did! (Check out this news article about the importance of developing stories as a family tradition.)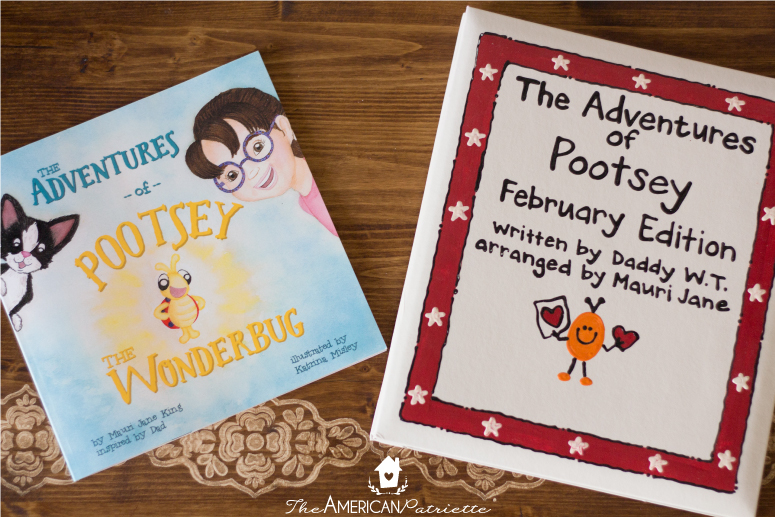 So, though not everyone will want to turn some notes into a published product, it's certainly a wonderful option to consider!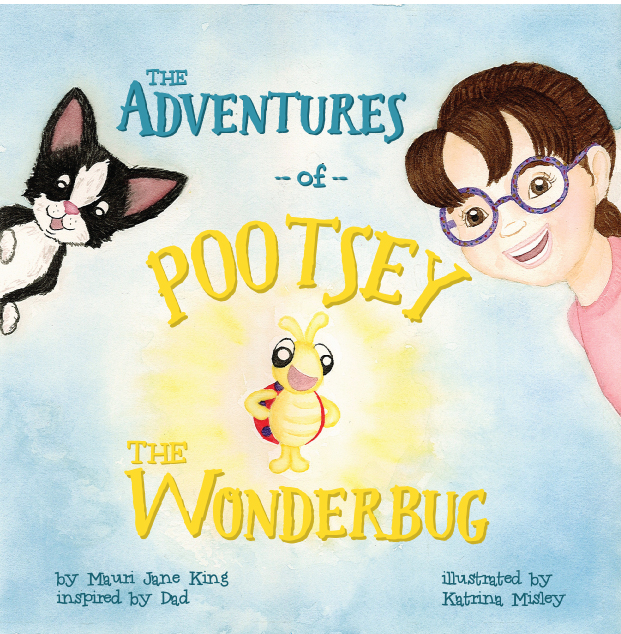 I hope this small handful of ideas has been helpful and inspirational for you to want to begin regularly recording family memories. I guarantee you that your decedents will look at anything you record for them as an invaluable asset, so I want to do my part in preserving, protecting, and promoting a strong family heritage for our kiddos.