This gorgeous printable binder, Company's Coming: The Go-To Guide for Everyday Hospitality, makes such a great DIY gift for women who enjoy having people over and crave tips and planning pages to make that easier. This is a perfect hostess gift, too! Print it out over & over and assemble these beautiful, useful binders any time you're in need of a thoughtful hostess gift. See below how you can easily assemble this to package up and give to others.
Each of the four design options of the digital pages have the same content, just a different look from one another. So fun to be able to give a more customized gift to someone based on their style.
Each digital binder of Company's Coming includes over 100 pages with:
Hospitality tips (tips for hosting last-minute company, overnight guests, guests arriving with kids, people with food allergies or sensitivities, and overall tips for how to easily create a warm and welcoming environment without reinventing the wheel each time)
Cleaning and planning checklists that you can print out and use over and over again
Tons of inspiration and ideas for recipes and meal planning, especially geared around helping you save time but still provide delicious food
A bunch of game ideas perfect for casual company around the dinner table
Dozens of pages of fill-in-the-blank pages for women to make lists of their favorite foods to serve when company is coming.
With all those pages, I want you to see my easy (and custom-looking!) way to organize those pages in a binder before you start giving them out for Christmas. In the steps below, I'll quickly walk you through how to assemble your Company's Coming binders – you only need a few basic household office supplies to make this into a gorgeous Christmas gift!
(If you still need your copies of Company's Coming, head over here – you'll receive it via email as an instant download, so you can get to work assembling it right away!)
This page contains affiliate links for your convenience. You can read my full disclosure policy here.
Step 1: Print out your Company's Coming Design(s)
Right after you get your copies, go to your inbox and click on the link(s) from your purchase to print each version you want to use – for yourself and for your gifts. You can print at home on your own printer or print via a professional printer at an office supplies store. If you print them off at home, consider using white cardstock instead of regular printer paper just for durability.
Here are the four design options you have: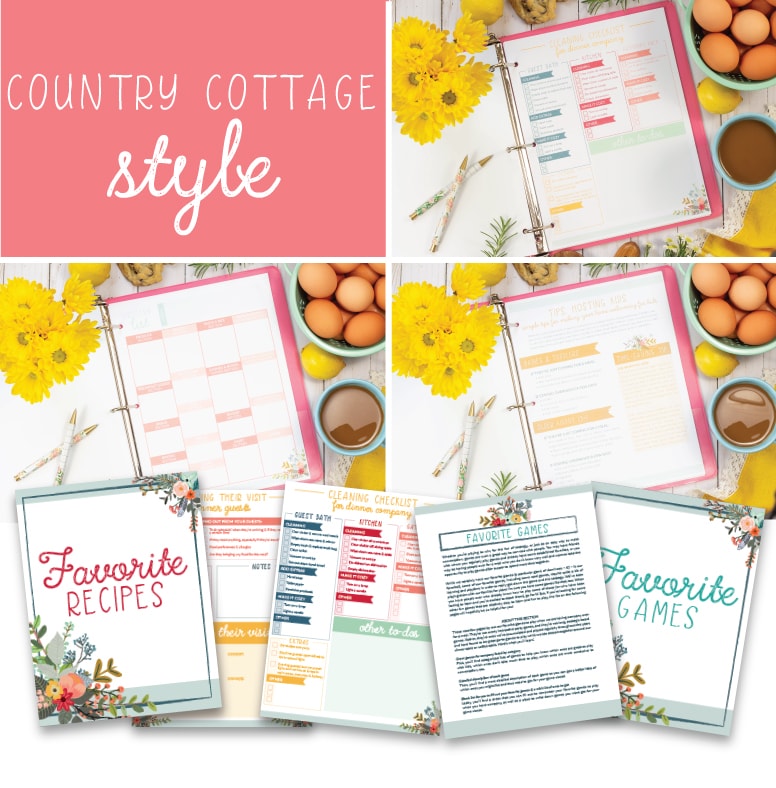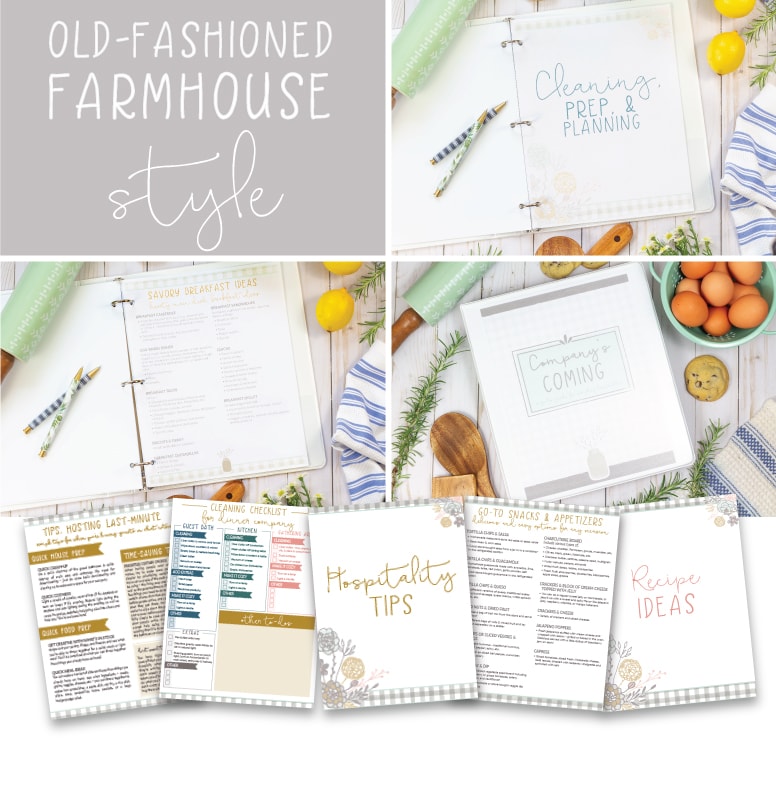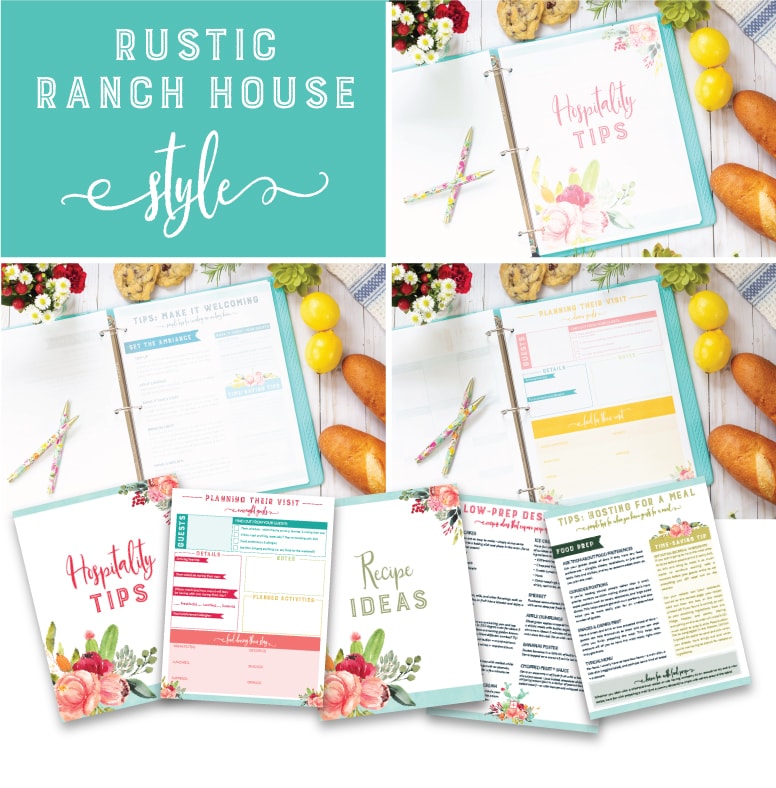 Step 2: Put in sheet protector sleeves or hole punch
You can either choose to put each page into a page protector sleeve (one that has hole punched sides so you can easily insert those pages into a binder) or hole punch each page with a 3-way hole puncher. Either way works just fine!
Step 3: Insert Pages into Binder
Get your 3-ring binders (I got mine at our local grocery store, but if you'd rather shop online, here are some on Amazon) – make sure you get ones with the clear plastic sleeve on the front so you can put in your cover insert! Insert your pages into the binder.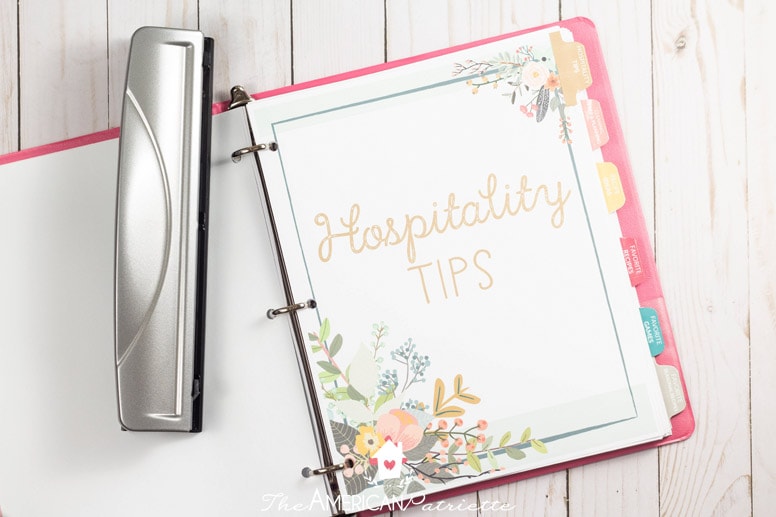 Step 4: Print Tabs & Spine Labels
Use your download link you received upon your purchase to print the spine labels and tabs. You can tell which page goes to which Company's Coming design by the spine label – they've got matching images to their corresponding design option. There are two spine labels – one for 1-inch binders and one for 1.5-inch binders. Use whichever one you need for the size binder you get.
Step 5: Cut spine labels & tabs with paper cutter
Use a paper cutter (if you don't have one of these, you need one – I can't even tell you how much this $10 tool has saved me in time!) to cut out the spine label and the tabs like this:
Step 6: Cover front of tabs in packing tape & trim
The tabs are designed to fit perfectly on a piece of packing tape. This somewhat "laminates" them and helps make them more durable.
After you cover each one in packing tape, use a sharp scissors to trim around the remaining white part and then fold the tabs in half.
Step 7: Insert spine label & tape labels to corresponding binder pages
The tabs all correspond to the header pages of each section. You'll need to play around a little with placement down the right side of the pages so that you line up all the tabs evenly, but once you get it, it won't take long to attach them.
You can use double-sided tape or roller adhesive to do this part.
Step 8: Time to wrap them!
You're all done with the binder! Now it's time to wrap 'em all up and give them as gifts!
Step 9: Print Christmas labels
You'll get these gorgeous printable Christmas labels with your Company's Coming purchase. These are perfect, especially if you're planning to print out several copies of Company's Coming to give them as gifts in a group setting (maybe for coworkers, friends in your book or dinner club, friends in your Bible study, neighbors, etc.) and want to have kind of a uniform look to the wrapping.
Plus, these have that pretty vintage vibe that each of the Company's Coming designs have in their own little way.
Print these out using the download link you received when you purchased your bundle.
Step 10: Trim labels using paper trimmer
There are faint gray lines on the labels to make it easy to trim these tags. Print and cut as many labels as you want!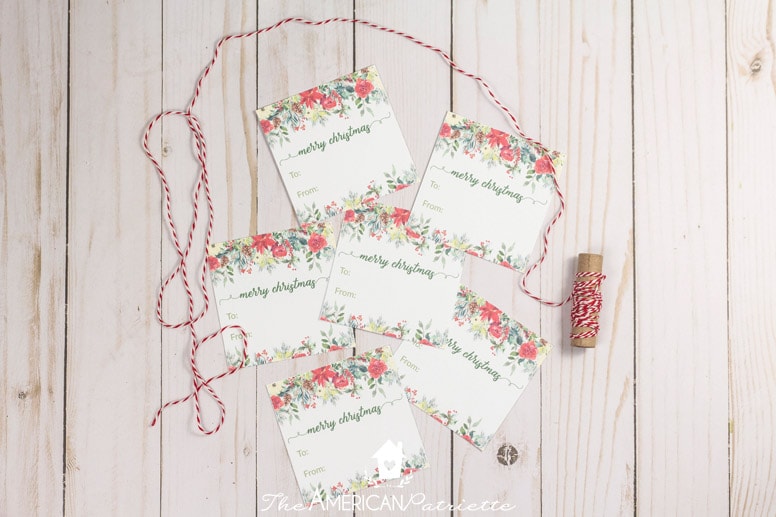 Attach these after you wrap them to give a special touch to each gift.
Step 11: Give them away!
I hope everyone who you gift with one of these Company's Coming binders is so blessed by it! Such a wonderful Christmas gift for anyone who loves to have people over! If you're already thinking of so many other ladies who would enjoy a gift like this, head over here where you can get all of the designs for the price of one. I love variety, and I have a feeling you're the same way! 🙂