This is the BEST sausage, cabbage, and vegetable soup – such a healthy and hearty easy weeknight meal, and makes delicious leftovers!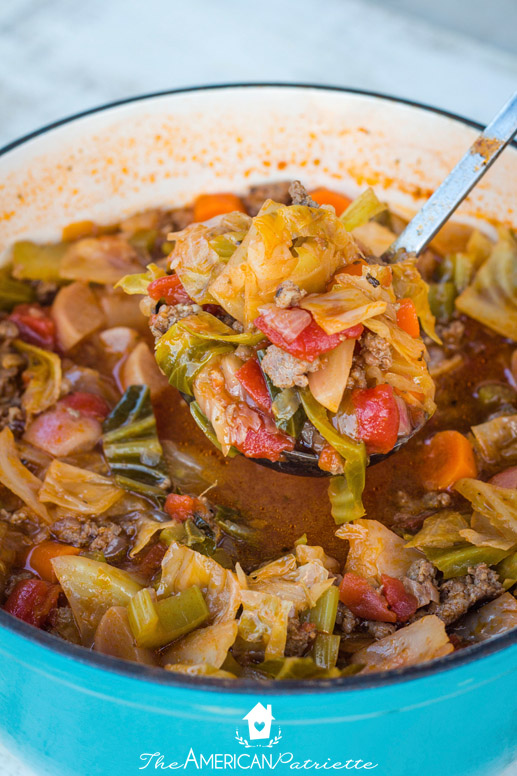 Can you just see the flavor of this sausage, cabbage, and vegetable soup just wanting to jump out of the bowl and into your mouth?!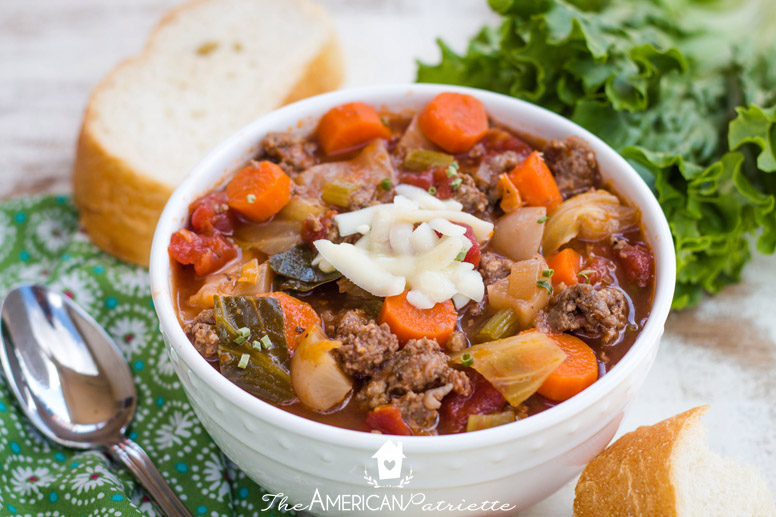 This cabbage soup has definitely become a staple meal in our home during the cooler weather months, and I have a feeling once you give it a try, it's going to become one of your family favorites, too!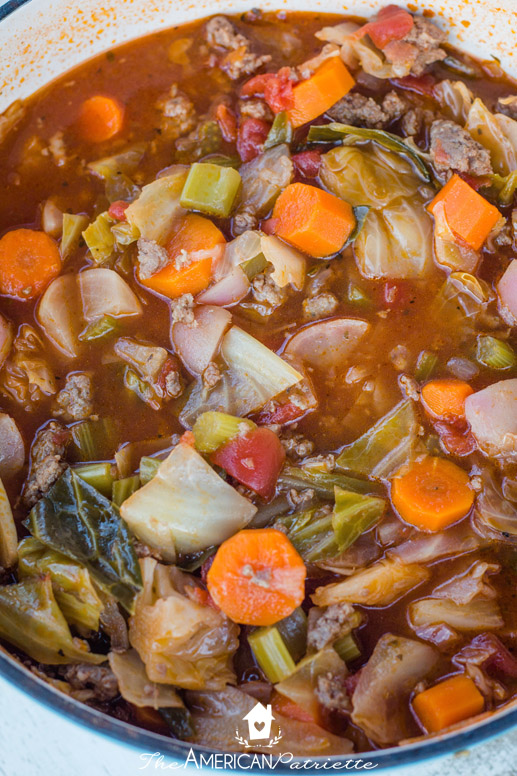 This easy meal really packs a punch – it's INCREDIBLY easy to throw together and very low-maintenance: spend a few minutes browning meat and chopping veggies, and then let the slow simmer over the stove top do the rest of the work!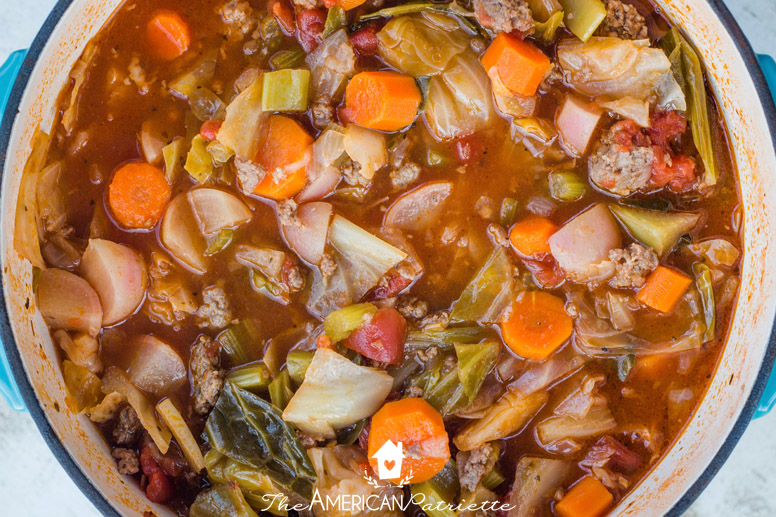 There are several variations of cabbage soup that include potatoes, but after I discovered you can easily replace potatoes with radishes in certain soups (like in this absolutely delicious low-carb potato-style soup!), I decided to give radishes a try in this dish.
Here are all the veggies you'll find in this dish:
Cabbage (of course!)
Carrots
Radishes
Celery
Onion
And, if you're somewhat of a rebel like I am in the kitchen, you can always make room to throw in some additional veggies, especially if you have some in your fridge that you need to use up before they go bad.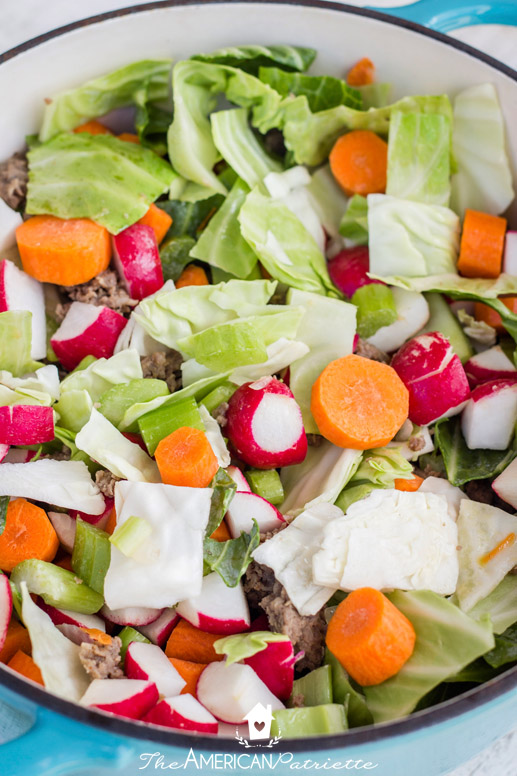 The radishes in this soup are a total winner! Somehow when they're cooked, the "sharpness" of the radishes is cooked out. Instead, they get tender and soak up all the flavors in the pot.
This is a great soup for busy weeknights, Fall potlucks, and cold winter days!
Also, bonus: it makes FANTASTIC leftovers (you may almost want to make it specifically for leftovers…it's really good the next day or two!).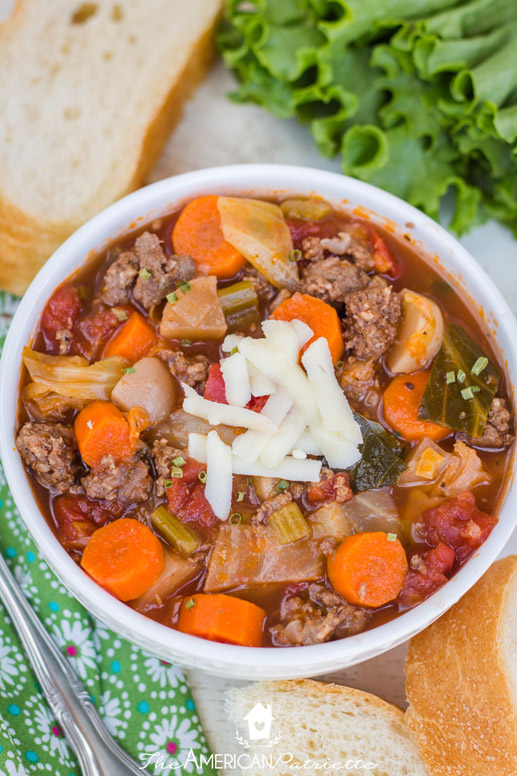 Go enjoy this delicious meal around the table with family and friends!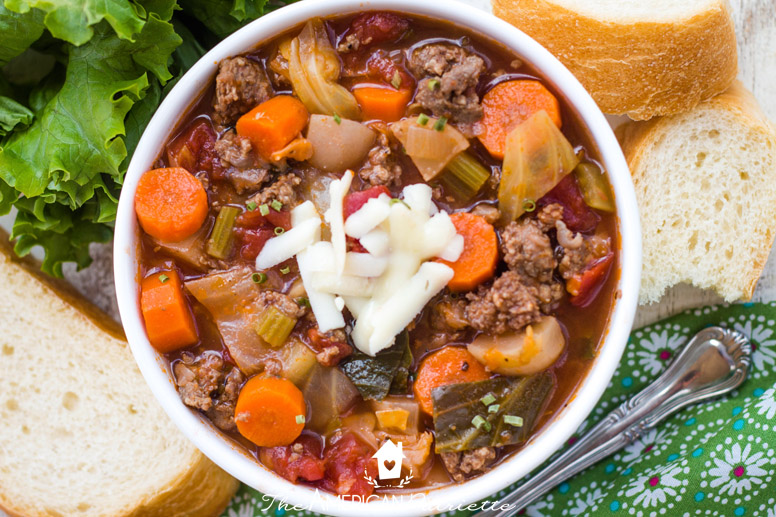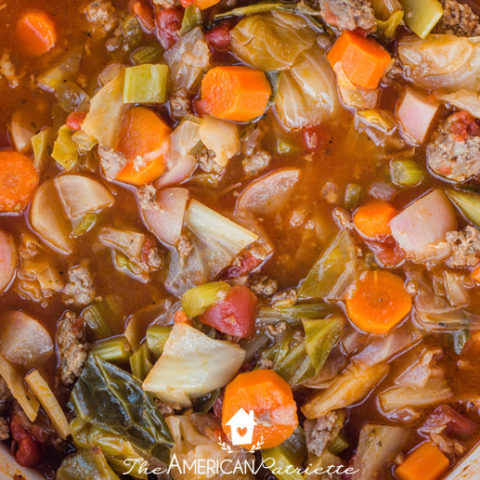 The BEST Sausage, Cabbage, and Vegetable soup
Total Time:
1 hour
15 minutes
This is the BEST sausage, cabbage, and vegetable soup - such a healthy and hearty easy weeknight meal, and makes delicious leftovers!
Ingredients
1lb light pork sausage
1 sweet or yellow onion, diced
1 bunch celery, chopped into small bite-sized pieces
1lb carrots, peeled and chopped
About 3 c quartered radishes
1 head cabbage, cored & chopped
1 14.5oz can Italian style diced tomatoes, undrained
4 c beef broth
1 8oz can tomato sauce (add some extra flavor by getting tomato sauce that has oregano & basil in it!)
Instructions
Brown the meat in a large soup pot over medium heat. Halfway through cooking the meat, add the onions and continue to cook until meat is completely brown and onions are soft - about 7-10 minutes.
Add remaining veggies to the pot: celery, carrots, radishes, and cabbage. Stir to mix the meat & veggies together.
Pour in diced tomatoes, beef broth, and tomato sauce in soup pot & stir.
Bring to a simmer over medium heat. Once the soup is at a simmer, reduce heat to medium-low, cover, and allow to simmer for at least an hour.
Serve with shredded mozzarella or Italian-style cheese on top.
Notes
Make sure you use a LARGE soup pot for this - there are a lot of veggies in there!
Also, this dish makes fantastic leftovers, and it also freezes well! 🙂