Frog Eye (Pearled Couscous) Soup came about by accident. Well, not complete accident, but this was something I literally threw together one time from some ingredients we had on hand in our sparsely-stocked kitchen. We needed something for supper, and I hadn't yet made my trek to the grocery store that week.
It was such a happy accident.
I dug around in my pantry, fridge, and freezer, mixed some ingredients together, and voila! This soup was born! We loved it so much we knew it needed to become a regular recipe, which meant it needed a name. Aaron deemed it Frog Eye Soup, which seems quite appropriate when you look at it. I've never eaten frog eyes, but I doubt this tastes like them.
With just a few ingredients and a little bit of time, you can create one of the most delicious, flavorful soups you've ever had!
It's super hearty, packed with fiber and protein, and surprise! It's so tasty! I would never share a recipe on here that I didn't personally approve as being absolutely delectable.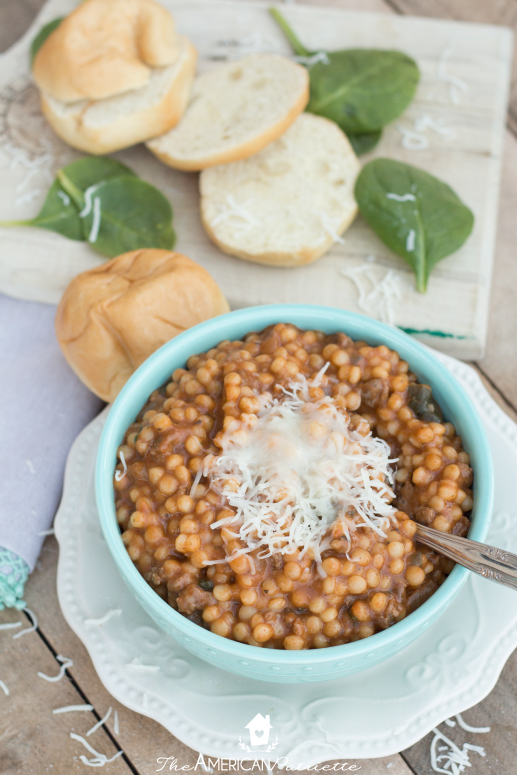 And bonus! My toddler LOVES this soup. So yes, I'm telling you this soup is hearty, healthy, delicious, fiber-filled and protein-packed, AND it's kid-approved.
I know. It's a miracle.
What are you waiting for?! Go make it for some family or fun friends and enjoy it with a slice of bread and side salad around the dinner table!
Frog Eye (Pearled Couscous) Soup
Ingredients
1 lb light pork sausage
1 yellow sweet onion, finely diced
Pinch of Italian seasoning
4 14.5oz cans beef broth
2 10.75oz cans condensed tomato soup
2 5oz boxes of Near East Basil and Herb Pearled Couscous
2 c chopped fresh spinach
Instructions
Cook pork sausage in large soup pot over medium heat. When it's about halfway done cooking, add onion and cook until onion is fairly soft and meat is completely brown – about 7 minutes.
Stir in Italian seasoning, broth, and tomato soup. Simmer for 10 minutes.
Add couscous & seasoning from couscous box, stir, and simmer for an additional 10 minutes or until couscous is soft.
Add chopped spinach, stir, and allow to cook for about 2-3 minutes or until spinach is wilted.
Serve topped with Mozzarella cheese.