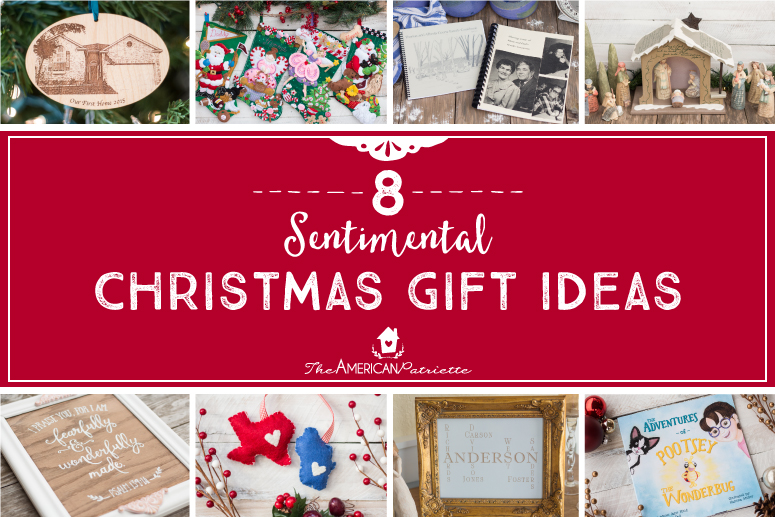 I typically love figuring out what I want to get and/or make for people for Christmas gifts, and because of the sentimental sap I am, I'm a sucker for giving (and receiving!) sentimental gifts. I love gifts that tell a story and preserve precious memories. If you're looking for some meaningful gift ideas, here are eight sentimental Christmas gift ideas for you that I'm sure will bring a smile to someone's face and warm their heart this season.
This post contains affiliate links for your convenience. You can read my full disclosure policy here. 
This is my absolute favorite Christmas decoration to put up in addition to my tree. My godparents gave me this nativity set to me, but they did so in a unique way. This set is a collection, so several of the pieces were sold separately from one another. For a couple of years, for birthdays and for Christmases, they gave me a portion of the collection with a very thoughtful note attached to it describing the significance of the particular pieces they were giving me on that occasion.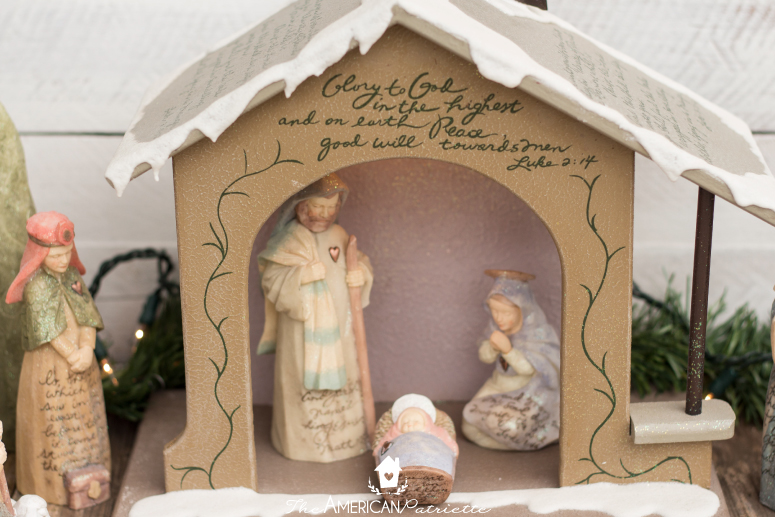 When I became a godmother a few years ago, I realized I wanted to start the same tradition for my goddaughter! Although a toddler can't appreciate this now (just like I'm sure I didn't appreciate it as much when I received these pieces as a teenager), I'm certain she will absolutely treasure it like I do when she has her own home to decorate for Christmas!
I scrambled to find this exact set (it is gorgeous!) for her because it was discontinued – there are corresponding Scriptures written on each piece. After doing tons of digging online, I found this set on eBay that I snatched up, and I began giving her the pieces of it for her first Christmas back in 2014. I am so thankful to my godparents for having the foresight to give me such a beautiful set to enjoy in my home, and I hope I can bring my goddaughter that same joy as she grows up, too.
Though this particular set is discontinued, I'm sure there are tons of beautiful nativity sets out there – consider starting a tradition of giving a few pieces for gift occasions for someone special starting this Christmas!
2. Commemorative Ornament
I know giving Christmas ornaments as gifts can often seem cliche or generic, but because I enjoy my Christmas tree so much, I really enjoy receiving ornaments, so I only assume that many others enjoy receiving sentimental ornaments, too! If you know someone who bought their first house this past year, perhaps got married or had a baby this last year, or experienced another life-changing event that you want to celebrate, a personal ornament is always a great gift. I get to hang this one that I had made for us (I gave the ornament below to my husband as a gift last year for Christmas) year after year and it's going to serve as a sweet annual reminder every time I pull it out of the bin of ornaments and hang it on the tree. Ours is a wood-burned ornament that I bought through a shop on Etsy – I was very impressed with her prices and her quick delivery! I highly recommend that shop! 🙂
I love these ornaments as gifts for loved ones who live in other states! They're incredibly easy and inexpensive to make (and I do NOT like sewing, but these are fun and easy to stitch together), and because they weigh hardly anything, they're also very easy to mail. I made this one for my grandma who lives in Wisconsin. What a great way to send some love and thoughtfulness to someone who can't join you for the holidays! You can find the tutorial for how to make these ornaments here.
These DIY signs are simple to make (follow my tutorial on how anyone can get beautifully perfect hand-lettering on wood!) and gorgeous to hang! I made this one below for the daughter of a dear friend of mine, and I also made one similar to this one for my daughter's room. You can use any Scripture, quote, or even just someone's first name or a family's last name. Sky's the limit! Here's the tutorial on how to make them.
If you're looking for an old cabinet door, check out Habitat for Humanity ReStores (we have one in our area and you can get cabinet doors for all of $2-3!) or a local woodworking shop – I bet there are shops out there that throw out some of their creations because they've got some imperfections on them or because they are the wrong measurement for the project they're working on.
I realize these stockings below look a bit crazy and intricate (and they are), but I cannot even begin to tell you how much I enjoy putting these stockings together!
A good friend of mine was working on one of these stockings from a Bucilla Stocking Kit a couple years back – she made one for her husband and was beginning to work on one for her son. When she showed me the kit she purchased, as well as the ZILLIONS of options they had for a design, I was hooked! The Bucilla Stocking Kits come with everything you need to assemble the stocking with the exception of a pair of scissors and the little bit of stuffing you'll need. They're very inexpensive (about $20 per kit, some are less and some are more) and there are dozens and dozens of options for a design.
After my friend Katy showed me the stockings she was working on, I went and ordered three kits about a month before my daughter was born – one for her, one for my husband, and one for my dog. 🙂
I was in grad school at the time and thought I'd work on these stockings as a break from studying…little did I know how long each one would take me. How foolish I was to think I could finish them before that Christmas! But, it didn't matter – I love putting these together, which, for someone like me says a lot: 1) I despise having to follow intricate directions (and these come with very intricate directions), and 2) I really, really don't enjoy sewing. However, for some reason, these stockings are incredibly therapeutic to assemble – you can start and stop working on a section whenever you want. I often work on them in the car when we're taking longer trips, and I'll work on them while we watch a movie or something every so often in the evening. If you're not in a hurry to get one done – if you can pace yourself – they're so enjoyable to put together.
I slightly deviated from the instructions in the kit and did some customizations for my husband's stocking and my dog's stockings – for my husband's, he's a huge Redskins and Spurs fan, so I changed up the colors of the football helmet and the baseball cap in his stocking kit to reflect those teams. We are Texas Aggies (whoop!), so instead of making the flag from the kit, I made an Aggie flag for the Santa to hold. And, I also changed up the colors of the dog to make it look a little more like our dog, Gipper! For Gipper's, I also changed up the black dog a little bit to make it look a little more like him, and again, because we're Aggies, I gave the black dog a maroon and white collar and made an A&M covering for the collie on the stocking so she looked like Reveille! So fun! 🙂
After I finished Elizabeth's, I worked on Gipper's and Aaron's stockings, and then I worked on mine. This is the first Christmas we'll get to hang all four of them up since they're done! Now I'm working on another one for our daughter due in February! SUCH a sweet and sentimental gift – something I hope my kiddos will really enjoy and appreciate when they get older!
If you're wanting to check out the kits, I typically purchase mine from Merry Stockings, but you can find them on Amazon, eBay, and Walmart's websites. I think I typically buy them from Merry Stockings because they have the largest selection in regards to variety.
6. DIY Family Cookbook
What a GREAT meaningful gift idea! Some of the cousins on my husband's side of the family began creating a family cookbook a few years back, and my aunt created one on my dad's side of the family a couple of years ago. They're both full of family memories, and anyone can do the same!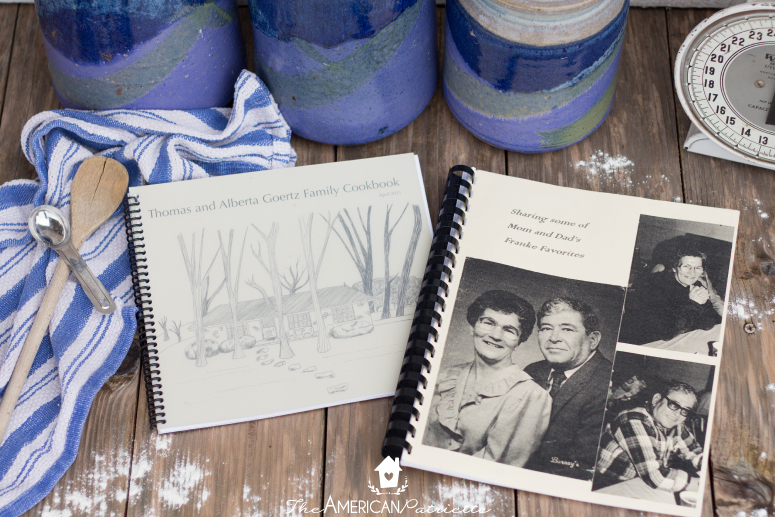 Our family cookbooks are pretty different from one another, but both of them were incredibly thoughtfully assembled! My aunt surprised everyone in our family one year – she had a collection of my Granny's recipes, so she photocopied the original recipes and included them in this cookbook.
She included a few little stories and anecdotes here and there, but for the most part, the cookbook is a collection of many of my Granny and Papa's favorite recipes, all in their original handwriting.
The cookbook on my husband's side of the family is a bit different – instead of being a collection of copied handwritten recipes, his cousins had everyone in their family submit recipes for the family cookbook. This one wasn't a surprise since we all contributed recipes, but just like the one my aunt made, they did some things to make it really unique and special for the family.
At one of their family gatherings, they had a little station set up with cut-up fruit and veggies and paint, and everyone sat down for a few minutes throughout the day to make some stamped food paintings. They photocopied those paintings and added them to some of the pages:
Here's one of the recipes I submitted – chocolate chip pistachio cookies. You can see the little story I included with my recipe on the left – I made these for Aaron several times when he was deployed (I think preparing care packages for him really helped me get through that year with a lot of joy!), and he wanted to make sure I included them in the cookbook!
I think my favorite thing about this cookbook is the inclusion of all of these little family stories. They had everyone submit stories – most of which were food or cooking-related, but not all of them – that they then included at the bottom of recipes and on pages that would have otherwise been blank.
The story below from Aaron's Aunt Cheryl is my favorite! Reflecting on her childhood with her siblings, she mentions that one day, she and her brother missed the bus to school, so trying to figure out what to do, they decided to call their uncle: "[B]ut neither of us knew how to call him. We did manage to get the operator, but it really confused us when she wanted to know if he was long distance. We had no idea! We probably thought telephone operators were pretty useless when it came to getting kids to school. Well, we didn't know what else to do except play, and that's what we did. We were always really good at playing! We were getting along just fine until we realized later in the morning that we had no idea when to eat our sack lunches because neither one of us could tell time. Anyway, that is certainly a bad situation to be in, not knowing when to eat lunch! I guess we never thought that we could just eat whenever we got hungry. To this day, I still do not know what time it was when we ate our lunches, but we did survive to tell the story!"
Hilarious!
Though I know it took Aaron's cousins and my aunt a lot of time to curate and assemble these books, they are incredibly meaningful and I know everyone in each of our families treasures their copy! Such a great gift idea!
This has become my go-to DIY wedding gift for couples, but it also makes a great anniversary gift and a great Christmas gift for a couple!
The names in this collage reflect a family tree of some sort – from the maternal and paternal grandparents of the couple to the couple themselves. The names include:
The couple's last name (the couple you're gifting)
The wife's maiden name
The wife's mother's maiden name
The husband's mother's maiden name
The wife's maternal grandmother's maiden name
The husband's maternal grandmother's maiden name
The wife's paternal grandmother's maiden name
The husband's paternal grandmother's maiden name
(The paternal names are inherent in these collages: the wife's dad's last name is the same as her maiden name; the dad and paternal grandfather of the husband have his same last name; the wife's paternal grandfather's last name is the same as her maiden name; the wife's maternal grandfather's last name is the same as her mother's maiden name; and the husband's maternal grandfather's last name is the same as his mother's maiden name.)
Again, just like most of the things I make, these are easy and inexpensive to make, but they are incredibly valuable gifts! Lots of heritage reflected in one frame! Here's my tutorial on how to make them.
8. Children's Books
If you have children in your life – your own kids or grandkids, or perhaps cousins, nieces, nephews, or kiddos of close friends of yours – can I just say, as a mom, this is one of the BEST gifts for a child!
One of my very best friends (and children's book enthusiast) has stocked us up with some of her favorite books she read as a child and/or books she's read for kids for whom she's been a nanny. Every single one she's given Elizabeth has included a personal note on the cover that relates to the book and that builds Elizabeth up.
These books are a priceless gift – I love the personal notes in there that remind Elizabeth of how loved she is and the hopes that Emily has for her (i.e. "For Elizabeth Jane – Who is as brave + smart as the Elizabeth in the story. Love, Aunt Emily;" "For Elizabeth Jane – Home is the people who love you, and you, baby girl, have a lot of those. Love, Aunt Emily;" and "For Elizabeth Jane – I hope your dreams are as big as Olivia's. Love, Aunt Emily"). They're also priceless because they give me stories to enjoy with Elizabeth – reading with kiddos is one of THE most important things we can do; something that takes little time but makes a huge impact! And, they're also priceless because someday, Elizabeth will get to pass these onto future children who will also need to be reminded that they are loved, brave, and smart!
I've got tons of recommendations for a children's home library, but can I make my favorite suggestion?! My delightful book, The Adventures of Pootsey the Wonderbug, is just about the joy of our bookshelf, and I promise it will bring laughs and memories for both kiddos and adults who read it to them!
This book holds a special place on our bookshelf and in our hearts! We are thrilled to share it with families all over!
Merry Christmas, and happy shopping and/or DIYing for some special people in your life! What is one sentimental gift you've received for Christmas that still brings you lots of joy and memories?!