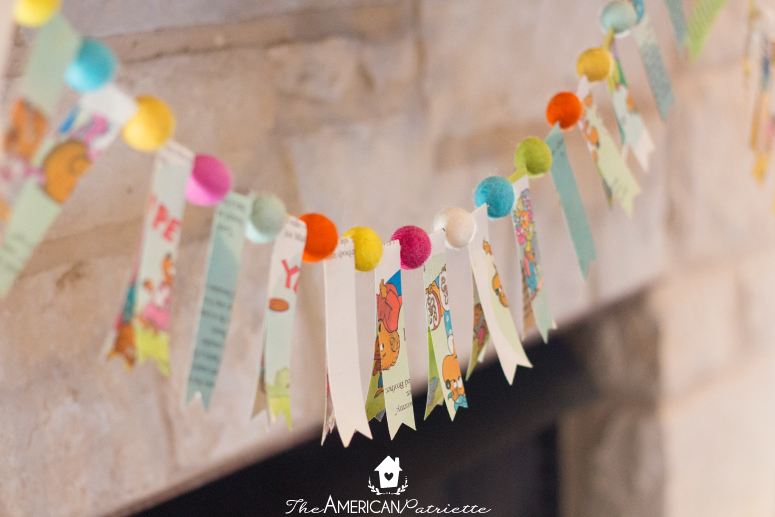 If you're looking for a simple (and inexpensive) banner idea for a children's book-themed baby shower or children's birthday party, this easy and colorful children's book page banner is PERFECT for you!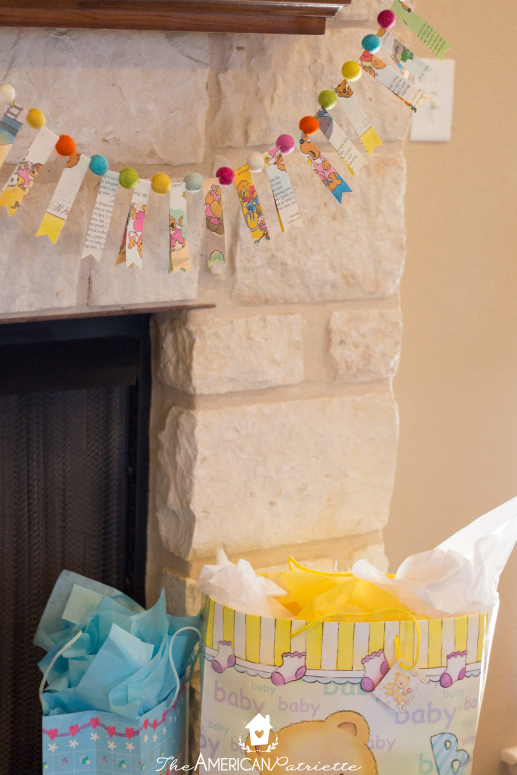 I made this cute banner for a children's book-themed baby shower I threw for my sweet friend Rachel, and I absolutely love the way it turned out! This thing was so easy to make, and let's be honest, those felt pom pom balls are ADORABLE, so I loved the excuse to use those for a banner!
Here's what you need:
A used children's book (I only needed a few pages from one book – I used a Berenstein Bears book that I got for .25 at a second hand store)
A paper trimmer (this is optional – you can cut the pages with scissors, but I think this makes the process go way faster. I have this paper trimmer from Wal-Mart and I use it a lot!)
Felt pom pom ribbon (I got mine at Hobby Lobby – the brand is Paper Studio, and I found it near the scrapbook section in the store. I can't find a link to it for you online. Bummer!)
Pair of scissors
Glue stick
First, trim the pages of the children's book so that they're about the same width as the gap between each pom pom ball on the ribbon. Mine were a little less than an inch wide.
Fold the strips in half longways.
Using a scissors, cut the bottom ends to look kind of like ribbon.
Then place each strip between a pom pom ball.
Go down the line and place a dot of glue from the glue stick near the seam of each one and press together at the fold so that the strip stays on the banner.
That's it! You're done! I think I made this banner for about $5! How cute is this?!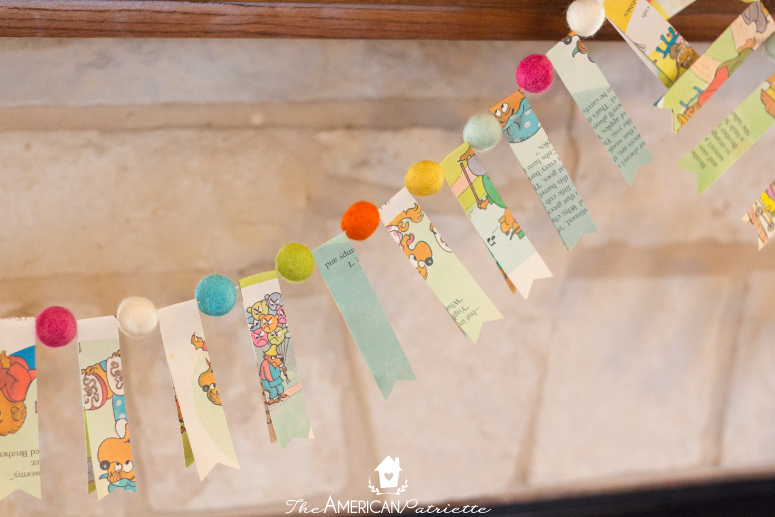 Those felt pom pom balls are just too cute, and I love the color they bring to the banner. We didn't know the gender of Rachel's baby when we were throwing her the shower (she ended up having a girl!) – this was a great gender-neutral way to decorate for her shower.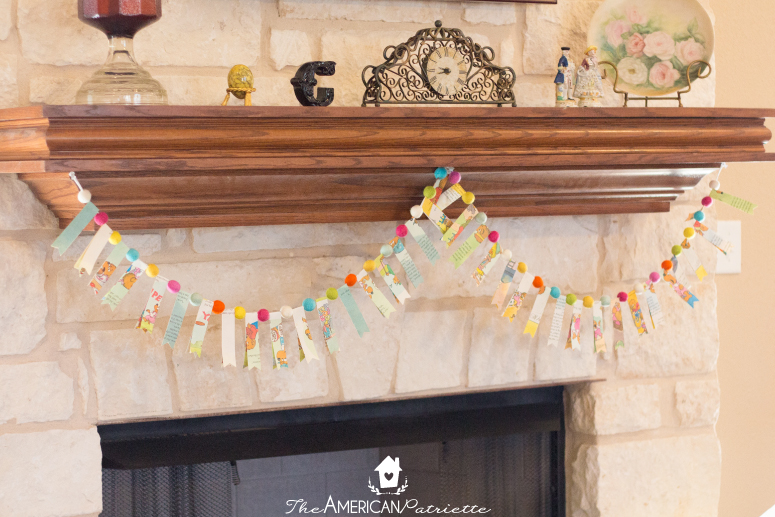 If you want more ideas for a children's book-themed party or shower, check out this post. Below is a picture of a children's book page wreath I made for Rachel's shower. It was SO easy and fun to make!! Here's a tutorial for that!
I love planning and throwing parties, showers, and get-togethers. It means there's something or someone to be celebrated, and it's an excuse for gathering people together for a great purpose. Making decorations for those parties brings so much joy!