If you're looking for an easy & cheap home decor project, this DIY painted wooden plank sign is just the ticket! I think this thing cost me about $5 to make – I already had the scrap wood (you could also use pallet wood), the frame, the paint, and the burlap ribbon to hang the little wreath embellishment; all I had to buy was the little wreath and the berries to put on it. Grab an old frame you've got hanging around your house or go get one for cheap from a thrift store and join me in making this easy sign!
I absolutely love this quote from Mother Teresa: "If you really want to change the world, go home and love your family." As you're probably finding, that quote is what my blog is all about! I hadn't heard this quote until after I launched my blog – you can imagine how thrilled I was when I came across it one day. I wanted to hang up a quote or Scripture that directly related to my work in my home office (that you see in the photo above), and I thought this was just perfect. As I often do, I scrounged around my house for something that I wasn't using to figure out how I could repurpose it, and this old poster frame was the winner! Ready to make one, too?! (Disclosure: I don't think I thought about this being a tutorial for my blog until after I had started working on the project for my office, so please excuse me for a few holes in the tutorial!)
This post contains affiliate links for your convenience. You can read my full disclosure policy here. 
Here's what you need:
Old frame
Wood planks or pallets cut to fit the frame
Sawtooth hangers (like these) or something similar to attach to the frame to hang it
Sandpaper
Paint for wood (for the frame, for the wooden planks, to paint the quote)
Paint pen or gold metallic marker (see tutorial for specifics) to paint the quote – optional
Paintbrushes (for the frame, for the wooden planks, to paint the quote)
Wood glue (this is what I used)
Paper with the quote on it that you want to transfer onto the wood (see images in the middle of the blog post with my quote on it)
Colored piece of chalk
Pen or pencil
Wreath & ribbon for embellishment
Glue, push pins, or something else to attach the wreath either to the frame or to the wall right above the frame (see the end of this tutorial to see how I hung the wreath)
Let's get started!
After you've cut the wood to fit inside the frame, begin painting the side that will show up through the frame. I used some white latex paint we had on hand to paint the planks so I didn't have to buy any, but you would be completely fine to use regular craft acrylic paint from a craft store.
Paint all of the wooden planks and give 'em a second coat of paint if they need it.
Set the wooden planks aside to dry and begin painting the frame. I didn't bother to sand the frame before I painted it – I was going for more of a rough, antique look, so sanding before applying the paint didn't seem like a necessary step for me.
***Before you start painting the frame, go ahead and fix the sawtooth hangers to the back. I forgot to do this before I painted – no big deal – but it would probably be better to fix them to the back of the frame first.***
I used regular acrylic paint from Hobby Lobby. I love this cheerful color!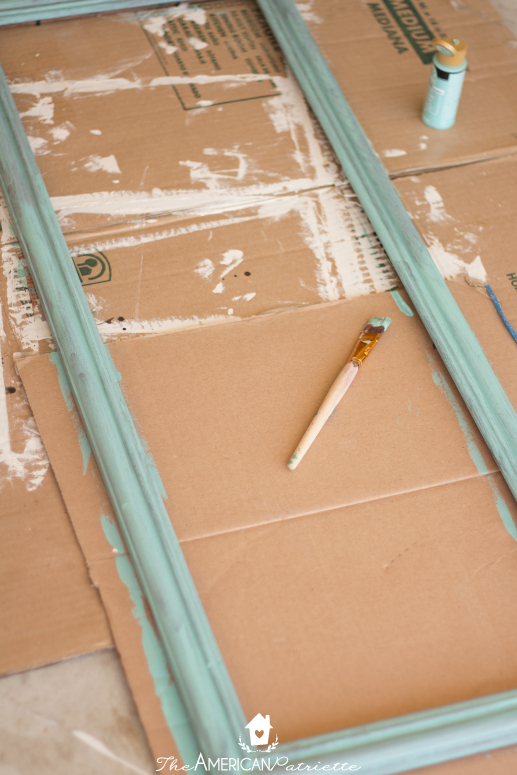 I gave the frame a few coats of that aqua color before lightly distressing it.
Side note: while I typically do most of my DIY projects on weekends or during my daughter's nap time, depending on what project I'm doing, I'll occasionally work while she's awake. If you're wondering how I keep my toddler occupied while I paint, this is how I do it: I let her "paint" with water on colorful construction paper (as long as I'm painting outside). GENIUS. Not my idea – I am so thankful for the Pinterest inspiration! It doesn't keep her occupied for too long – maybe 10-20 minutes – but golley, I'll take what I can get! She eventually gets much more interested in the real paint, but she usually saturates her construction paper and her own clothes by painting with her water before she migrates over to invading my projects. 🙂 🙂 🙂 It's super fun to paint along side her – I love sharing some of my craft time with Elizabeth!
After applying a few coats of the aqua paint and letting it dry, I dry-brushed some of the white paint onto the frame.
Then I very lightly sanded the frame to give it a slightly distressed look. If you're doing this step, allow the white paint to dry before sanding it.
Then I applied the sawtooth hangers to the back, but like I mentioned above, I probably should've done this before I painted the frame.
Once your painted planks & frame are dry, outline the inside perimeter of the frame (the little ledge that would typically keep the glass in place) with wood glue.
Then place all of your planks inside the frame, painted side down and showing through the frame.
Carefully turn the frame over without allowing the planks to fall out.
Set some heavy things on top of the frame to help the planks press up against the frame to secure them as the glue dries. I tried to evenly distribute the weight down the frame.
Because my frame was obviously bigger than an 8.5″ x 11″ sheet of paper, I designed the quote and printed it it out on several sheets of paper and then attached them all together like a puzzle to fit in the frame. Overall this was pretty easy – a little tedious, but very manageable!
Once the wood glue dries (I probably let mine dry for a couple of hours), remove the heavy materials and begin laying out your quote on the planks to make sure it fits.
Chalk up the back of the papers with the quotes on it with some colorful chalk that will show up on the wood. This pale orange worked out well for me!
I forgot to take a picture of this step, but you can see my method of transferring an image from paper onto wood in a couple of other tutorials (here and here) on my blog.
Then begin painting over the chalked design! I used a gold metallic marker just to make it easier and faster to paint, but you can easily use regular acrylic paint and a small paint brush. Whichever you prefer! This is what I used – I don't think I bought it in the pack; I think I just bought it sold separately at Hobby Lobby. (I already had this on hand for a while before starting this project so I don't remember for sure, but I don't remember buying it in a pack.)
I ended up going back over the lettering twice to give it a solid coat without any streaks. It was super easy to do with that metallic marker!
I love how it turned out!
Once the lettering dries, hang up your new creation! I was originally going to attach the wreath with the ribbon to the frame, but I ended up attaching it to the wall – it was a little easier and not as bulky to do it that way.
I love this great reminder in my home office!
So fun and cheerful! I hope you have just as much fun making (and looking at!!) your new creation! 🙂 Happy crafting! If you end up doing this project, take pics and share it with me on Instagram! I'd love to see what you create!