I can't even tell you how many of these burlap signs I've made for our door and for other people! They are a great substitute for wreaths – the options for personalizing them are endless, they store easily when you want to take them down and reuse them for the same season the following year, they're simple to make…
And yes, the supplies are inexpensive!
I know, surprise!
I made this little snowflake cupcake design for my daughter's first birthday party a while back, but I've also made tons of these that are shaped like Texas (bet you didn't see that coming), footballs, crosses, ones personalized for baby showers, and ones specifically for Christmas. They're so fun to make, so fun to hang up, and they're pretty durable for hanging outside on the front door to withstand the elements.
Here's what you need to make it:
Burlap
A stencil of the shape you want to cut out (I made mine out of poster board)
Dark and thick marker for tracing the stencil onto the burlap
Scissors
An iron (if your burlap is wrinkly or has strong creases in it)
Hot glue gun
Hot glue sticks
Acrylic paint (assorted colors)
Paintbrushes (not pictured, sorry!)
Glitter (optional)
Poly-Fil Polyester Fiberfill (you can find this at Hobby Lobby, Michaels, and JoAnn's may carry it, too)
Wire for hanging
Ribbon/embellishments to tie onto wire for decoration (optional)
Note: You do probably want to give about a 1/3″ berth between the line and the stencil. This helps the sign to maintain the exact shape you want after you've hot glued the edges together.
If your burlap is exceptionally wrinkly, you may want to iron it before you even trace the stencil onto it and cut it out. Mine just had a large crease down the middle, so I could trace it and cut it out with no problem and then just iron out the crease afterwards.
The edges that you hot glue and the order in which you glue them will be dependent upon the shape you cut out. For me, it was easiest to leave this straight edge at the bottom open to fill. You just want to make sure that, no matter what shape you cut out, you leave enough room for your hand to fit inside the pocket in order to adequately stuff the sign.
When I stuff my signs, I usually make them about 2 inches thick. I try to stuff the signs really evenly, making sure to get stuffing into all corners and crevices.
For the next step, I'm sorry I don't have a tutorial for you! I don't really have a method for painting signs – I just start somewhere! On every sign I make, I always do that little checkered border on the edges. I think it really helps to give it a polished look. Just know that, when you paint, you'll need to apply it very thick. That burlap soaks it up like a sponge! If you want to put glitter on the sign, make sure to do so while the paint is still wet so it sticks well.
Note: You just poke the wire right through the burlap from the front to the back. No need to cut any holes to insert the wire.
A closer look:
This looked so cute on our front door when I put it up for Elizabeth's birthday party!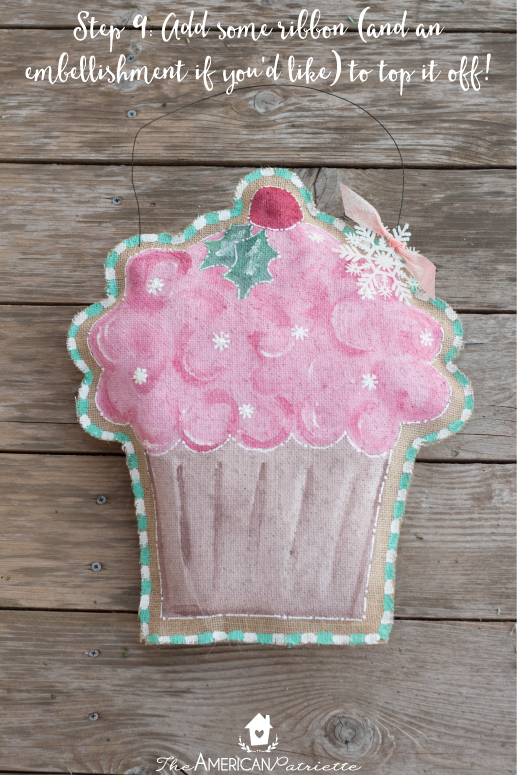 You really can make these for any season or occasion – just a welcoming sign for your front door, a decoration for an event you're hosting, or something to celebrate a season. This sign also makes a great gift!
Want more easy and inexpensive party decor ideas? Go check out the fringe banner, tulle tassel banner, and burlap pennant banner!