This easy-to-make DIY outdoor wooden cross decor is perfect to welcome folks onto your front porch and into your home!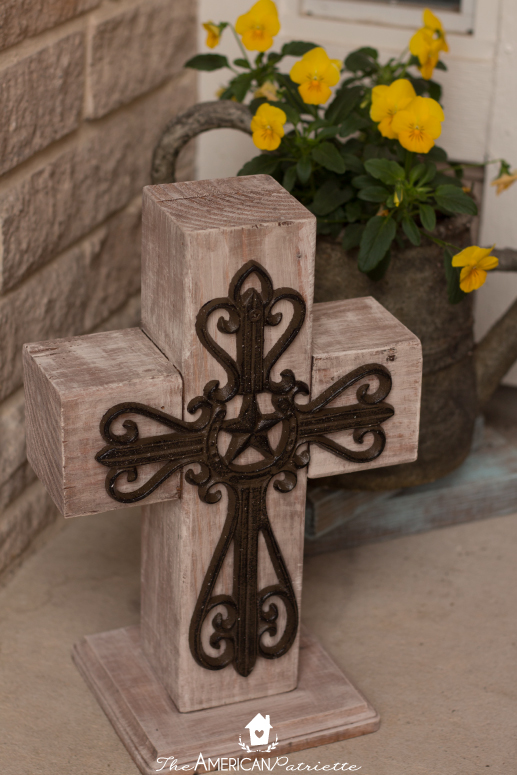 We have a teeny-tiny front porch (contrary to my original wishes for our house, but I love my cute little house, so I just hold onto the dream of one day having a giant front porch that can fit our entire neighborhood in rocking chairs on it), so my decorating options are a bit limited. After fall & then Christmas – seasons that make decorating a front porch so easy! – I wasn't sure what to do to add some cheer to my porch.
Lucky for us (I guess…), it was in the 70s in January, so I was able to plant some flowers on my front porch without worrying about a freeze, and then my husband and I also made a couple of pieces of decor to make our front door a little more welcoming. Enter: the chunky outdoor wooden cross!
Here's what you need to make it:
A 4×4
A table saw (not pictured) to cut the wood to the size you want it for the cross
Sandpaper (just to sand the edges of the blocks to soften them up a bit)
Wood glue
Nail gun
Wooden platform for the cross to sit on (I got mine in the unfinished wood section at Hobby Lobby)
Wood stain
Acrylic white or ivory paint (if you want to do the whitewash look like I did on mine)
Cup for mixing water and white paint for the whitewash
Paintbrush
Old sock (not pictured) for rubbing in the stain
Iron cross (I got mine at a local shop in Gruene, TX for like $4!)
Screws to secure the iron cross to the wooden one
Let's get started!
Once you've cut your 4×4 pieces to the size you want them for the cross, sand the edges down to soften them up a bit.
Place the iron cross on top of the wooden one to determine where you want to nail the wooden pieces together to form the cross.
Um no, those are not my hands.
Just set it on top of the wooden pieces and mark on the wooden pieces (sorry, we forgot to show a picture of that!) where you need to attach them to each other.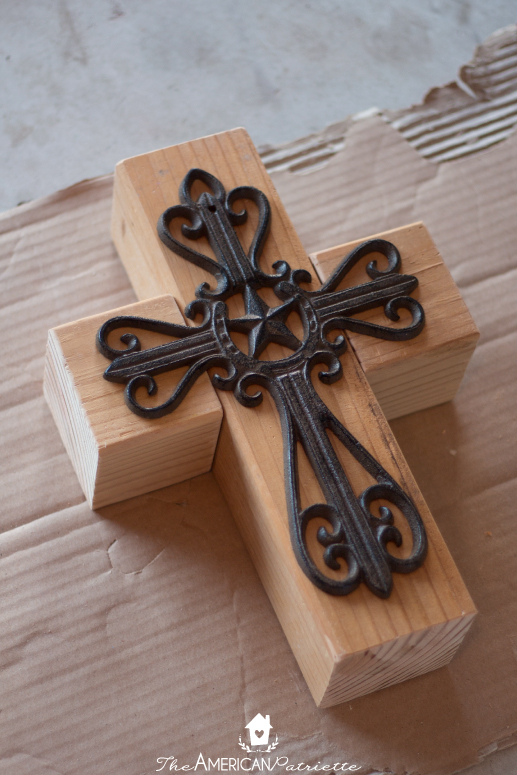 Add some wood glue to the inside of the 2 wooden cubes you're going to attach to the longer 4×4 piece.
And press them on.
You don't really need to wait for it to dry before you do this next part. You may not even need the glue at all, but my husband wanted it there for extra security. Use the nail gun to then insert a few nails (I think we probably did 2-3 on each cube) through the cube and onto the longer piece of 4×4.
After you've made the cross portion, set it on top of the wooden piece you're using as a platform and try to center it as best as possible.
Mark around the cross so you can ensure that when you nail it in, you're nailing it in the right spots.
Turn it over and put a few nails in the bottom.
Next, get some wood stain and brush it onto the cross. I used a rag to rub it into the wood and ensure it went on really evenly.
I let the stain soak in for a few minutes, but I didn't need to wait for it to dry before I moved onto the whitewash portion.
Pour a little bit of white paint into a cup and add just a splash of water – enough to make the paint pretty thin, but not completely diluted, and then brush on the paint.
I used the same sock to rub in the white paint as I did to rub in the stain. I didn't want the white paint to really pop off of the stain – I wanted it to be part of the whole look.
Once you've got your cross painted the way you want it, allow it to dry. I don't think I needed mine to fully dry before this part – I probably just waited 30-45 minutes before adding the iron cross on top.
Pace the iron cross on top and then secure it to the wooden piece with a large wood screw.
And that's it! This probably took us all of an hour to make – probably not even that long. We were moving between projects as we were making this. It was so easy to do and it's fun to display on my porch now!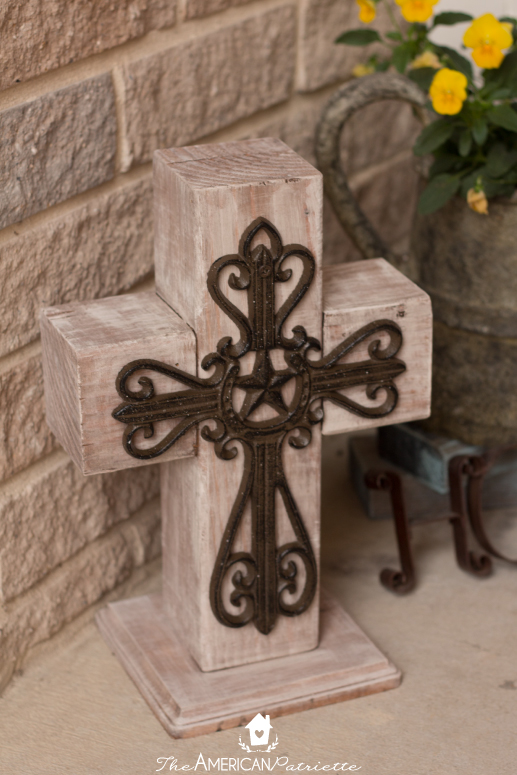 Even though my front porch is little bitty, I love it and I'm utilizing every reasonable inch I can to make it a cheerful place to land on before entering into our house!
If you're looking for another cute welcoming front porch idea, check out this tutorial on how to make a Howdy pallet sign with interchangeable wreaths!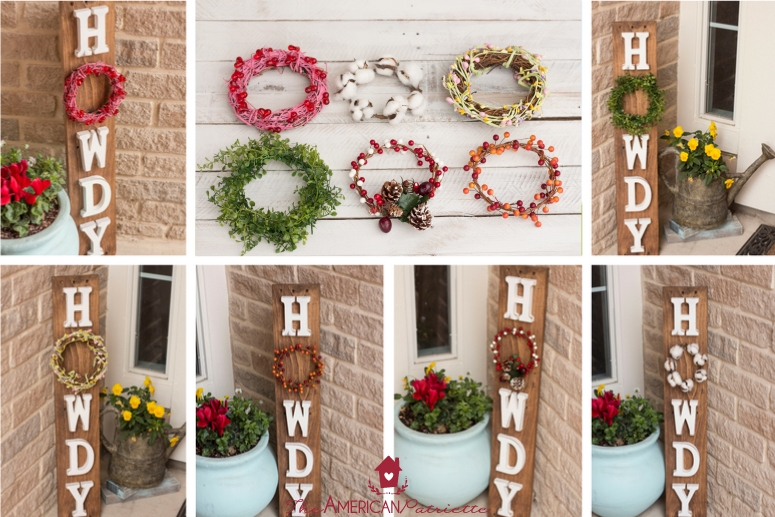 \