Are you ready to make the easiest welcome sign?! This colorful DIY welcome sign using a repurposed frame was so simple (and cheap!) to make, and I think it's absolutely adorable. I love how much cheer it brings to our entryway!
This post contains affiliate links for your convenience. You can read my full disclosure policy here.
Here's what you need:
Picture frame with the glass in it
Piece of scrapbook paper with the pattern of your choice (large enough to fit in the frame)
Scissors
"Welcome" cardboard/wooden cutout (I got mine for this project at Michaels, but I looked online and they don't sell it anymore. But good news! Hobby Lobby has some similar options for you! Try this one that's about the same size at the one in this tutorial, or this one that's a little longer.)
Acrylic paint (whatever color you want to paint the "Welcome")
Paintbrush
Hot glue gun
First, paint your "Welcome" cutout with the color of your choice. I gave mine a couple of coats of paint.
Once that dried, I cut the scrapbook paper to fit the frame and then figured out how I wanted to place the "Welcome" on the frame. I decided on the middle so I could do some text in vinyl on top and some on bottom.
Hot glue the "Welcome" to the frame. You'll see in the images below that I just glued the "Welcome" to the frame itself – I didn't glue it to the glass because it's raised from the glass.
I forgot to capture a picture of this step! Measure the space above and below the "Welcome" to figure out how large to make the words in your Silhouette/Cricut software to cut out and stick on the frame.
Cut out the vinyl with your machine.
Cut out the words from the vinyl and peel away the excess. Make sure the words are going to fit the way you want them before you stick them on!
Put the transfer paper on the vinyl and then stick it to the glass and carefully peel it off.
SO adorable and fun!
Enjoy making this DIY welcome sign!
I'm sure it'll bring sweet greetings to anyone who enters your home!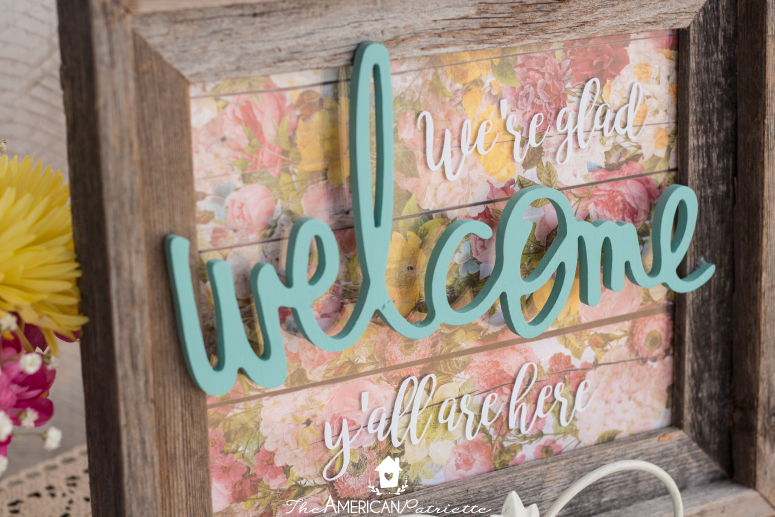 P.S. As I was decorating my entryway for Fall, I realized I could change out the paper in this sign to decorate for every season! Hop over here to see how easy it is to turn this into an "every season" welcome sign!
Love these ideas and want to remember them later?! Be sure to pin this to your favorite Pinterest board!