Christmas is just around the corner, and I have one more item you have to add to your Christmas list: a family Christmas gift!
Now that we have kids, my husband and I are wanting to start a tradition of getting ourselves a gift each year that we can enjoy as a family – a budget-friendly gift that'll help us gather together and spend quality time together throughout the year. Because I know you're a sap for gathering and making family memories, too, I created a gift guide with the intention of helping you find something that your entire family can enjoy together over the next year (or many years!) – something that will help you get excited about gathering and spending intentional time with one another.
Whether yours is the family that would enjoy backyard campfires, park memberships, new travel ideas, reading a book series, or indulging in homemade popcorn or ice cream for those movie and game nights, this Family Gift Guide is chock-full of fun ideas that everyone in the family will love!
Most of these ideas are under $50, and almost all of them are under $100. We're going for realistic, here! And Bonus: for those of us who get excited about Christmas gifts in August but somehow still manage to get behind on our shopping (seriously, how do I have that same habit every year?), you can order almost all of these items online, most of them via Amazon Prime. 🙂
This post contains affiliate links for your convenience. You can read my full disclosure policy here. 
For families who like to eat: 
Homemade Ice Cream Maker
I've talked about my ice cream maker a few times on my blog, and I have a lot more ideas up my sleeve for homemade ice cream. We just LOVE it! My husband and I have so much fun coming up with different ideas for ice cream flavors we can make (frozen/frosted ice coffees and sorbets, too!), and it is just the most fun treat to have when we have company. There are tons of modern ice cream makers out on the market, but this is the one we've had for over six years (and we seriously LOVE it). I guarantee you that your family will have so much fun prepping the ice cream (which is so easy to do) and eating it together (which is even easier to do). We use ours year-round and it definitely brings smiles to everyone who enjoys it with us! It's a great tool for gathering!
Unique or Large Waffle Maker for Fun Weekend Breakfasts
Who doesn't come to the table when waffles are involved? Some of the best conversations I have occur around the breakfast table on a rare lazy Saturday morning when we don't have anywhere we need to be, especially when we have overnight guests or when we're spending the night with friends or family. I think food is my love language, and I bet it's one of yours, too. Waffles definitely make breakfasts even more special, and good food helps us to linger at the table! Here's a large 4-slice waffle maker (for a great price!) and here are some waffle makers that make fun shapes and pictures. Such a great family gift!
Coffee Maker that Brews a Full Carafe & K-Cups 
And speaking of lazy Saturday morning breakfasts, coffee is always a contributor to those. Caffeine helps me be a good conversationalist. 🙂 We recently got a coffee maker that we LOVE, and we actually got it with the idea of gathering in mind. When our coffee maker was on its last leg, I started doing some research for coffee makers that brewed a full 12-cup carafe and single-serve K-Cups (that also fit in our budget). We wanted one we could use for when we had company – I like to brew a full pot for company in the mornings, but it's nice to have the single-serve side if someone wants to have something a little different, or if we're wanting to serve hot drinks in the evening with dessert. My husband and I love drinking cocoa, tea, and cider together on chilly evenings (which are rare in Texas, but we take what we can get!). Helps us to slow down and just enjoy the moment! One of these coffee pots is such a great item for hanging out together as a family and for when you're spending quality time with company.
Popcorn Popper for Movie & Game Nights 
Though I'll never turn up my nose to microwave popcorn from a bag, it might make us more likely to set aside some time to gather together as a family if we can get creative and make our own flavored popcorn to enjoy as a snack for a family movie night or game night! There are some great popper options on Amazon that are really inexpensive. Look up some recipes for different kinds to make – Cheesy popcorn? Caramel? Kettle? You name it, and I bet you can make it for all of you to enjoy together!
For families who like to play: 
Really Fun Board Games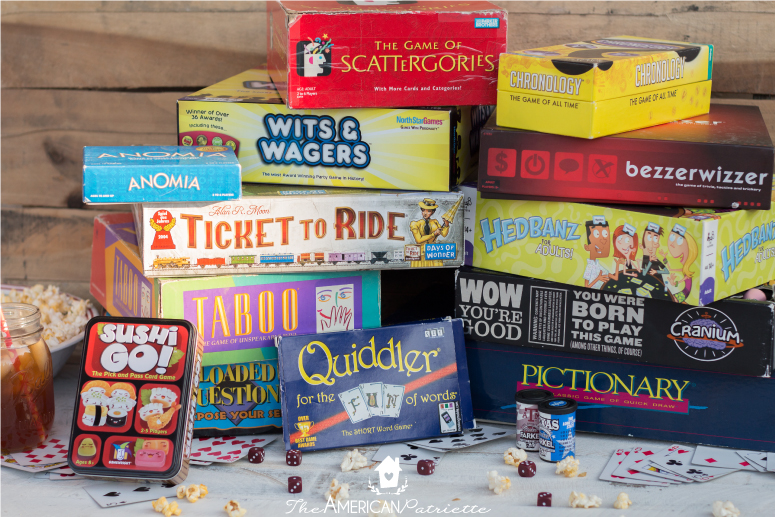 I feel like this could be a cliche topic to cover. Every family has some board games, right? But, not all board games are equal! We absolutely love games around here – my husband and I, several members of our family, and the vast majority of our friends (I'm pretty sure we often make friends based on their affinity for playing games). We love to play games, and I think they're a great tool for helping us to connect and build relationships. I wrote a detailed blog post of some of our very favorite board games to play together and why we love them (as well as age ranges for each game) – go check out that post to learn more about what I'd recommend!
However, I wrote that blog post last year before we were the owners of our absolute FAVORITE game of 2017: Codenames. Oh my gosh, y'all, we are OBSESSED with this game! We've played it countless time with countless people this year! Family (young and old!) and friends. We absolutely LOVE IT. It is very easy to learn, SO fun to play, and it's great for conversation because of the way game play works. Seriously. Go buy it for your family today. IT IS SO FUN. (And cheap!) I could write an entire blog post about Codenames. I might do it if it'd be helpful for people to read through how much we love it and why we enjoy it so much!
In addition to Codenames, there's also Codenames Pictures which we've been debating about getting – we weren't sure if it'd be too similar to Codenames to be worth buying. But, because we loved Codenames so much, AND because Codenames Pictures is so cheap on Amazon and it also got 5 star reviews, I decided it was worth the risk, so I'm getting it for Aaron for Christmas. I'm going to laugh if he ends up getting it for me, too. We seriously LOVE Codenames and have played it more times than we can count since I got it for him last Christmas. (Some of our other favorites, all of which I list in that blog post I mentioned, include Anomia, Wits & Wagers, & Bezzerwizzer. I'll keep you posted on how we love Codenames Pictures & a couple of the other games I got for us for Christmas! 🙂
Puzzles
I tend to be more of a word puzzle person rather than a jigsaw puzzle person, but I have a feeling as my kiddos get older, I'll start enjoying jigsaw puzzles with them. Puzzles are such a great way to connect with each other – putting one together is a calm activity that requires a little bit of teamwork and gives room for great conversation. Here are some unique ones on Amazon that you can look into!
For families who enjoy the outdoors: 
Small Outdoor Fire Pit
I was looking for an idea for my husband and I to enjoy our tiny little backyard together last year, so I decided to look into an outdoor fire pit. I needed to find something that was budget-friendly, and I was pleasantly surprised at what I found! I couldn't believe I could find decent ones for an affordable price. (Several of the ones on this link are 4+ stars on Amazon, and several of them are much less expensive than I would've thought! This is the one I bought for Aaron last year – it was around $80 when I purchased it.) Sitting around the fire is so relaxing and it makes for great conversation. You can use it to warm up and to make s'mores or hot dogs! I don't know many people who don't enjoy sitting around a fire together. 🙂 I bet you and your family would enjoy some really wonderful evenings together around a fire!
Outdoor Hammock
Someday when we have larger trees in our yard, I know we would LOVE to be owners of a hammock! You can find large ones that allow 2-3 people to lay in them and others that allow 2-3 people to sit in them together. And they are FAR less expensive than I expected them to be (we're talking like $20-$40 for ones that have really good reviews on Amazon)! I know it's a dream of Aaron's to be able to lay in a hammock with our kiddos to look at the stars at night and to read books together on warm summer days. What a fun way to spend time together!
Outdoor Games
Maybe having a fun outdoor game would be a good incentive for you to enjoy some fresh air together and some friendly competition? There are several outdoor game options that are fun for a variety of ages – ladderball, bean bag toss, croquet, etc. And along the same lines, perhaps an outdoor soccer goal, adjustable basketball hoop, or volleyball net.
For families who enjoy reading: 
Book Series to Read Together
A good friend of mine did a lot of reading with her family when they drove together on road trips. Whether you get the paperback or audio version, I've read so much about the incredible effects of families reading and enjoying stories together. I know numerous families where the kids are all adults and some of their fondest memories include sharing books together. This is definitely something I want to do with my kids as they get older and can follow along! Some book series you might consider, depending on your kids' ages, are Hank the Cowdog, Beverly Cleary Collection, Chronicles of Narnia, Harry Potter, and The Lord of the Rings.
Magazine Subscriptions
This isn't something I've looked too much into, but I really want to as my kiddos get older! I think having a monthly magazine subscription that includes different puzzles, factoids, and trivia would be really fun for my husband and I to go through each month with our kids. Definitely something different to look forward to each month – maybe set aside an evening once a month to go through the newest edition. Here's a list of some kids' magazines I found, and Reader's Digest is also a really fun option for older kids & parents.

For families who love experiences: 
We have an annual membership at our local children's museum, which is such a great gift that we can enjoy year-round with each other. My kids absolutely love going there. I know there's so many options out there in your area for enjoying regular experiences together, too! Here are some thoughts:
Membership to local zoo, museum, trampoline park, amusement park, etc.
State park pass – Texas has dozens of state parks, and I'd venture to guess there are several parks in each state. It looks like a state park pass for a family in Texas is only $70. (For the entire year! What a deal!) If you are wanting to get out and enjoy nature a little more as a family, something like this would be an awesome idea!
Monthly subscription boxes: an experience in a box! There are a number of subscription boxes out there for the whole family to enjoy – ones that have a cooking theme, a science theme, an art theme, etc. Some of the subscriptions can get a little pricey, but I did some research and found that you could get subscriptions that don't last a full year (maybe a 3-month or 6-month subscription) and pay less than $100. With these boxes, you'd have fun opening a new box each month and enjoying the experience of what that particular box holds. Here are a couple of subscription boxes for science & STEAM learning (Science, Technology, Engineering, Art, Math): Little Passports & KiwiCo. I found a monthly subscription box for families with older kids, Escape the Crate (like the Escape Room game but at home!), that looks SUPER fun. And then I found another one called Faithbox that says it "promotes faith formation within young children in Christian families." If something like this is of interest to you, I bet you'd find a subscription box that was perfect for your family!
No matter what you decide, you don't have to spend an arm and a leg to get something your whole family can enjoy time and time again! I'm all for finding fun, unique, and realistic tools to help gather with others. I hope some of these help you and your families make some fun memories together. What else do I need to add to this list?!