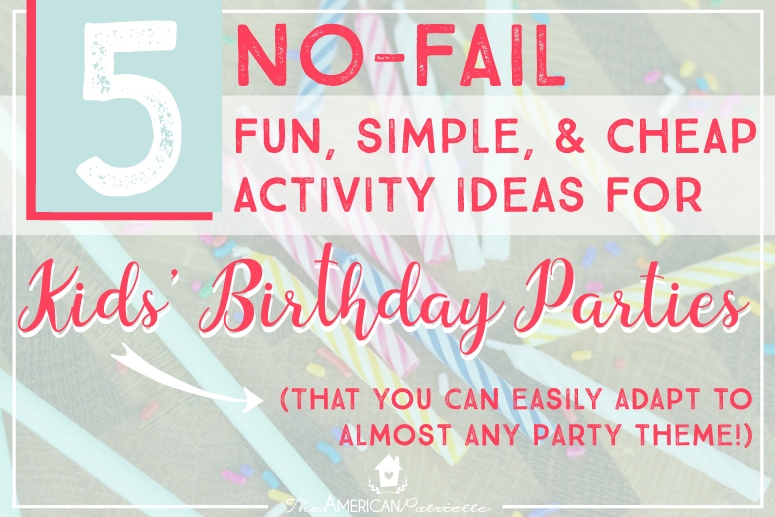 As a lover of party-planning, I was thrilled to start planning and throwing kids' birthday parties after we had our first child. If you've spent any time in the party section of my blog, you've found that one of my favorite aspects of planning parties and showers is planning games & activities that help guests feel welcomed and integrated. However, when I started planning my kids' birthday parties, I quickly I found out that I didn't know the first thing about planning party activities for young children!
Here's what I've learned about birthday party activities for young kids after some trial and error: 
Activities need to be passive but active and require zero explanation
They need to be easy for me to set up
They can't cost me much to prepare
It's even better when an activity can be adapted to just about any party theme
Y'all! I have been so excited to write this post and share it, simply because I feel like I've hit my rhythm with birthday parties for young kids and have found some awesome activities that meet the criteria on that list!
The following list includes 5 fun and inexpensive activities for kids' birthday parties.  We're talking for some of these activities, you can easily spend only $5-10 and you're SET. Also, I'll give several examples as to how you can adapt each activity to different party themes. This makes planning easy, because then you can reuse the activities multiple times for the birthday parties you plan for your young kiddo(s)!
And bonus! With most of these activities below, you can reuse the supplies you get for them after the party for playing with your kids. So, I spend a little bit of money once for the party activities, and then we get to reuse so many of these items when we're just hanging out and playing together! 🙂
Something to note on the list below: we host my kids' birthday parties in our little backyard. A couple of these activities need to take place outside, but if that's not an option, you can definitely consider converting your garage into somewhat of a party area and set up a couple of these out there if needed. We would do that if it rained the day of one of our kids' birthday parties, and I don't think it'd be an issue.
This post contains affiliate links for your convenience. You can read my full disclosure policy here.
Sandbox – Dig for little items related to your party's theme
This has been an absolute hit for three birthday parties in a row, and all of the parties were different themes! We did a sandbox for the first time at my daughter's 2nd birthday party, which was a Western theme based on a little story from my children's book, The Adventures of Pootsey the Wonderbug. We put a couple of sand bags in an old wagon, I put some cheap "gemstones" in there for the kids to dig for, and they "panned for gold and gems." I couldn't believe how much the kids enjoyed this thing during the entire party!
The sand-filled wagon became a permanent fixture in our backyard after that – my daughter just loved it. Y'all, I spent about $8 for sand (about $4/bag at Lowe's), and about $10 on gemstones (but I totally could've gotten cheaper ones). AND, that sand is still in our backyard, so that activity is just the gift that keeps on givin'!
Needless to say, when I was planning future parties, I knew I had to incorporate a sandbox, so for my daughter's 3rd birthday party (bookworm theme, again, based on cute Pootsey!), I bought fun plastic worms and had them "dig for bookworms," and for my younger daughter's 1st birthday party (she was born on Valentine's Day, so we did a Love Bug theme – it was her turn to have a Pootsey-themed party!), I had kiddos "dig for lovebugs" – some adorable bug erasers I found on Amazon for cheap.
Here are some ideas of how you can adapt this activity to different themes and the item(s) you can get for the kids to dig:
Western theme: Dig/pan for "gemstones" or "gold"
Farm theme: buy some little toy tractors and have the kids "plow the sand"
Construction theme: buy little construction trucks for the sand and have a "construction zone"
Beach/Nautical-related theme: dig for seashells or play "at the beach" and provide some sand toys 
Pirate or Adventure theme: go on a "treasure hunt" and dig for long-lost treasures
Travel theme: Get plastic cars, airplanes, and/or boats for the kids to create "travel routes" in the sand
Dinosaur theme: Have a "dino dig" and let kids dig for mini plastic dinosaurs
Dog theme: Get toy dog bones and have a "bone dig"
Outer Space theme: have kids go "stargazing" and search for stars in the sand
Princess theme: dig for royal gems (plastic gemstone rings)
Unicorn theme: search for "magical rainbows" (rainbow erasers)
Butterfly theme: get little butterfly toys and small toy nets for kids to sift sand through the nets and catch butterflies
Bookworm theme: dig for "bookworms"  – plastic earthworm toys 
Love Bug theme: dig for "lovebugs" – little bug erasers
Food theme (i.e. donut party, ice cream party, etc.): get some plastic kitchen toys and have kids "create their own treats" with the sand
Sports theme: put toy golf balls in the sand and have kids dig them out of the "sand trap" 
I mean, the list could just keep on goin'! Do you see how easy this is to adapt to just about any theme you can think of?! (Comment with other ideas at the bottom of the post and I'll add 'em to my list!) 
Sidewalk Chalk
Depending on your outdoor set-up, you can do this a number of ways. We don't have a large cement patio in our backyard, but we do have a fence, so we put it to good use! I had my husband get a long sheet of butcher paper and we stapled it up on our fence for the kids to color and have fun. We did this for the last 2 birthday parties we had, and again, it was a total hit, and couldn't have been easier to prep!
To adapt this to our party themes, for my older daughter's bookworm party, I called the chalk area "Illustration Station," and then for my younger daughter's lovebug party, I made a sign that said, "Draw your own lovebug." So easy!
You can keep this activity super simple by just getting some regular 'ole sidewalk chalk, or you can have some fun with it and have an excuse to get some unique sidewalk chalk like neon, glow-in-the-dark, and glitter. Up to you! Either way, this is a very inexpensive activity to provide, and it keeps the kids happy, busy, and creative. We bought this big batch of an assortment of sidewalk chalk for my older daughter's party, used it again for my younger daughter's party, and we still have tons of it left for us to use when we just play outside on our own.
Here are some fun chalk options:
Need some inspiration on how to adapt this to a different party theme? Here are some thoughts:
Travel theme: Draw a map
Monster theme: Draw your own monster
Dance theme: Color a dance scene
Sports theme: Draw your favorite sport
Garden theme: Draw a colorful garden
Animal theme: Draw a zoo/safari
Royalty theme: Draw a castle
Food theme: Design your own donut/ice cream cone/pizza/birthday cake
Superhero theme: Draw your favorite superhero
You get the gist! You can do just about anything you want with this activity to adapt it to your party's theme, and the kids will have a blast! And it's fun to have a bunch of leftover chalk to use with your kids to play outside together. ?
PlayDoh
What kid doesn't love PlayDoh?! It could keep mine busy for hours. Such a fun, simple activity for kids, doesn't cost much, and again, you can easily adapt it to just about any theme by getting cookie cutters that fit your party. For my daughter's Lovebug birthday party, I got a package of bug cookie cutters and heart cookie cutters, as well as some extra PlayDoh. I probably spent around $10 for everything!

You can also even further customize this activity for the theme by getting particular colors of PlayDoh – stick with earth tones for a Dino birthday party, glitter PlayDoh for a Unicorn birthday party, bold colors for a Superhero party, blues and greens for a Nautical party, etc.
To really have fun with the theme of your party, you can get a few cookie cutters that fit right in. You can find just about any shape cookie cutter on Amazon. Just go to Amazon, do a search for "cookie cutter" to go along with the theme of your party, and I bet you'll be able to find some great options that work! If you have a fairly basic theme, check Hobby Lobby or Michaels – they may have what you're looking for, too!
Here are some ideas for themed cookie cutters to use with the PlayDoh: 
I could make this list a mile long! So easy to customize, and the kiddos will have so much fun playing!
And for the PlayDoh, you can find it in bulk on Amazon as well as at Walmart, or you can easily find individual containers of it at Walmart if you don't need too many of them.
Coloring Pages + Stickers
Doesn't get much easier than this! Hop on Pinterest, type in the theme of your birthday party + coloring pages (i.e. "Bug coloring pages" or "Safari coloring pages" or "Flower coloring pages"), print out however many you want, and then set them out with colors at the party. You can make this super inexpensive and use colors you already have, or, like with the chalk, you can have some fun with it and get some unique options: scented markers or crayons, uniquely-colored markers, glitter crayons, shaped crayons, etc.
You can definitely go the free route on this one – use colors you already have! But, if you'd rather do something a little more special for the party, here are some fun options:
For my younger daughter's birthday party, I got these scented markers, these AWESOME crayons (I think the adults had more fun with these crayons than the kids! Y'all, the color like BUTTER. So fun to use!), and these fun twist-up crayons. I thought it was fun to get some unique options – it was a good excuse to replenish our coloring stash that we now use all the time!
You can also spend a couple of dollars and get some stickers that go along with the theme of your party. For my older daughter's Western-themed birthday party, I got something similar to these fun foam stickers at Hobby Lobby, and for my younger daughter's Lovebug party, I got some Valentine stickers in the $1 section at our grocery store and ladybug stickers at Hobby Lobby for a couple of bucks. Such a cheap purchase that kids LOVED!
Egg Hunt
This was SO fun and SO cute when we did this for my daughter's Western-themed party! This is the one activity out of the five that isn't quite as easy to customize for any theme, BUT, I bet you can get pretty creative with it and figure out how to make it work!
For my daughter's Western-themed birthday party, we had a "Free Range Egg Hunt," and it was SO fun! The kids loved it! My brother-in-law and one of our friends went in our backyard and scattered the eggs while the kids were inside watching my daughter open her gifts. When we were ready for the kids to go hunt eggs, we had them all gather by the back door and told them, "Some chickens got loose in our yard and left a bunch of eggs behind! Go find them!" It was fun watching them run around and fetch eggs!
I spent about $10-12 and filled the eggs with some fun items that went along with our party theme – some candies that I wrapped with bandana print paper, foam cowboy/cowgirl stickers, and barnyard tattoos. I bought a batch of plastic yellow eggs on Amazon because I wanted the eggs to more closely resemble chicken eggs (rather than colorful eggs you use for Easter). You can do a quick search on Amazon for any color egg you're looking for, and good chances are, they're going to have it!
To fill the eggs, get whatever candy you want to use, and then here are some thoughts on how you can customize the egg hunt to various party themes with some fun non-candy items:
Dinosaur Theme: Hunt for Dinosaur Eggs – green plastic eggs filled with dino tattoos, dino stickers, and plastic dino figures
Owl/Camping/Woodlands Theme: Hunt for Bird Eggs – white plastic eggs filled with woodland creature tattoos and stickers
Ocean/Nautical/Fish/Mermaid/Shark Themes: Hunt for Fish Eggs – blue plastic eggs filled with nautical stickers & fish erasers
Unicorn/Fairy/Princess Themes: Hunt for Pixie Dust – pink plastic eggs filled with unicorn stickers and princess tattoos
Golf/Baseball/Football/Basketball/Soccer/Hockey Themes: Hunt for Lost Sports Balls – sports-themed plastic eggs filled with rubber balls, sports stickers, and sports tattoos
Adventure/Pirate Themes: Treasure Hunt – gold plastic eggs filled with gold coins and gems
Western/Farm/Ranch Theme: Free Range Chicken Egg Hunt – yellow plastic eggs or white plastic eggs filled with farm animal stickers & farm animal tattoos
Flower/Garden Theme: Find the "seedlings" – green plastic eggs filled with floral erasers, floral tattoos, and floral stickers
(If you wanted to add a little more to this activity, you could buy some white or kraft paper bags and have the kiddos decorate them earlier in the party in anticipation of collecting eggs on their hunt!)
Think about how you can customize an egg hunt to your party theme, and then I bet you'll be able to find some small fun and inexpensive items like temporary tattoos, stickers, plastic figures, erasers, rubber bouncy balls, etc. on Amazon to fill the eggs!
Bonus: Outdoor Party Fun for Adults
Looking for a way to keep those grown-ups occupied and having fun at the birthday party?
Here are some fun outdoor games that are always a hit! We have ladder golf, a bean bag toss, and we are really wanting to get a cornhole set! We use our games over and over again for every outdoor party we throw. 🙂
Love these ideas?! Save this post to your favorite Pinterest board to remember them for future kids' birthday parties!