During the month of Advent, allow this family devotional to help you take a few minutes each day to gather over a meal, reflect on Scripture, and consider how you and your loved ones can find Christ in the details of the holiday season. This book of devotionals was specifically created to help couples and families – large and small, young and old – to find a few moments each day to connect with each other and connect with Christ this Christmas.
When you make your purchase, you'll have immediate access to the Family Advent Study! You'll receive it via email in PDF format – you can then download and save to your device or print out for easy access. Here's what you'll find inside:
28 5-10 minute devotionals, one for each day of Advent
Bible verses and commentary
Brief reflections for you and your family to consider how to see Christ in the details of the Christmas season
A couple of daily discussion questions to help you and your family connect with each other and with Christ through conversation
These brief but meaningful daily studies can help you build valuable relationships with each other this Christmas!

Wen you purchase your Family Advent Study, you'll get some FREE BONUSES! When you go to download the study after your purchase, you'll also receive:
Printables of 5 delicious (healthy & hearty!) and easy-to-make soup recipes
A printable list of 15 common Christ-centered Christmas tunes and Scripture references that go along with them
Hopefully the soup recipes (which you can easily double so they'll last you for multiple meals) will make it easier to gather regularly for supper, and the list of songs and Scripture references is one more resource you can use to identify Christ in the details this Christmas season!
'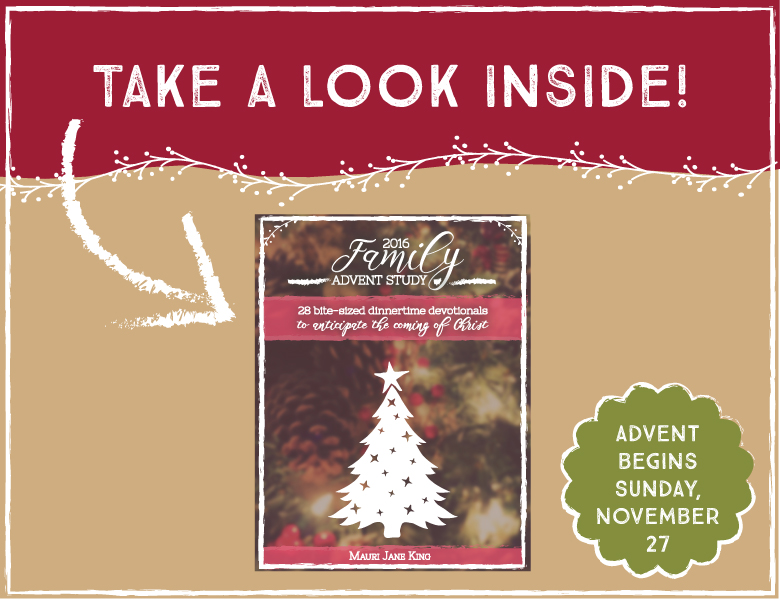 Click the button below to get a free taste of the Family Advent Study! When you enter your email, you'll receive a download of the table of contents and the devotionals for the first two days of Advent!